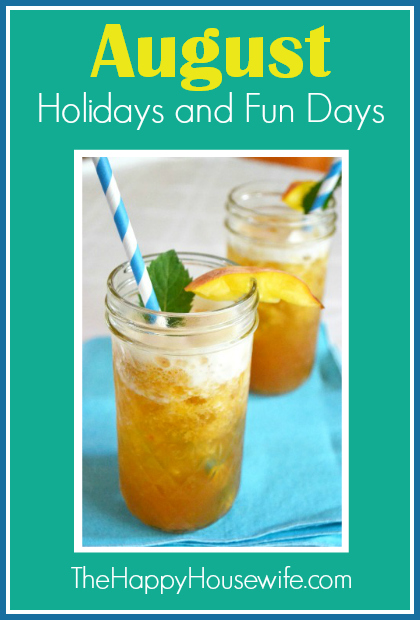 It's no surprise August is National Family Fun Month!  Enjoy time with your kids while doing some of these activities to go along with special days in August.
August Holidays and Fun Days
August – National Peach Month
August 1 – Francis Scott Key's Birthday
August 2 – National Ice Cream Sandwich Day
August 6 – Root Beer Float Day
August 10 – National S'mores Day
August 13 – Left Hander's Day
Practice doing things with your left hand today!
August 18 – Wizard of Oz Premiered
August 19 – Aviation Day
August 21 – Senior Citizen's Day
Take dinner or dessert to a senior citizen today!
August 26 – Susan B Anthony Day
August 30 – Frankenstein Day
August is also National: Golf Month and Eye Exam Month
However you decide to celebrate August, be sure to be generous with sun block, bug spray, and family time!