This is a sponsored post that contains affiliate links.
This spring I've been traveling the East coast speaking at homeschool conventions. One question I'm asked every time I speak is how do I limit screen time and encourage my kids to spend more time playing and using their imagination.
The crazy thing is, this summer I haven't had to turn off the television, because it hasn't been on.
My kids have spent the summer playing games, making up stories, playing with their toys, building forts outside, riding bikes, creating art masterpieces, and of course, swimming.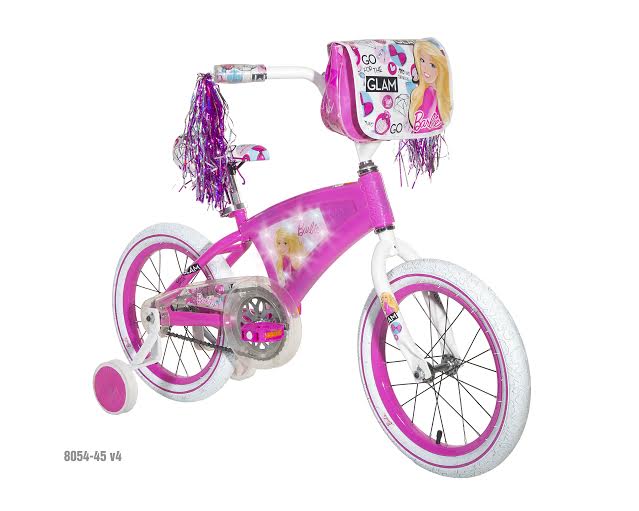 My girls especially have taken to drawing and creating cute outfits using products like the Barbie Purr-fect Pet Sketch Portfolio. With this sketchbook, girls can design the ultimate clothing and accessory collection for all of Barbie's pets! If you haven't seen these awesome portfolios you must check them out.  (See the $5 off coupon below to help you save!)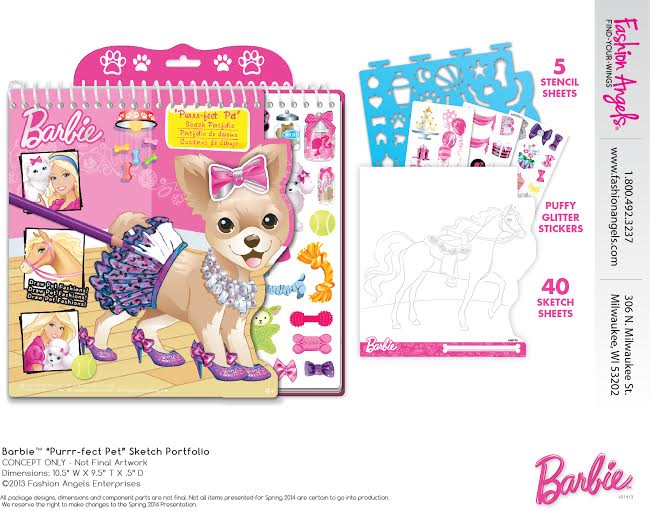 My girls absolutely love creating fashion designs and giving them their own designer touch with color and stickers. Even if your child isn't an artist there are templates for them to trace which helps with those fine motor skills and gives a struggling artist the confidence to create.
My girls have become so excited about creating outfits that they've even started sewing (or stapling) fabric together to make real outfits for their toys. They've also used paper, duct tape, or whatever else they can find around the house.
I love seeing their imagination sparked especially when it replaces screen time. My girls are creating instead of consuming and that makes me very happy. One of my girls has become so excited about creating outfits she's already talking about going into fashion design when she grows up and is waiting patiently for me to teach her how to sew.
This is all because I bought her a simple sketch book with templates for Christmas last year!
So how do you encourage your kids to give screen time a break?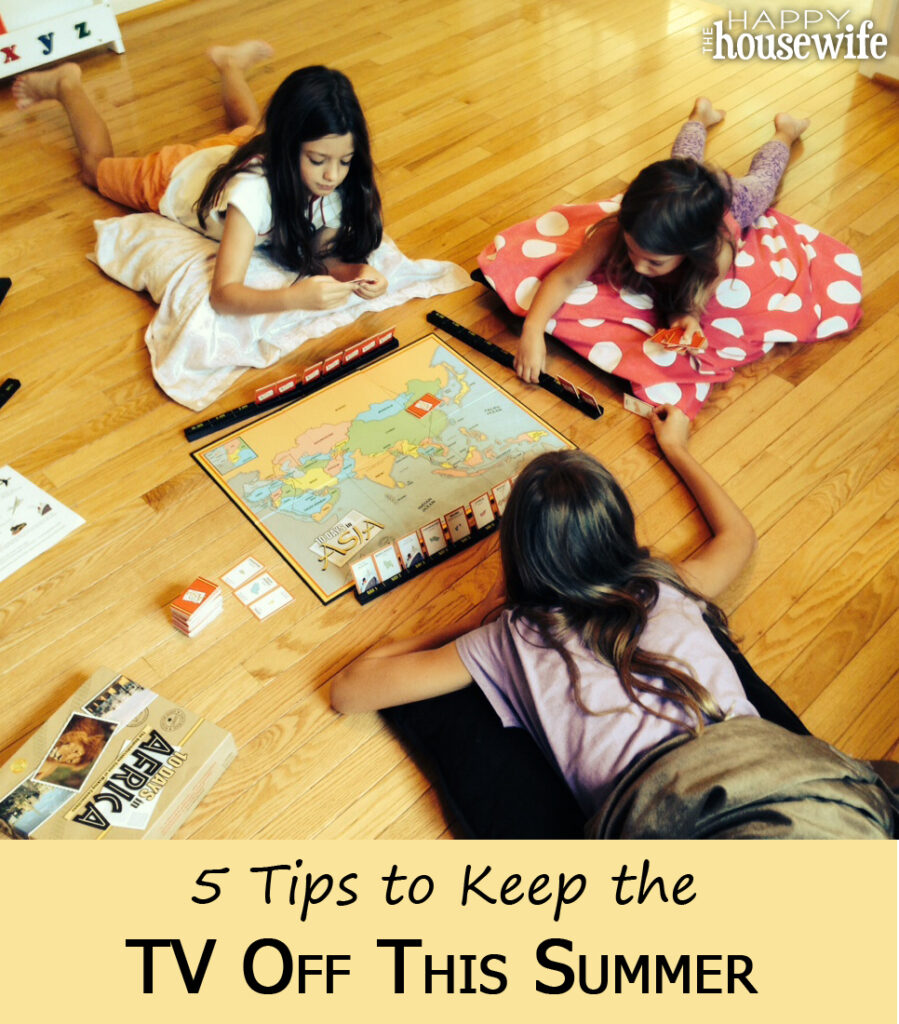 Provide them with alternatives to the television.
Over the winter my kids were always asking to watch television. I finally told them that if they wanted to watch television they could donate their toys since they didn't seem to need them anymore.
It only took one box of toys to help them remember they had a basement full of awesome dolls, Lego's, and art supplies they could be playing with when it was too cold to play outside.
I also realized that I needed to make their toys more accessible, so we labeled the toy bins with toy categories so even Cora could find the toys she wanted.
Play with them.
I'll admit it, I don't like to sit on the floor and play with dolls. But, I know if I tell my girls I'm going to play with them, they'll give up television in a second.
I also realized that I loved creating fashions with my girls and helping them color in their creations. You're never too old to play with toys, and the toys available today are pretty cool!
Don't turn it on.
In my house if the television is off, it tends to stay off. Once we turn it one, someone can find something to watch or play, all day long. If the TV doesn't get turned on during the day, the kids tend to forget about it.
This means no watching cartoons during breakfast or just one show in the morning. Sometimes this makes mornings a little crazier, but I keep baskets of books for them to read so they always have something available.
Have a plan.
I use to set out activities for my kids each day. If they didn't have to pick what to do, or they only had to pick from one or two things, they had a much easier time making a decision.
Most kids have tons of toys, so picking out a few for each day is a great way to encourage them to actually play with them.
Make television an incentive or special treat.
My kids love family movie night and look forward to being able to eat (aka spill) popcorn all over the sofa. We've starting making movie night a big deal in our house, so the kids actually look forward to screen time together as a family, instead of throughout the week by themselves.
Since my boys love a certain computer game, we allow them to play during the week after they've completed chores or other activities and set limits as to how much time they can play.
Giveaway!
I have a great giveaway to get your kids excited about play! Once school starts again you can use this prize to encourage some imaginative play after school instead of veg time in front of the TV.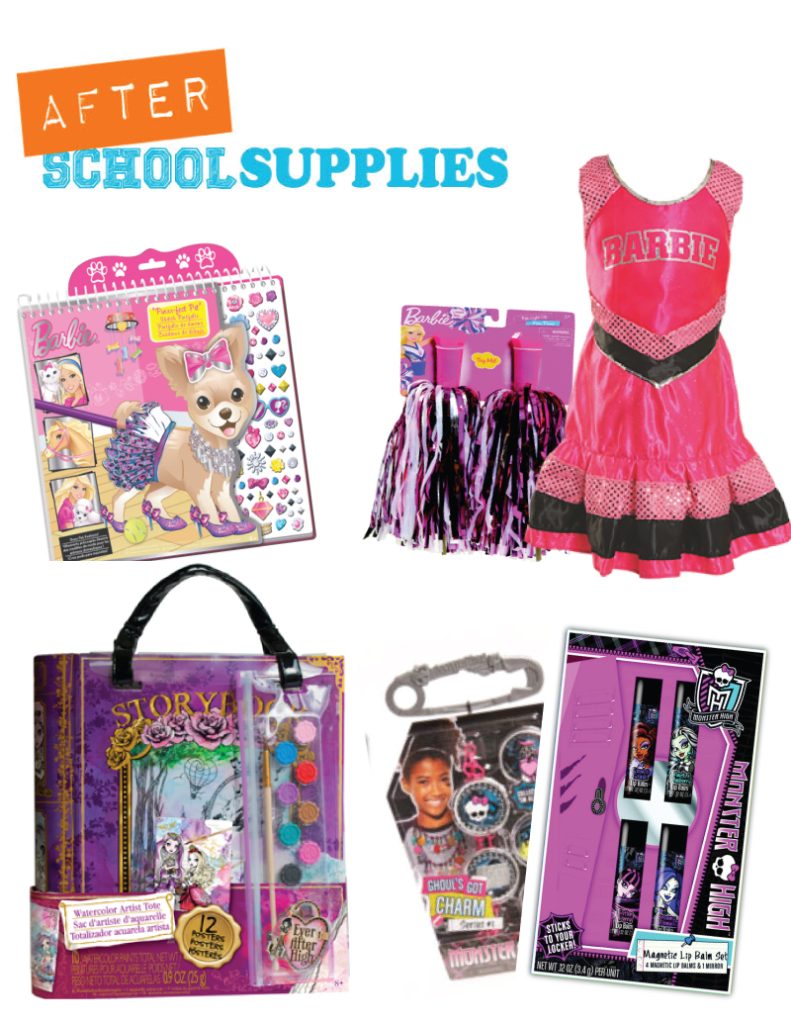 Included in the prize pack are:
● Barbie Cheer Dress with Pompoms
● Barbie Pet Sketch Portfolio
● Ever After High Watercolor Set
● Monster High Charms
● Monster High Lip Gloss
To enter the giveaway share a way you encourage your kids to create instead of consume. Giveaway ends Monday, July 28, 2014 at 8 pm EST.
Even if you don't win the giveaway you can win at Toys"R"Us! Now you can get a free Lunch-kit up to a $9.99 value when you buy ANY backpack priced $12.99 or more. Many backpacks (including Barbie, Monster High, and Ever After High) at Toys"R"Us have reflective straps, which are perfect for those dark early mornings in winter.
You can also save $5, with this exclusive coupon, on ANY Barbie, Monster High or Ever After High purchase totaling $20 or more at Toys"R"Us. Offer valid July 21- August 2nd.
Although this post is sponsored, all opinions are my own. Quantities limited. No rain check. Selection varies by store.