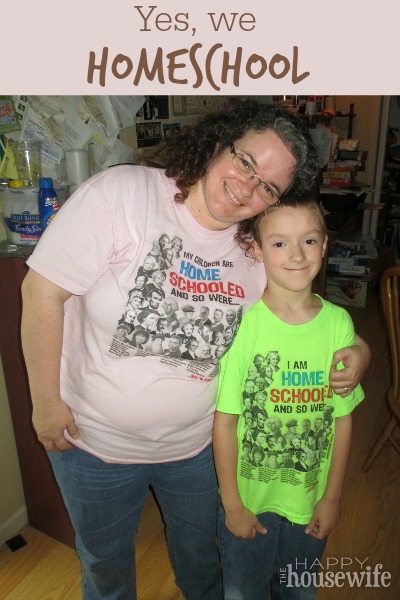 By contributing writer Tabitha
"Why aren't you in school?" is a question I've heard asked of my friends' homeschooled children over the last few years. I am not sure why we aren't asked this as much anymore. When we first started homeschooling our children, our kids were very small, and I think many assumed they weren't old enough to be in school.
When we had older children who were homeschooled, we did get this question more often. The kids usually had an answer of their own, but sometimes I had to answer for them. I informed the questioner that we homeschool our children and had already completed work for the day or were taking the day off. That would sometimes lead us into a whole new set of questions, which we either ignored or had fun answering.
When my kids answered, they weren't timid but instead would often get a really good conversation going. Frequently we had more comments on the number of children rather than why we were out in public at a time when most children were in school.
Lately, I haven't heard this question. Even when I have a child with me who is obviously of school age (early to mid teens seem to be the most looked at children of mine), I don't get asked, "why aren't your kids in school?"
The most common question I have had in the last few years has been, "You homeschool, don't you?" I love this response, and it is easy to answer. I love how positive the question is, and it seems to invite a positive, happy response.
I love it especially at this time of year when I have slight pangs of doubt as many of my friends talk about their free time and how fun the first day of school is with all the traditions, excitement, and new school stuff.
I now can answer with great enthusiasm. I usually say, "Wow, yes, we do, could you tell?" This then leads into a great conversation about homeschool life, kids, and learning, but I do try to keep it short before the inquirer is bored to tears…and before my kids run amok.
What do you say when you are asked this question? What kinds of questions do you get asked when out in public with your (gasp) unsocialized children?
I am happy to say that we can usually keep the converstaion positive, and if not, we can always use the kids as an excuse to make a quick exit!
You might also like…