Have you ever wanted the low prices at Sam's Club but you don't want to pay for a membership? Well this weekend is your chance!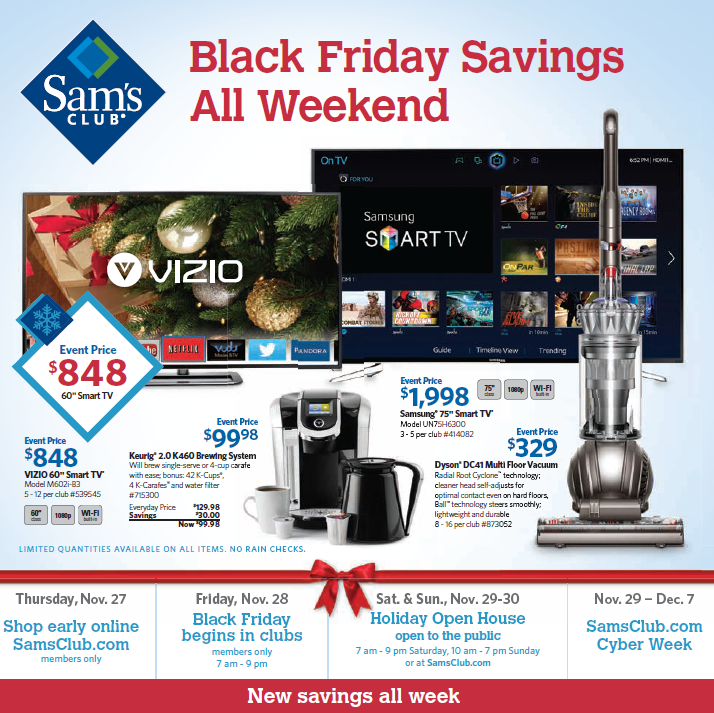 Sam's Club Open House
This Black Friday Sam's Club has opened their doors to the public. That's right, even if you don't have a membership you can shop this Saturday, Nov. 29th 7 am–9 pm and  Sunday, Nov. 30th 10 am– 7 pm. Check out some of the deals that will be available:
Keurig 2.0 K460 Brewing System ($99.98)
Dyson DC41 Multi Floor Vacuum ($329), more than 35 percent off the average national retail price*
Nintendo 3DS XL Red Bundle ($149)
Apple iPad Air 16GB ($349), a $100 savings
Samsung Galaxy Tab 4 7" ($149)
And much more!
If you are a member, then you can begin shopping as follows:
Black Friday Event online at SamsClub.com (members only) – beginning Thursday, Nov. 27 at 12:01 a.m. EST
Black Friday Event in clubs nationwide (members only) – Friday, Nov. 28, 7 a.m. – 9 p.m.
Don't miss out on these once a year deals! For a full listing of their Black Friday Sales you can check here.