Today on Amazon you can download Speed Cleaning and Home Organization: Secrets to Organize Your Home And Keep Your House Clean in 30 Minutes for free.
I'm a big fan of speed cleaning and have been doing it for years. My house is usually pretty clean and I think it is because I adopted a similar method years ago.
If the thought of getting your house clean is overwhelming to you this seems like a great place to start. It's free today so download it before the price goes back up.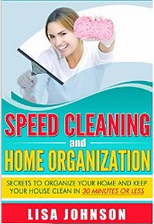 If you don't have a Kindle, then you can still download these free eBooks to your smart phone or computer. All you need to do is download one of Amazon's free reading apps.
Remember that Amazon prices fluctuate constantly, so verify the price before purchasing.