The following is a post by contributing writer Tabitha.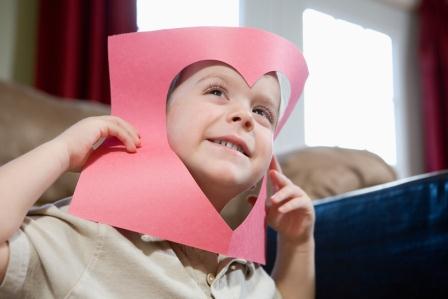 All my memories of Valentine's Day growing up centered around school activities. There were class parties, valentine box crafts, bringing 30 plus valentines to school, wondering how many valentines would have candy in them, which ones I'd get from friends, and what would be the favorite.
Now, as Valentine's Day approaches and I get that nostalgic feeling again, I wonder, what can we do for Valentine's Day as homeschoolers?
One thing we do is gather up our little boxes of cards we bought last year (or the one before… or before that…) and send them as notes to grandparents, cousins, and friends far away. There's always a great reason to send mail!
Other things we do for Valentine's Day is bring cookies and treats to friends and neighbors, give a heart attack (taping construction paper hearts all over a door, car, or office) to a church leader, teacher, or friend, or find a way to help someone who is lonely for the holiday, especially someone who has recently lost a loved one. Service isn't just for Christmas!
What else we do for Valentine's Day?
We talk about how we met.
We talk about our relationships with other people.
We talk about our marriage and how we cherish it.
We talk about commitment.
We talk about priorities.
We talk about how much we appreciate each other.
We talk about memories with our kids and how much we love them.
We talk about traditions.
We also show our love to each other and our children throughout the year so there is no doubt each Valentine's Day that they are loved, that we love each other, and that relationships have nothing to do with a holiday and what is or isn't done, bought, planned, spent, or celebrated on one day of the year.
Love is every day.
Love is being home with my children, teaching them what is really important and letting them see that in our daily lives, that they are important to their parents and we value them.
Love is the unspoken appreciation for the small acts of kindness done for each other.
Love is day in, day out, never giving up.
Love is getting up with the baby at 3 am so the other parent can get some rest.
Love is holding your sleeping sister so Mom can get dinner.
Because, be honest, who is going to call you 30 years from now when they have good news they just want to tell someone–the random classmate you gave a box of candy hearts to, or your sister who you spent a lot of time with while learning life lessons and homeschooling?
So, while my memories of childhood Valentine's Days are good, I hope my kids' memories of the holiday (and every day) are a little better, even without the class parties and opening tiny little envelopes. I hope they know that while the holiday is fun, love doesn't depend on getting (or giving) flowers or chocolate or anything else. It's showing that love every day.
Plus, all that stuff is 50% off the next day. And February 15th clearance candy shopping is one of our family traditions.