I have a friend who starts school the day after Labor Day and ends right before Memorial Day. They take Thanksgiving Day and Christmas Day off and that's it. They enjoy long summers and don't mind putting in the extra days during the school year. While I admire her dedication, our school usually starts falling part a week or two before Christmas. My kids get excited about our Christmas plans, baking days, and fun visits with friends and family.
I usually plan to do school until the 23rd of December, but this year, we are taking the whole week before Christmas off. The Happier Husband has been gone for the past 5 weeks and the kids have really missed their dad. Since he has a few days off before Christmas we are going to spend some family time together before our extended family arrives for the weekend.
I have found with my kids that not having anything planned for a week usually leads to chaos. So I like to have a few fun activities planned to keep them occupied when we aren't out having fun looking at Christmas lights or hitting up the free samples at Costco.
Here are a few activities I found that we might incorporate into our Christmas hours this week.
Gingerbread House Construction
I must admit I cheat on these houses. We use graham crackers and store bought frosting. But the kids don't care and they have a great time decorating and eating candy. We usually have an informal contest at the end, with categories such as; prettiest house, most creative, best design. Everybody enters and everyone wins.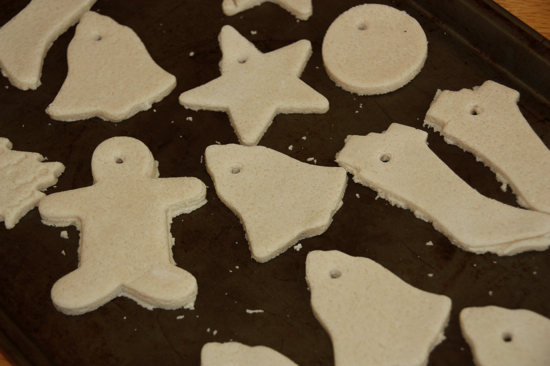 This was our first year making salt dough ornaments and it won't be our last. They are super cheap and easy. If you have only little kids you can always make the ornaments yourself and let the kids decorate.
The cookie frosting party is probably my children's favorite extra curricular Christmas activity. I make it super low key. Each guest brings a dozen cookies to frost and I provide the frosting, sprinkles, punch and chips. The kids frost and then run around outside to burn off all the sugar!
Here are a few ideas I found on the web that we might try next week.
This is a great idea posted by the Celiac family. These ornaments contain applesauce and cinnamon so I bet they smell great!
These snowflake pretzels from Mom Endeavors are so cute! The only problem with this fun craft is I think my kids might eat all the chocolate pretzels before we make snowflakes!
These stars are so pretty! My friend Kim has put together a video tutorial so that you can make a beautiful star too! Although I don't think you will be able to stop at just one! Wouldn't these make a perfect gift topper instead of a bow?
These marshmallow snowmen are definitely on my list for next week! Considering I stocked up on marshmallows at the Commissary I need to put them to good use. Teaching Good Things has an entire section on their website of fun Christmas activities so definitely check them out. Kathy really is creative and shares many of her great ideas!
Myra is so crafty! She is always coming up with neat ideas that cost almost nothing! This gumdrop garland cost less than a dollar to make and is so festive! Of course it would probably cost me $2, since my kids usually take the one for the craft, one for me approach to anything that involves candy!
I love this creative Christmas Tree idea from my friend Angie. My boys love to make anything with wood, and I seem to have an abundance of paint stirrers around here so I'm adding this one to the list!
What does your family do? Do you take the week of Christmas off or are you doing algebra on Christmas Eve?