Last year my goal was to SIMPLIFY.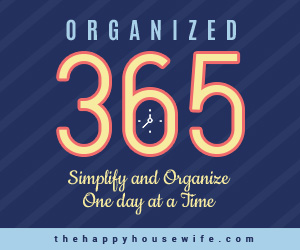 This year my goal is to GET ORGANIZED.
To be honest, I'm tired of hunting for school books around my house, having food expire in the back of my pantry, paying library fines, and lots of other things.
I've always been an organized person, but as our family has grown my ability to bring my children along side me and teach them to work within our household system has been severely lacking.
It all ends today! Actually it ended yesterday, but I wasn't on the computer much to share it with you. (I was busy organizing)
Over the next year I'm going to get organized. And you are too! (If you want, I'm not going to make you, just encourage you)
So join me for Organized in 365: Simplify and Organize One Day at a Time. Tips to help you get organized and stay organized throughout the year! From budgeting to kid's schoolwork to the kitchen we are going to organize it all, one day at a time.
Are you with me? 
Organized in 365 Archives
General Organization Tips
Around the Home
Using Containers
Cleaning
Productivity
Kids
Pantry
Cabinets & Drawers
Clothes/Linens
Have you shared a great organizing tip on your website? I'd love to feature it on TheHappyHousewife.com. Submit your Organized in 365 tip here.

Don't have a blog, but have a great tip? Submit your Organized in 365 guest post here.