According to statistics we wear 20% of our clothes 80% of the time. That means there is probably a lot of clutter in our closet! Find out what you are really wearing with this clever tip from RayandJen.com.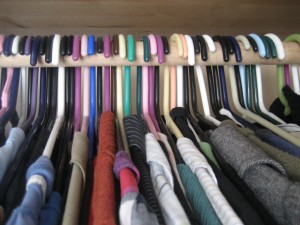 Donate what you aren't wearing to Goodwill, your church, or that friend that is always telling you they love your outfit!
Have you shared a great organizing tip on your website? I'd love to feature it on TheHappyHousewife.com. Submit your Organized in 365 tip.

Don't have a blog, but have a great tip? Submit your Organized in 365 guest post here.