We have ceiling fans in almost every room of our home. They are a great way to reduce your electric bill and keep rooms cool in the summer. It's important to clean your ceiling fan regularly so you aren't blowing dust from the fan around your home.
I think ceiling fans are often forgotten during our regular cleaning routine. They are above our heads, and "out of sight, out of mind," usually means- forget to clean.
Add clean the ceiling fan to your monthly cleaning list to keep it dust free throughout the year.
Remember, if you are cleaning a very dirty fan, you might want to wear glasses/goggles to keep from blinding yourself from the dust particles.
Ceiling Fan Duster
I've never owned a ceiling fan duster
, but if I had really high ceilings I would invest in one with an extension rod. They make cleaning fans really easy and decrease the risk of injury since you aren't perched on a chair holding a vacuum.
Ceiling fan dusters cost about $12, and are a good investment if you have a house full of fans and don't like standing on chairs or ladders to clean.
Damp Rag
If I remember to clean my fans regularly, a damp rag quickly removes the dust and dirt. Just wipe the blades on both sides with the rag to remove the dust.
Vacuum
If your fan hasn't been cleaning in a long time, a vacuum is usually the most efficient way to clean it. I have a handheld vacuum with extension tools that I use to remove the large pieces of dust and dirt. Then I wipe away the remaining dirt with a damp rag.
Old Pillowcases
Insert each blade into an old pillowcase and wipe off.  All of the dust falls INTO the pillowcase and NOT on your floor or furniture!  Then just shake the pillowcase out in the trash or outside and throw in the wash. (This tip was in the comments multiple times, so I tried it and love it!  Thanks, my awesome readers!)  See more uses for pillowcases here.

Ceiling Fan Spring Cleaning
While the fan blades collect the most dirt and dust, once or twice a year wipe down the fixture and remove and clean the globe if the fan has a light. Depending on the type of light fixture you can either wipe it out with a cloth, scrub in the sink, or even put in the dishwasher.
Intake Vents and Filters
One tip is to clean your intake vents when you clean your ceiling fans. Remember my embarrassingly dirty intake vents?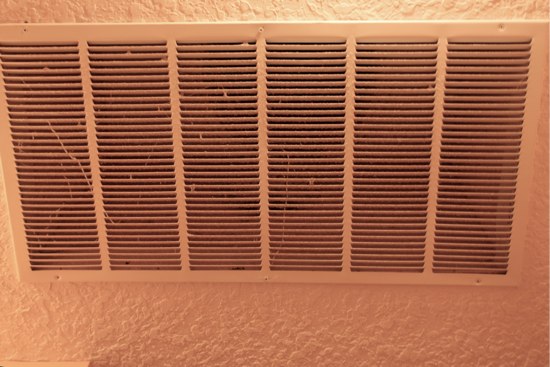 When you are spring cleaning this month don't forget to vacuum and/ or clean your intake vents. I use a vacuum with the brush attachment to quickly clean my vents. If your vents are really dirty you can unscrew them and hose them off outside.
Finally, did you know you should change your air conditioning/ heating filter every month?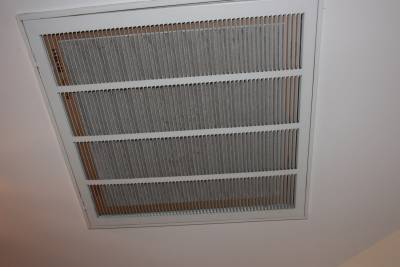 It will save you money and keep your unit running more efficiently.
My air conditioning repair guy gave me a good tip. Change your filter when you pay your bill every month, so you don't forget.
For more ideas to help you simplify and organize one day at a time, visit the Organized in 365 Archives.