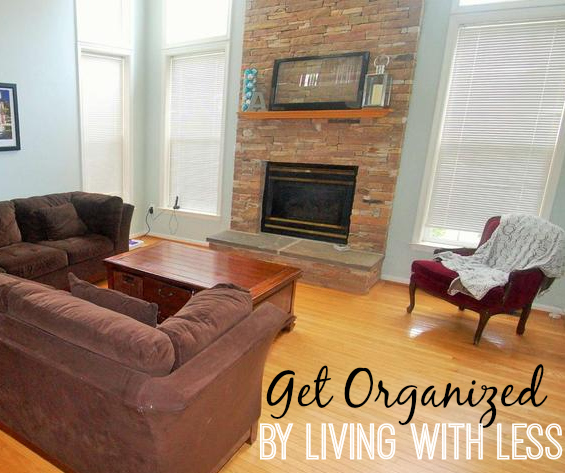 There are so many wonderful tips and ideas for getting organized. I'm kind of an organizational junkie myself. I like to read books and blogs about organizing and I love to organize my own things (and other people's if they give me a chance).
The best tip I have for getting organized is not something you can buy at Ikea or The Container Store. The best way to get organized is to get rid of the junk! I once took a time management class and learned that if you don't take care of something the first time you pick it up, you touch it 40 more times before you actually deal with it. What a total waste of time!
No matter how many bins, baskets, drawers, containers, files, and notebooks you own, managing these tools takes time.
The less you have, the less you have to maintain.
As someone who likes to save money, I have a tendency to hold on to things because I might need them in the future. Better to reuse something you have than buy something new, right? Well… that is sort of right. When you hold on to everything it becomes difficult to manage, things become disorganized, and you end up not being able to find the stuff you were saving.
In my life there are only a handful of things I wish I hadn't thrown away or dropped off at Goodwill, and those few things are replaceable.
Here are a few ideas for living an organized life with less.
Clothes
Stop holding on to all the these use to fit me in college outfits.
Seriously, if you ever fit into them again they will be so outdated you won't want to wear them. Keep a basic wardrobe of items that fit you and your lifestyle. Clothes are cheap to replace at yard sales and thrift stores, so only hold on to pieces that fit you well today.
Paperwork
Paperwork clutter can drive a person bonkers! I created a notebook system to help me track all my paperwork. I keep only what's necessary and shred the rest. Another way I simplify my paperwork is online banking and bill pay. I pay almost all of my bills online and this has greatly reduced the paper clutter in my home.
Toys
I'm plead guilty to toy clutter in the first degree. With seven kids it is almost impossible not to have a toy filled house!
Whenever the mover went into our basement she remarked that it looked like a Toy's R Us, and that was after I had given several van loads to Goodwill.
I'm preaching to myself here, but kids don't need every toy ever invented. They don't even need .0005% of the toys invented.
My kids are happier and play with more of their toys the less they have. Toy clutter overwhelms kids and they end up not wanting to play with anything. Or, toy clutter gives kids the opportunity to make incredible messes with all the toys. Go on a toy de-clutter spree. Your kids will not notice and you will have a better life, I promise.
Kitchen Tools
I'm guilty of kitchen clutter too. I love kitchen tools! They are so much fun and helpful, when I can find them! Have you ever spent 10 minutes searching for that certain kitchen tool in the over-crowded drawer? I have. It isn't fun, and it is a big time waster.
Go through your kitchen and get rid of things you have never used, then go through it again and get rid of the tools you haven't used in over a year. You really can do more with less in the kitchen.
Food
A disorganized pantry is a huge time and money waster! How many times have you cleaned out your pantry only to find several of the same item and not because you were stockpiling? Or perhaps you run to the store to buy that needed ingredient at full price, only to find another bottle unopened in the back of the pantry weeks later.
Have you thrown out food because it has expired or gone bad in a disorganized fridge? While it is great to stock up on sales at the grocery store, create a system before you begin. Meal plan so your family eats all the leftovers and nothing goes to waste in the kitchen.
Stuff
Stuff, you know the things that clutter your home, waste your time, and rob you of your joy? The refrigerator magnet that came in an advertisement, the broken frame you know you are going to fix…. one day…, the books you will never read, the magazines you have already read.
Get rid of them. Give it away, throw it away, burn it in the wood stove, but get rid of the stuff you don't need.
Having less truly is having more.
More time, more space, more joy. This year get organized by getting rid of the things you don't need so you can spend time on the things that are important.