Over the years I have tried many ways to control my paper clutter. I discovered that the binder system works best for organizing important files and documents in my home.
I like binders for several reasons:
Portable: If you have ever moved file folders and the movers don't pack them correctly (meaning right side up) you have a big mess when you unpack them at your next location.
Flexible: I have stored binders on shelves, in cabinets, and in drawers.
Cheap: Binders are a dime a dozen at yard sales, and even if you buy them new they aren't very expensive.
Easy to use: For me, binders make it easy to file and keep track of papers. I can't stand "flipping" through file folders with my head bent down over the file cabinet trying to locate an important paper.
Items needed for a using binders to organize your paperwork:
Extra items:
Page dividers
Pencil Pouch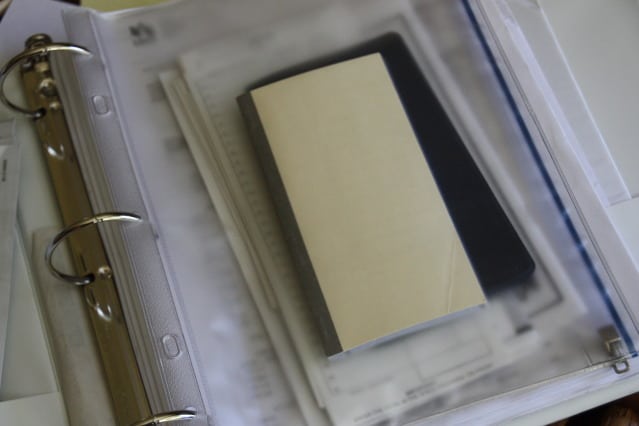 Currently my binders are stored in a drawer in the office. I have a To Do folder that is kept in a convenient place for immediate filing.  Once a week (or sometimes once a month) I take the papers out of the folder and organize them in the binders.
I use the page protectors to hold documents are more important and can't have holes. I use the pencil bags to store small items like envelopes, used checkbooks, store cards, and receipts.
I printed labels on white paper for the spine of each binder, so I can easily see which one I need. I have binders for:
Investments
Banking
Insurance
Homeschool Records
Medical Records
Car Records
Household Records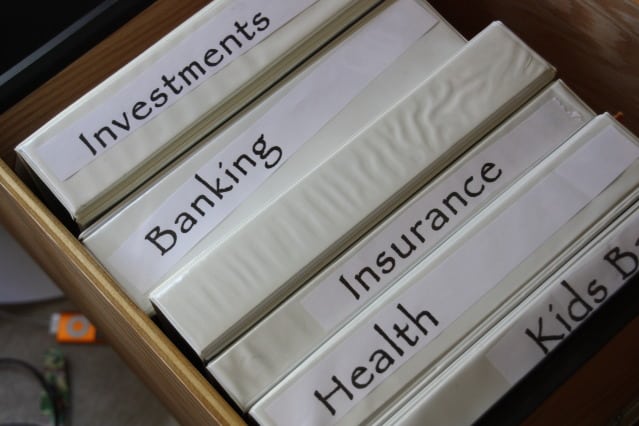 About every six months I go through my binder and shred unneeded documents.
I love my binder system. For me it is so much easier than digging through file folders to find paperwork. For the first time in my life, we have moved and I have not opened up a box of disorganized papers on the other end.
What filing system works for you?