This week my daughter and I made these adorable almost no-sew tutus. This craft project was so easy and required minimal sewing. They came together so quickly we forgot to take pictures of anything but the finished product.
Here are three of the tutus, we still need to finish two more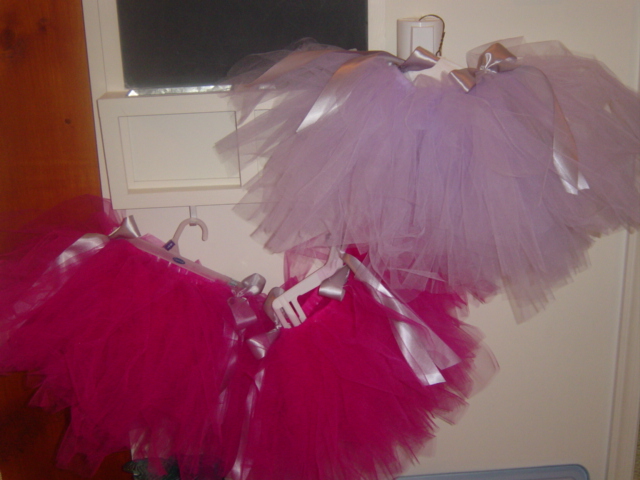 here is a close up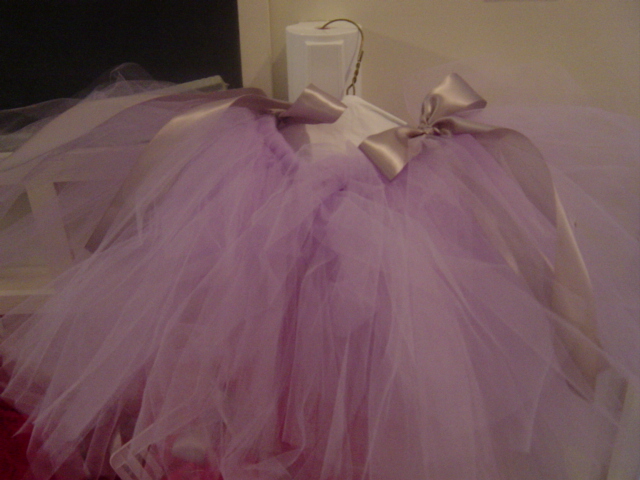 We had fun making them and they took about an hour to make, the longest part was cutting the tulle. These are small, about a 2T. We found that you can make them short and super puffy, or long and sort of puffy.
Here are directions so you can make your own no-sew tutu.
First measure the waist of the tutu wearer. Subtract 3 inches. Cut your elastic to that measurement and sew ends together. (I used a zig zag stitch, but this can be hand sewn as well) I recommend sewing back and forth several times to make sure your waistband is very secure.
Decide how long you want your tutu to be,  double it and add one inch. That is the length you want to cut your tulle.
My tulle was already six inches wide so I only had to cut the length. I used two 6 in by 75 ft rolls of tulle for each tutu, which I purchased on ebay.
Here is the hard part to explain in writing. I slid the elastic waist band up my leg and on my thigh. I then proceeded to tie the tulle in double knots on the elastic waistband. I made sure all the knots were at the same level on the elastic. Putting the elastic on your leg just makes it easier to work with.
After I tied all the tulle around the elastic I added satin bows on each side. I burn the ends of my satin ribbon to keep from fraying.
This project is very easy and even a non crafty person can make these adorable tutus. Pair with a leotard and you have a great gift for that special little girl.
You might also like…