The following is a post from contributing writer Jami.
Do you need a small to medium-sized rug but you:
can't find one to fit your decor?
can't find one that's the right price?
can't find one that doesn't look cheap (since it is the right price)?
can't stand to shop for rugs (that would be me…boring)?
Well, guess what? You can easily (really!!) make your own rugs using basic materials and entry-level sewing skills. In fact, you could even use fabric glue to make this a no-sew project if you'd like.
And this project takes less than an hour, start to finish. Quick and easy? Oh, yeah.
How to Make a Rug
Supplies Needed
Upholstery-weight, canvas, outdoor, or other sturdy 54″ wide fabric. Sizes: 2-1/2 to 3 yards yields 2 long runners; 2-2/3 yards roughly equals a 5×8 foot rug; 1 yard will produce an entry-sized rug. You can get a custom-sized rug by measuring the area you need and buying enough fabric to cover the area. To save money, look for upholstery remnants, bargain bins, or leftovers from other projects.
Decorative fringe. It can be any length you'd like and should coordinate with your fabric. Buy enough to cover the ends of the size rug you've decided upon. The fringe pictured in my example rug is fairly long at 6-1/2 inches and is vintage – I pulled it off an old chair. So think about using salvaged items to lessen the cost and create a unique product.
Sewing machine and thread OR fabric glue.
Rug pad. Sized to fit just inside your finished rug.
Instructions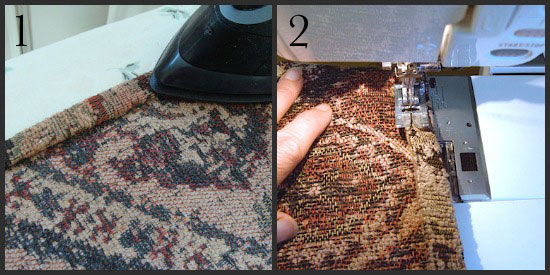 1. Cut your fabric to desired size and turn over the long edges two times towards the wrong side to create a seam to hide the raw edge. Iron in place.
2. Sew ironed edges using a heavy-duty needle and a long stitch (3.5). Remember to lock your seam in place by back-tacking the ends (sewing a few stitches, then sewing backwards a few stitches before going forwards again). Alternatively, you can use fabric glue to secure edges.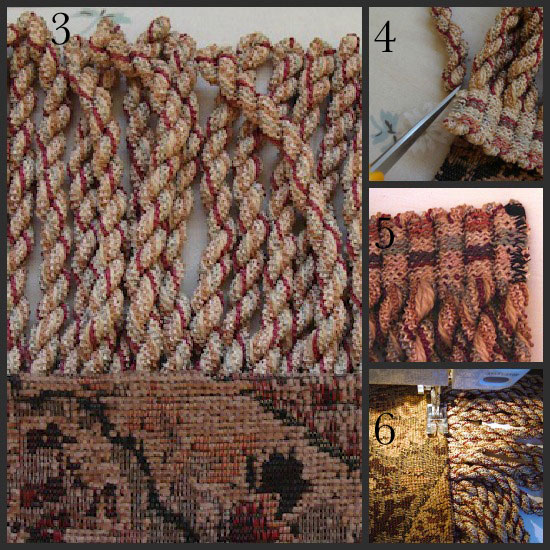 3. Turn raw edges of the short rug ends towards the back and sew (or glue) in place (no need to sew a concealed-edge seam, as the raw edges will be covered by the fringe and the smaller seam will create less bulk). Measure fringe for short edges.
4. Cut fringe. Fringes unravel, so care is needed in cutting: carefully cut through the middle of one fringe, cutting off one actual fringe, but leaving threads and a complete fringe at the end.
5. Use a zig-zag stitch (or a product like Fray-Check) to seal the end of the fringe to keep it from unraveling. Complete all fringe ends the same way.
6. Place fringe (the tape part) under one sewn short end and sew (or glue) in place, following the line of the seam stitching, again locking the seam at both ends.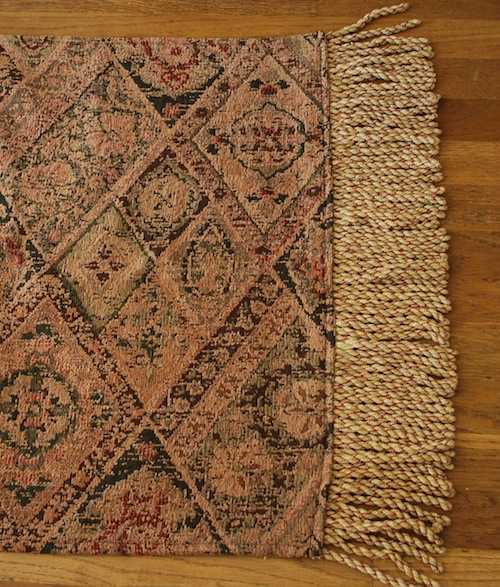 7. Attach fringe to the other end of the rug in the same way.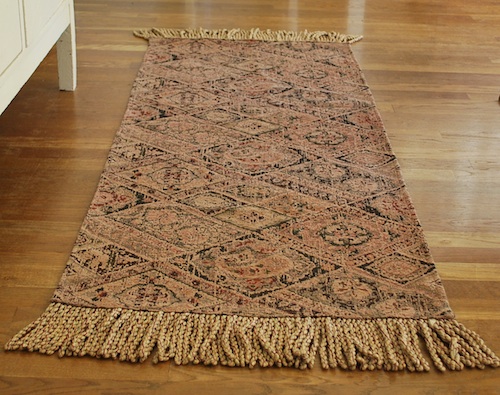 8. Cut a rug pad to fit just inside the rug measurements so it doesn't show.
All that's left is to set it in place and enjoy your new rug.
And watch the faces of folks when you say, "I made that."
More fun DIY projects: