The following is a post from contributing writer Lana (like banana).
This glass tray looks elegant and is super easy to make. Not to mention, it was super inexpensive.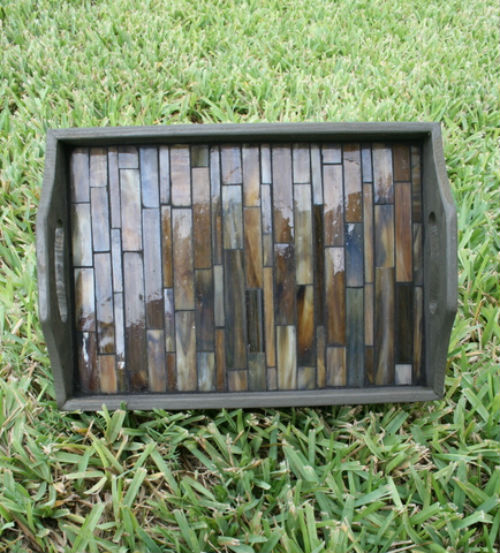 How to make your own Glass Tile Serving Tray
Supplies Needed: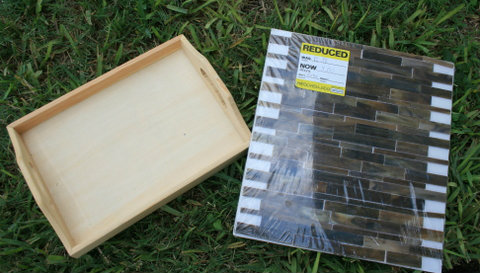 Wooden Tray (I found mine at craft store for 50% off for a $1.00)
Glass Tile (Found mine on clearance at hardware store for $3.00)
Grout
Wood Glue or other adhesive
Paint (Doesn't take much.)
Paint Sponge Brush
Instructions:
Paint the bottom side of the tray. Let dry for an hour or so.
Turn the tray over and paint the the top.  Be sure to catch any drips or runs of the paint.Be sure to paint with the grain not against it.


While the tray is drying, prepare your glass to fit into the painted tray.Rectangle tiles (like used in this tutorial) are harder to use than square tile. If the tray is not large enough for the tiles, they will have to be cut down.  While this is super simple – it does require another tool to cut the glass i.e. wet tile saw (my personal favorite) or a little tile dry cutter as pictured below.


Duct tape is great for making lines as a guide to cut  the tile to fit the tray.

Score the glass tile so it is easy to break off.  We used a dry tile cutter – it just scores the tiles so they can be snapped off.
Add the glue to the bottom of the tray.

Lay the tile in the tray.  Let dry for an hour or so.

Apply the grout mixture to the to tile.  Popsicle sticks are great spreaders for this small project.
Smother the tile with grout.  Be sure to fill in any holes.  Wear disposable gloves for a neater manicure.

Wipe off excess grout with sponge or an old t-shirt works great.
Enjoy your new tiled glass serving tray.
 Other Ideas:
 Fill the tray with home baked goodies and give to someone special.
Instruct loved ones to deliver to your bedside with chocolate chip cookies.
Make one for every season or holiday.
More fun DIY projects: