The following is a guest post from Kathy. 
Homemade laundry detergent was my first do-it-yourself cleaning product experiment.
I have always used a 5-gallon bucket to store each batch, but I realize this is not possible for many people, from those like my youngest daughter living in small quarters to my elderly mother who can no longer lift heavy objects.
I decided to use a little old fashioned mathematics to figure out how to accomplish my favorite, economical, earth-friendly laundry detergent in normal, grocery store size bottles.
I'm so excited about figuring this out, how to gain warehouse-store savings without buying hernia-size containers, that I plan on giving these as Laundry Gift Sets to young moms and widows at my own church, as well as gifts for new brides.
Homemade HE Laundry Detergent
Ingredients
1.1 oz. grated Fels Naptha Soap
1.93 oz Borax
2.96 oz Washing Soda
Instructions
Use a medium saucepan to heat 2 cups of tap water. Adding a little extra won't hurt.
Add the grated soap into the boiling water on the stove. Stir occasionally until it is completely dissolved. It'll only take a minute or so.
Add the Borax and washing soda into the pot of now soapy hot water; stir well for about a minute.
Let this detergent concentrate cool just enough to not melt your plastic jug. Pour it into a one-gallon container. If you're worried it's too hot, add a touch of tepid water.
Add enough hot water from the tap to reach half-way.
Make sure your container has a well fitting screw-on lid and shake the jug like your ridding your body of pent up aggression. The solution needs to be 100% mixed. It won't take more than a couple of minutes.
Let this jug sit all day, or overnight. It will be extremely thick and look like a blob; that's good in this case.
Once the processing time is over, shake the jug for another couple of minutes.
Fill the remainder of the jug with hot tap water. Shake for another minute and you're done.
Notes
It doesn't hurt to give the jug a little shake before each use. It takes about ¼ cup to do a very large load of really dirty laundry; there is no need to add any more water to the mixture. Remember this is high efficiency (HE) detergent so don't worry that you don't see suds filling the window of your machine.
https://thehappyhousewife.com/home-management/homemade-he-laundry-detergent/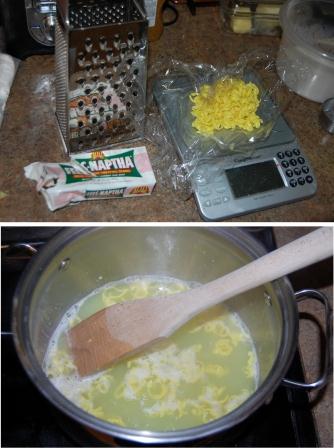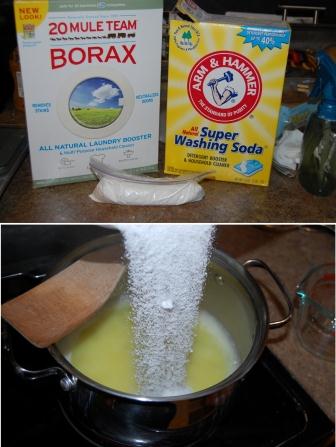 Congrats, You've just made a gallon of laundry detergent that cost around 4 cents per load.
You can find Kathy writing at On the Home Stretch.
You might also enjoy: