Do you find yourself struggling to keep up with the laundry? After seven kids I've seen and washed it all. When my children were little I was always searching for laundry tips to help manage "Mt. Laundry."
Laundry Tips for the Busy Mom
I've never been a fan of having clean laundry in baskets all over the house because I feared it would end up on the floor and I would have to wash clean clothes! Since I focus on doing a few loads as possible every week, I needed to find a way to get the clothes washed, dried, and put away on a regular basis.
Save Time on Laundry
Create laundry priorities. Is it important that your sheets are washed weekly, every other week, monthly? Do you need a clean towel every day or can you go a few days before replacing your towels? Does your husband have work clothes that need to be washed every night? You might be creating more work for yourself by doing extra laundry.
Simplify. Buy the same socks all the time, maybe stick to 2 colors, black and white. You'll save time not having to match up socks, because they all match. When my boys were little they each had Haines brand socks. Each child had a different size so it was easy to match them up by the color of the seam on the toes.
When the boys got older we kept things organized by brand. One boy liked Nike socks, the other Adidas. It was easy to match them up after washing a load of whites.
Use a mesh laundry bag and put all your dirty socks in them to wash and dry – never lose another one!
Does your washer have a timer? If so start a load before bed and set the timer to finish when you are waking up. You can put a load of clothes into the dryer first thing in the morning and have the laundry folded and put away before breakfast.
Label your laundry bins (lights, whites, darks). This allows everyone in the family to sort their own laundry so you don't have to.
Create a laundry schedule. During the fall I like to watch college football, so Saturday is my laundry day. I wait until Saturday so I can fold laundry and watch football. The rest of the year I do laundry throughout the week so I'm not spending a Saturday folding clothes.
Involve the Kids
Even your littlest kids can help with the laundry. When my kids where young they all had laundry jobs. If your children have chores when they are younger it becomes a habit and you'll have less complaining when they get older.
Toddler – Helps put the clothes into the washer, takes all clothes out of the dryer and puts it into the basket. (make sure the dryer has cooled a bit before enlisting the help of a little one)
3-year-old– Collects the laundry every morning after breakfast and brings it downstairs to the laundry room. She is helped by her 5 year old brother but is about ready to handle this job on her own.
5-year-old- Helps collect the dirty clothes. Puts away all of his own clean laundry except the hanging items.
7-year-old- Takes clean clothes basket up to folding area. Puts away all of his own laundry.
Tweens and Teens – Fold laundry and put all their own laundry away. They can also help younger siblings put away their own laundry.
I like to include my children under age five in the laundry sorting in order for them to learn their colors.
The key to being able to have your little ones help with the laundry is to keep it simple. We have two baskets upstairs that get dumped into a big basket downstairs. They can do this without any help because it is easy. We color sort later while I supervise.
Kids can put their own clothes away
In order for your kids to put their own clothes away you need to create a system that they can use. If all of their clothes are on hangers and the rod is 5 feet high a young child cannot put their laundry away.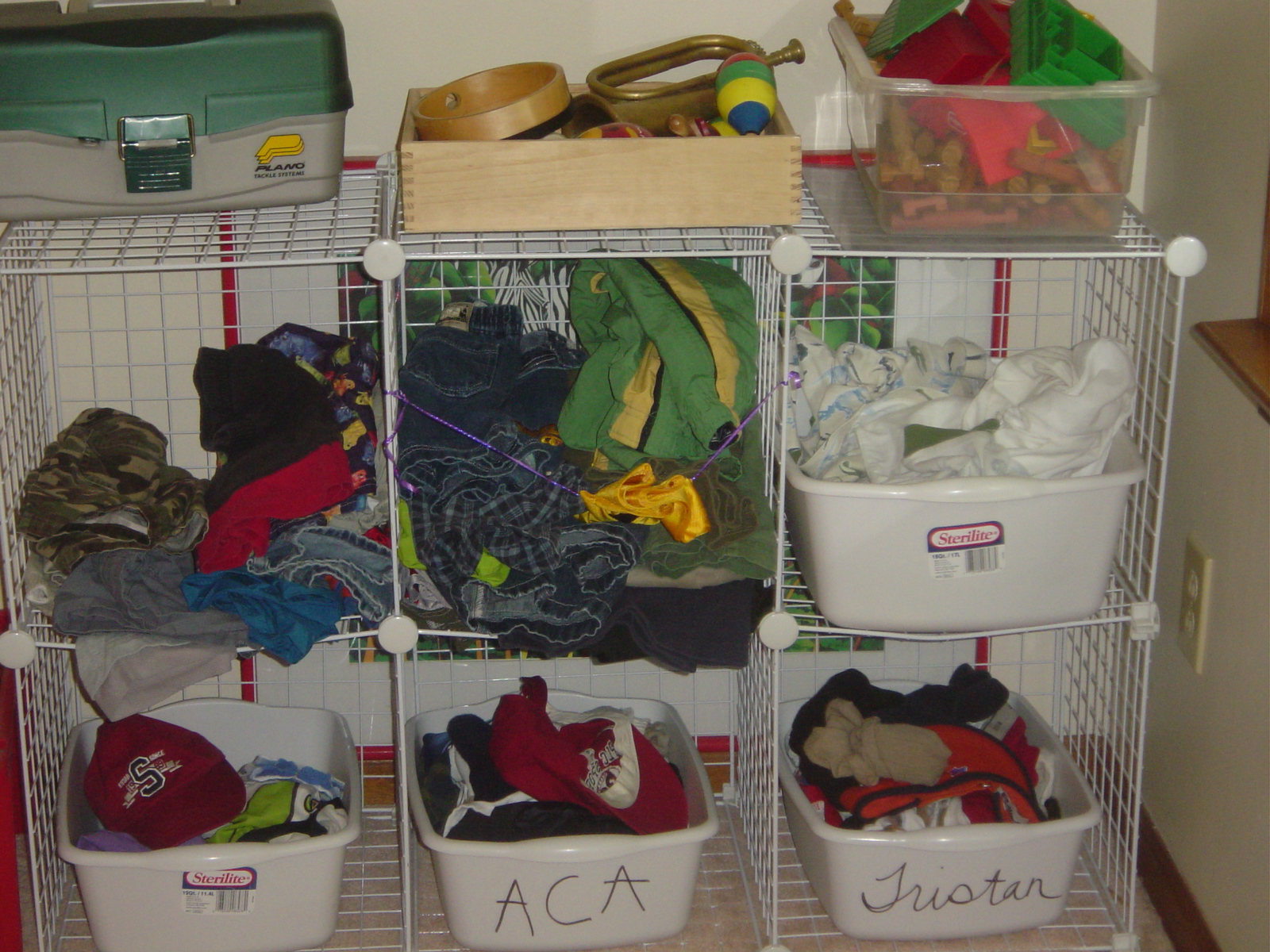 When my kids were little we used an inexpensive metal cubes for their clothes. As you can see from the above picture each boy has a bin for socks and underwear. They are all labeled with their name or initial so there is no confusion as to where things go.
Above their bins are cubbies for their pants or shorts. This makes folding and putting away a breeze even for little boys. In this picture my oldest boy didn't have a cubby for pants because he had extra room in his drawer. Finally we have a bin for pjs. These are rarely folded but rather thrown into the bin.
I cannot stress the importance of involving even your littlest helpers. Once my kids are in middle school they do their own laundry. They've never protested this chore because they've been doing laundry almost their entire lives.
Give up on perfect. If your children are helping you every shirt may not be perfectly hung, the towels might not be facing the same way in the closet, and the shorts might be wadded up in the drawer.
When my kids were little I actually gave up on folding clothes. Best. Decision. Ever.
It's okay.
The important thing is that your children are learning and eventually they will be able to do the laundry for you. Getting the family involved makes laundry easier in the long run, so start today!
Save Money on Laundry
When I think of cutting back on the budget I usually think of groceries, cars, and bills. However there are real savings in the laundry department. From making your own laundry detergent to hanging your clothes out to dry, you can save money on laundry.
One of my favorite laundry tips is to check your dryer vent regularly. It can clog and cause your dryer to work inefficiently. To unclog your dryer vent you can use a leaf blower to blow out all the lint and other fun items that collect there.
Read more of the best money saving laundry tips here.
Keep your Laundry Room Organized
In many homes the laundry room is off the garage or the kitchen. It easily becomes a catch-all place for everything no one wants to put away. Here's how to keep your laundry room organized.
First, determine its purpose. Obviously the main function of the laundry room is for washing and drying clothes, but your laundry room might also be a mud room/ bathroom/ storage closet/ garage / pantry.
After you've determined what needs to go in your laundry room you're ready to get started.
Here is my laundry photo from a home we owned a few years ago, I highlighted some of the things that don't belong in my laundry room.
Before photo
Take everything out of the laundry room that isn't supposed to be stored there and put it where it belongs. It is important that you actually put away these items, because if you don't they will end up back in your laundry room in a few short days or weeks.
After you've taken care of the excess it's time to clean your laundry room!
Have you ever moved your washer or dryer just a few inches out of place? It is usually filthy. Wipe down appliances, mop the floors and thoroughly clean out your dryer's lint filter. If you have a lot of stuff in the laundry room you'll want to wipe it down too because it will probably have a thin layer of dirt/ lint on it.
After you laundry room is clean it's time to organize what's left in your laundry room. I'm a huge fan of wire shelves to organize in closets and storage spaces.
Wire shelves are inexpensive and are easy to move around if you need to repurpose them.
Another clever idea for storage is to use an over-the-door shelf to help organize laundry supplies.  Read more at Better Homes and Gardens.
Laundry room necessities
Waste Basket – For lint disposal as well as all those treasures we find in our kids' pockets.
Small Container – Keep small change, lego pieces, receipts and pocket treasures you don't want to throw away in this container and empty it on a regular basis.
Wet Bin – I use a dish pan (about $1 at Walmart) for wet items so they don't lay on top of the dirty clothes.
Mesh bag – These are necessary for delicate items and are also great for washing baby items too!
Drying rack or bar– If there is any place to put a drying bar or rack in your laundry room I highly recommend it. I prefer racks that fold up flat for storage.
Clothespins – Clothespins can do so many things, even if I never hung out one piece of laundry I would have them in my house because I use them all the time.
Detergent, stain remover, and other products used for getting things clean.
Those are just the basic laundry items I keep in my laundry room. After you've gathered your basic items organize them in your room in a way that works best for you. All these great ideas are wonderful, but if they don't work for you, they don't work!
Here's my laundry room after I cleaned it out and reorganized it.
After photos
Below my counter are two bins for our soccer gear, one for shin guards and socks/ the other for cleats.
There is also a spot for reusable grocery bags, rags, soda.
The counter is clean and ready for folding! Although it isn't very fun to fold clothes in this room when the dryer is running. Maybe it will be fun in December? 😉
Nice clear walkway to the garage and a mat for people to wipe their feet.
For a while my dryer was piled with junk and trinkets that were either pulled out of pockets or dropped off by people who were too lazy to take it all the way to the garage. I'm hoping to curb the laziness and I put a small jar (which is hard to see in this photo) above the dryer for me to keep the treasures I find in pockets.
Every week I empty the jar and the kids put their treasures away. Unclaimed treasures go into the garbage.
The bin on the dryer is for dirty rags. It disappeared for a few weeks this summer and the kids were putting the rags in with the rest of the laundry. Gross.
The blue bubble hanging above the washer holds stain removers and other laundry items. It isn't the best method, but it was laying on the floor of my laundry room so I put it to good use.
The space to the right of the dryer is open and allows me to hang delicate items that don't go into the dryer. It is easier than getting out the drying rack if I only have a few things.
It's amazing how much more motivated I am to do laundry when my laundry room is clean and organized. For more laundry room motivation check out Angie's DIY laundry room makeover.
More laundry tips to get ahead of the laundry game.
Once you get a laundry plan together, the best way to follow through is to keep your laundry and laundry room organized. Here's a round up some of the best laundry tips I've found on the web.
Final Thoughts on Laundry
Dryer sheets are a bit like bacon, you don't know what you are missing until you try the real thing.
Laundry is a pain and it is never going to be finished. We have to stop looking at it as a job to be completed and focus on maintenance.
Dryer sheets aren't just for laundry. They have many different uses and you can save money by putting them to use after you've used them in the dryer.