For years I've talked about the importance of age appropriate chores for kids on this site. It took me a while to realize that I couldn't do it all and I needed my kids to pick up after themselves and help out a little.
After I realized that my kids were capable of doing chores at a very young age I implemented daily and weekly chores in our home. Vital to our success was assigning age appropriate chores to each child.
Reader Nikki asks….

Can you write posts about each age – what you have them do total? I am not naturally organized, so this would help me implement gradually.
I've always believed it has more to do with ability than age. Some of my children were ready to use the stove at eight or nine and others I've felt needed more time to mature. Only you know what your child is capable of doing when it comes to chores.
Remember to keep in mind your child's age, ability, and maturity when assigning chores around the house. Most importantly, young children need supervision while doing age appropriate chores for two reasons. First, you want to make sure they are learning the correct way to do each chore and second you want to make sure they are not doing anything that could harm them or the house.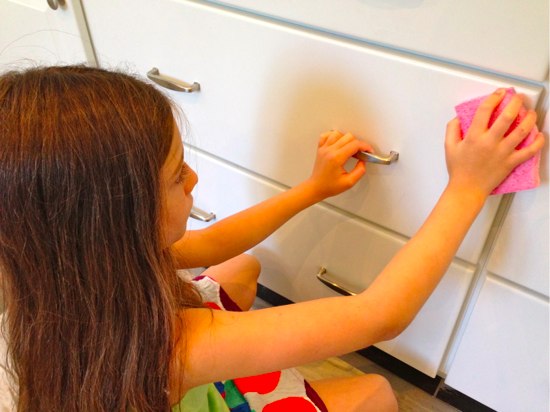 Finally, don't mistake laziness for inability. I've found that the earlier you give your child age appropriate chores the more they can do at a younger age. Most children are very capable, you just need to motivate them.

I'm sharing with your our family's chore list. Remember, because the two-year old can do the chores on the list doesn't mean she does all the chores on the list. I use the list as a guide when it comes to assigning chores. Each child does one to two age appropriate chores each day depending on the size of the job.
Age Appropriate Chores for Kids
Toddler (ages 2 and 3)
Pick up/ put away toys
Unload the dishwasher (silverware, plastic cups, tupperware)
Dust with a feather duster or microfiber rag
Swiffer the floor
Put clothes in the dirty clothes hamper
Collect dirty clothes
Help get clothes from washer to dryer
Put clothes away
Make bed
Wipe cabinets
Wipe baseboards (soapy water)
Preschooler (ages 4-5)
Any toddler chores
Load the dishwasher
Vacuum couch/ chairs/ cushions
Take out recycling
Set table
Clear table
Wash dishes (with supervision)
Clean windows
Wipe out bathroom sinks (baby wipes work great for this chore!)
Match socks
Fold dish towels
Weed
Early Elementary (ages 6-8)
Any toddler and preschool chores
Meal prep (wash produce, find ingredients, simple cutting with butter knife)
Wipe bathroom sinks, counters, toilets
Hang out laundry
Sweep
Vacuum
Collect garbage
Get mail
Fold/hang laundry
Clean microwave
Rake leaves
Elementary (9-11)
Any previous chores
Make meals
Take garbage/ recycling to the curb
Wash/ dry clothes
Clean toilets
Mop floors
Vacuum out cars
Middle School (12-14)
Clean tub/ shower
Make full meals/ meal plan
Clean out fridge/ freezer
Mow yard
Wash car
Supervise younger children's chores
High School (15-18)
By the time my children reach high school age I expect them to have the ability to do any chore around the house. While they don't do everything I know they are capable in all areas of home management.
When a child becomes proficient at a chore it is time to pass that chore to a younger child. I take the lowest common denominator approach to chores in our house. This means the youngest child who is able to do the chore gets the job. When the child is learning their chores they are supervised by a sibling or a parent.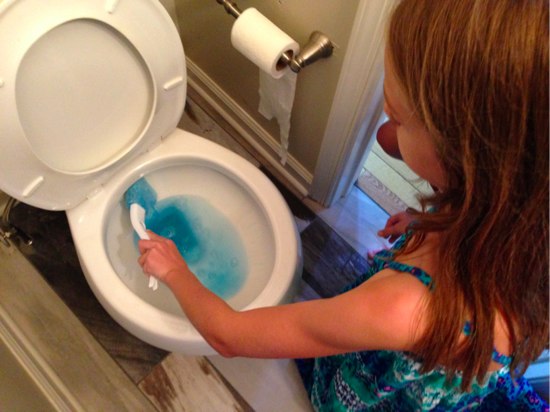 While our family isn't perfect when it comes to chores, my kids are encouraged to work together to keep the house clean and organized.
My only regret is that I wish I would have given my kids age appropriate chores when they were younger. When I only had two young children it was easier to just do it all myself. Not anymore. Having kids that can help around the house keeps the house cleaner and frees up more time for fun activities as a family.
Finally, remember to keep it fun! Most little children WANT to help out around the house. Assigning small chores like the ones listed above allow your kids to feel like a contributing member of the family. Put on some fun music, sing a favorite song (we use to sing the Clean Up song from Barney) and work together to make it enjoyable for everyone in the family.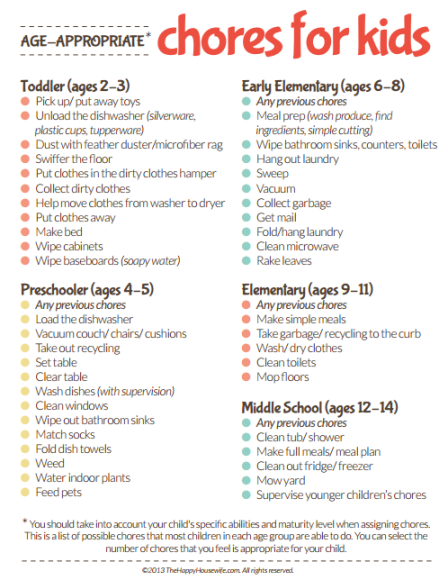 To download your free age appropriate chores for kids printable click on the button above. The chart will open in a new tab. Right click to save or print the chart. 
A few of my favorite chore/ reward charts for kids
Melissa & Doug Deluxe Magnetic Responsibility Chart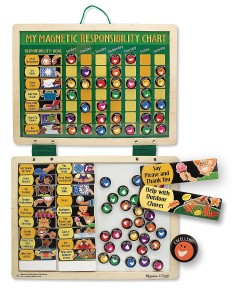 Magnetic Dry Erase Rewards Chore Chart with Marker and Magnets