With summer in full swing the ants are definitely having their way around the house. If you have some of those bugs that you can't get rid of, here is my trick to get rid of ants using only three ingredients. 
When ants show up in your home, often your first reaction may be to grab the phone and call the exterminator.  (Or, perhaps that is your second reaction, as your first reaction may be to want to squish them all.)  Before calling the exterminator to get rid of ants in your home, save yourself money and chemicals by trying a simple, three ingredient solution that will get rid of ants in your home.
After adding a screened-in porch, we started getting ants in our home from time to time.  We tried ant solutions that we could buy at the store, as well as numerous exterminator visits (spending almost $300 one winter because of multiple visits).  This three ingredient solution was the cheapest method, using only items that I happened to have at home.
Supplies needed to get rid of ants
Ant Killer Instructions
1. Mix the Borax and sugar together until well combined.
2. Add the mixture to your warm water and mix constantly until the powder has been completely dissolved.
3. Seal the mixture in a jar or container for future use, and use only what you need in the next steps (and save the rest).  It is important that you clearly label the jar, as it will just look like water.  Do not leave this where children can get to it.  (Because this is such an easy and inexpensive solution to make, however, I only kept what I made until after the ants had been gone for a week or more.)
4. Fill some jar lids, milk caps, or other shallow containers with cotton balls or a wad of paper towel.
5. Add the sugar-Borax solution to the prepared lids making sure to soak the cotton balls (or paper towel).
6. Wait.  It may take the ants a while to find the solution.  But, once they do, let them feast (and take the solution back to their home).  At our house, to speed up the finding process, I placed a couple of the soaked cotton balls directly on the ledge in my kitchen where most of the ants were.
Be prepared – more ants will probably show up once they find the solution.  However, within a day, you'll probably see much fewer ants.  Over the course of just a few days, all of the ants should likely be gone.  Because we had watched the ants quite a bit, we noticed where they were coming from and made sure to use a sealant to seal the area to stop them from coming back in the future.
What other solutions have you taken to solve an ant problem in your home?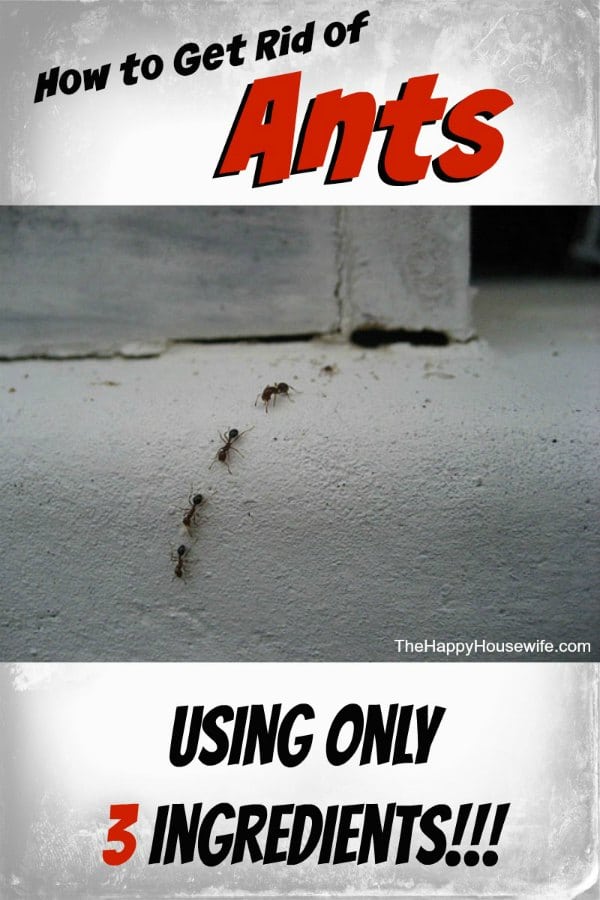 You could also try this method for how to get rid of black ants.