I seriously dislike messes, and I loathe clutter. I do not function well in a house that is messy or disorganized. Normally I run a pretty tight ship around here, but lately things have gone a bit awry.
Remember when I wrote a few weeks back about only being able to do a certain number of things well at any given time? Well, housekeeping has kind of fallen by the wayside over the past few months, thanks to this little addition to our family.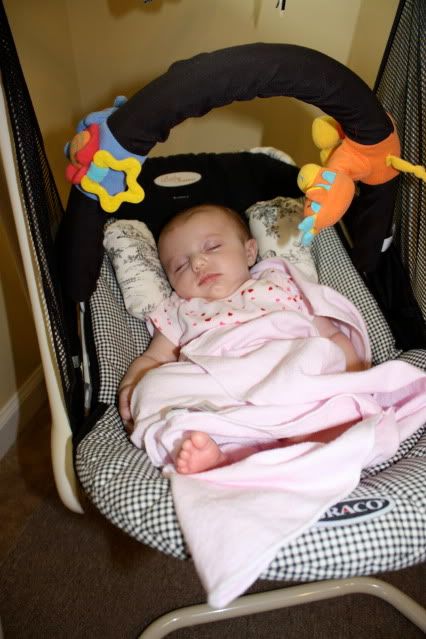 Isn't she so sweet sleeping in her swing? Well, let's just say that sweetie pie really, really likes to be held. And normally, when sweetie pie isn't being held she isn't very happy. So over the past 2 months I have needed to prioritize, and getting school done came first. Everything else kind of fell by the wayside. It hasn't been too big of a deal since we all loooove holding Miss Cora, but over time the clutter has been building, and building, and building.
Part of the clutter is just stuff I need to sort and throw away. Then there is school clutter, toy clutter, clothes clutter, food clutter, you name it, we have it! I have put some photo collages together just to give you a taste of the junk I will be tackling on this summer.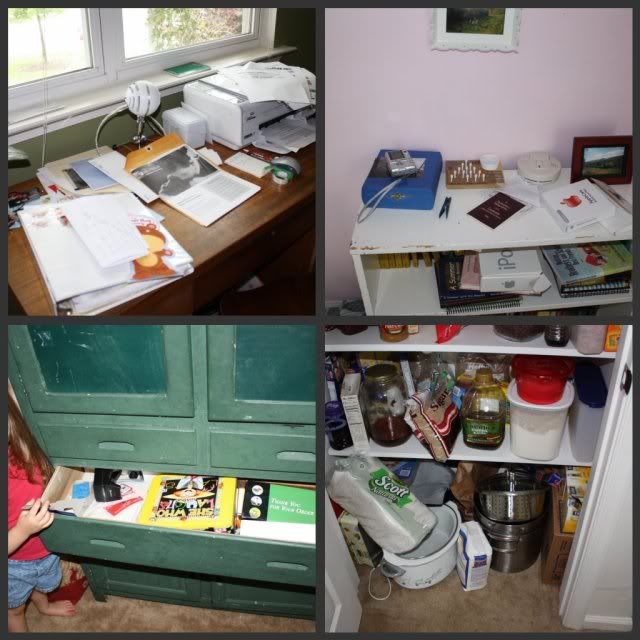 It seems clutter has crept into every corner of our home, and this summer I am going to do something about it. With school finished, I plan on using my free time to go through my house room by room, closet to closet, corner to corner and start getting rid of the mess!
I am really excited about my summer project, and while many of you will be lounging by the pool or visiting the Mouse, I will be knee deep in junk we should have thrown out weeks, months or even years ago.
I am seriously amazed at how quickly things pile up around here. As I was walking through the house snapping pictures I saw this little collection hanging out on a bookcase.
Not a single one of these items belongs on the bookcase, and yet there they all sit, just waiting to find a home…
Now, it is time to get cleaning, but I am asking for your help. There is a lot to go through and our summer is already shaping up to be a busy one.  I figured if I am cleaning and organizing then maybe my readers want to spend their summer cleaning too, right? So I am issuing a challenge, let's declutter our homes this summer. Let's clean out, give away, recycle, and pitch items in our home that are keeping us from enjoying a clutter free life. For the rest of the summer, every Monday, I will post the "I've got the Itch to Pitch Challenge." Find an area of your home and work on it throughout the week, then link up with your before and after photos every Monday.
I would love to attach a few giveaways along with this challenge, but I can't really think of what to giveaway quite yet. Feel free to put the button on your blog if you think it will motivate you! The first Mr. Linky will go up next Monday, June 15th, so let's get cleaning!