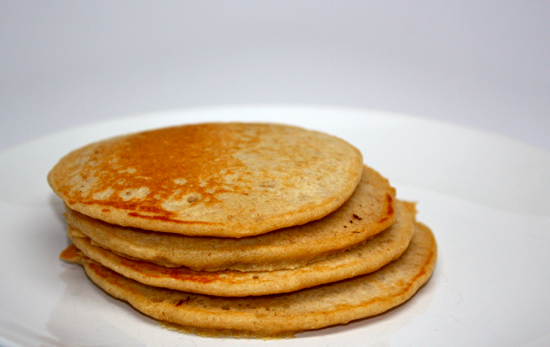 For years I've tried recipes for oatmeal pancakes and for years my children have told me how much they dislike oatmeal pancakes. It was until I read The $5 Dinner Mom Breakfast and Lunch Cookbook
that I realized I should be grinding the oatmeal instead of soaking it, as I had been doing in the past. While I don't know which is healthier, grinding the oatmeal removed the texture issue that came from mixing it in, and my kids loved these new oatmeal pancakes!

Whole Wheat Oatmeal Pancakes
Ingredients
½ cup oatmeal
1 cup whole wheat flour
¼ cup brown sugar
2 heaping teaspoons baking powder
½ teaspoon salt
1 egg
¼ cup applesauce
1⅓ cups milk
Instructions
Grind the oatmeal in a food processor or blender.
Combine oatmeal, brown sugar, salt and baking powder.
Sift the whole wheat flour into the mixture.
Add the bran and germ (which would have separated during sifting) into the mixture.
Mix together.
Add egg, applesauce and milk.
Mix together until thoroughly blended.
Cook on a buttered 275/300 degree griddle.
Flip then serve.
Notes
I have only made these pancakes with fresh ground whole wheat flour. If you are using store bought wheat flour I would use ¾ cup wheat and ¼ cup white to keep the pancakes from being too heavy. If using store bought flour you can omit sifting. If you would like to learn more about why I sift my flour you can read my
sifting whole wheat flour article
.