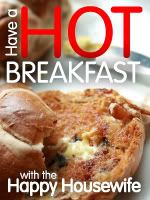 This week Fab Food Friday shares two of her favorite recipes. I am thankful for her guest post since I had a set back this morning. I woke up exhausted, achy and with a pretty upset stomach. The kids had requested biscuits, but I just couldn't get myself into the kitchen. I resorted to…. CEREAL!!!! I almost didn't admit to it, but I want to be honest. This could have been prevented if I had waffles, pancakes, or muffins in my freezer, but they were consumed while I was away at Blissdom.
I will post more on freezing breakfast items later, but for now enjoy two delicious recipes from Fab Food Friday.
I enjoy being in my kitchen. I love to cook for my family and quite
often my daughters "help". All the recipes I feature have been taste tested
in our kitchen- where we are often joined by extended family and friends-
and have received the top compliment of "dewishous" by the kids.

This is my current favorite easy, yummy breakfast.   It looks
really fancy and will impress everyone.  My kids love that they have fruit
in an edible bowl!
Crepes aren't just for breakfast. They are wonderful for lunch wrapped around chicken or tuna salad or for dessert with ice cream and chocolate. Of course they are wonderful at breakfast with fruits and whipped cream.
Print Recipe
Crepes
Ingredients
3/4

cup

+ 1 tablespoon all purpose flour

3

tablespoon

superfine sugar

I pulsed regular sugar in my Magic Bullet for a couple seconds – it's one of my most used appliances

1/8

teaspoon

salt

1 3/4

cup

milk

2

large eggs

unsalted butter
Instructions
Whisk together flour, sugar and salt in a large bowl (I used a plastic measuring pitcher for easy pouring).

In a medium bowl (I used a the blender on my Magic Bullet) whisk together milk and eggs.

While whisking flour mixture, slowly add milk mixture and whisk until smooth.

Heat an 8 or 9 inch nonstick skillet over medium heat. Rub with butter.

Pour in about 3 T of the batter.

Tilt and rotate pan until batter is evenly spread.

Cook until top is dry and bottom is golden brown in spots, about 3 minutes.

Gently flip over and cook one minute more.

Remove to plate.

Now you can eat immediately or store by placing first crêpe on a sheet of plastic wrap, placing another sheet of plastic wrap on top of it and alternating between crêpes and plastic until you have finished cooking. Then store in refrigerator up to 3 days. You can heat in microwave (with the plastic wrap if you use Press N Seal) for one minute.
Notes
A note on flipping… use a thin and wide spatula and move slowly. You maydestroy a couple crêpes until you get the hang of it. They may not be prettybut they'll still be edible!
You might also like…