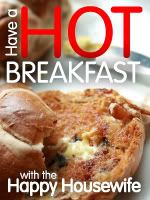 Welcome to week three of the Hot Breakfast Challenge.
I was hoping to talk a little more about the importance of breakfast this week, but I wanted to publish this post before it got too late. I'll save my thoughts for next week and for now you can enjoy this guest post from Fish Mama.
Breakfast has always been a favorite meal for our family. My oldest regularly asks me at bedtime what will be served at the next meal. Even back before we had kids, my husband and I often went out for breakfast when we were dating or first married. For him, breakfast is a comfort food. For me? Any food is comfort food! But, one of my favorites is this easy casserole that can be made ahead. It was served to us on our honeymoon at the little bed and breakfast we were staying in. It's a delicious way to get your children to eat spinach.

Eggs Florentine Casserole
Ingredients
9 eggs
1 pint cottage cheese
8 ounces grated Swiss cheese
8 ounces crumbled Feta cheese
1 (10 ounce) package frozen chopped spinach, completely thawed and squeezed dry
Instructions
Preheat oven to 350 degrees.
Spray a 9×13-inch pan with nonstick cooking spray.
In large mixing bowl, beat eggs.
Add cheeses and stir to combine well.
Stir in spinach.
Pour into prepared dish.
Bake for 45 minutes to one hour, or until eggs are cooked through.
Cool slightly before cutting into squares.
Jessica Fisher, also known as FishMama, is a happy wife and a joyful mom of SIX KIDS. She regularly writes about fun, frugality and the pursuit of a clean house at LifeasMOM.