I was pretty excited when the Beef people asked me to try out a few recipes from their website. My family LOVES steak and I am always looking for new ways to incorporate it into our meals without busting the budget.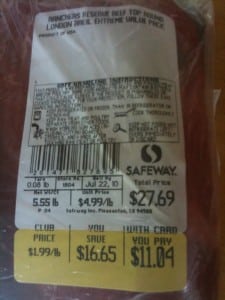 My beef choice was top round, which is also called London Broil. I was thrilled when I opened the sale flyer and found that it was on sale at my local grocery store for $1.99 a pound! Another tip for saving on beef is to buy when it is a loss leader. Grocery stores will often deeply discount one or two cuts of meat to get you into the store. Stock up during these sales!
I bought 5 1/2 pounds of top round, which should last my family three meals. That equals $3.68 per meal for meat (for 8 people). A little more than I usually spend, but we get to eat steak, so I am willing to splurge on these meals and save on others.
The recipe from the website is called Red, White & Beef Salad, and while it looks great, I modified the recipe to better suit my family.
Print Recipe
Fajita Salad
Ingredients
1

beef top round steak or 2 chuck shoulder steaks

cut 1 inch thick (about 1-1/2 pounds)

McCormick Steak Seasoning

Olive Oil

8

cups

chopped romaine lettuce

1

can

15 ounces black beans, rinsed, drained

1

cup

frozen corn

defrosted

1/3

cup

prepared ranch dressing or sour cream

1/3

cup

prepared salsa

1

cup

broken tortilla chips
Instructions
Prepare steaks either on the broiler or grill.

Combine beans and corn and place on top of a plate of lettuce.

Slice steak into thin slices and place on top of salad.

Drizzle dressing or sour cream and 1/3 cup salsa over beef.

Serve with chips.
Fajita salad was a HUGE hit with my family. My son said it was the best salad he has ever tasted. I thought it was pretty tasty myself and was pleased to find another no oven recipe to add to my list. The fact that my kids are eating lettuce, black beans, and corn is another bonus. For my non salad eaters, they ate the ingredients separately.
Disclosure: I received a gift card to cover the cost of the ingredients, all opinions are my own.
Other salad recipes you might like…