Watch the video for a real life demonstration. Directions can be found below the video.
The question remains, why would you want to bake cookies in a waffle iron?
You want a treat and don't want to turn on the oven.
You only want a few cookies.
You saw it on the internet and thought it looked like a fun idea.
You want to make a fun dessert. (Directions for that coming next week)
I used my tried and true chocolate chip cookie recipe, but I think you could use any cookie recipe in your waffle iron.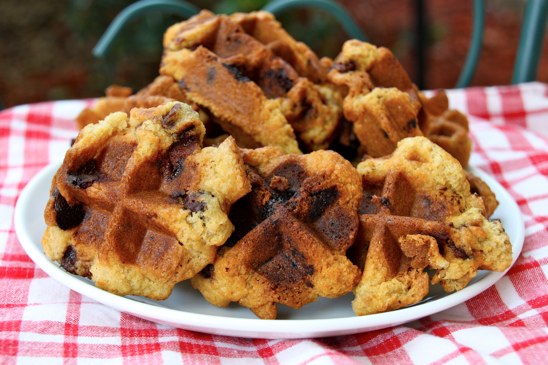 Recipe: Waffle Iron Cookies
Ingredients
Non-stick spray
Waffle Iron
Instructions
Heat the waffle iron.
Using a cookie scoop, scoop the dough onto the waffle iron.
Cook on the medium setting. (Or for about 3 minutes)
Remove.
Eat
Preparation time: 15 minute(s)
Cooking time: 3 minute(s)
Number of servings (yield): 6
It is important to make a test batch since there are many different types of waffle irons. I timed my cookies on the medium setting and they took about 3 minutes to cook.