Are you planning a garage sale soon? Sales are a great way to not only clear your home of clutter but to make a few extra dollars as well. Over the years I've held numerous sales and learned a thing or two about makes a successful garage sale. 
There are many things you can do to make your yard sale more profitable. These 10 steps to a successful yard sale are sure to help you get rid of items you no longer need and make some extra cash while you're at it.
1. Clean sale items
One of the biggest things that will turn a potential yard sale buyer away is dirty items. If you've got clothing, it should be washed and dried. Knickknacks and other items that will sit on tables should all be cleaned and wiped down so that they are dust and dirt free.
Your chances of having a successful garage sale improve significantly if people trust that your items are clean and in working condition. They will probably buy more and haggle less. 
2. Organize similar items together
Garage sale buyers want to see what you have to offer them. If your sale is messy and items are strewn about everywhere, customers can get frustrated and give up. In fact, some of them won't even stop for your sale, if they can't get a clear picture of what you're selling from the street.
Try to keep electronics together, hang clothes on a portable clothing rack, and so on. The more your buyers items your buyer can see, the more they will buy.
3. Clean and organize your  space
This one can get tricky if you are holding your yard sale in a small area, but making sure that you have an organized layout is another key to having a successful garage sale. Don't cram tables together. Allow buyers plenty of room to move around.
Place small items on tables so people don't need to bend over and look at them. Try to keep most items at waist height. Don't bundle items together in trash bags. Instead, put them together in a box or tote and put a sign on it. The neater your sale appears, the more money you will make.
4. Put on your happy face
Speaking of your sale layout, you should walk around it. Sitting in a chair on your porch while your buyers search your sale can often come across as flippant. Instead, walk around your sale making sure to greet every single guest with a smile. Ask them if there is anything specific they are searching for. You would be surprised at how many yard sale shoppers are in need of something and you may just have their item.
5. Tease with eye candy
If you have big ticket items such as furniture or electronics, place those at the front of your sale. Doing so makes them extremely visible from the street and will draw in buyers who are looking for "new" furniture or project pieces. Just be sure that you don't block the view of the rest of your sale items.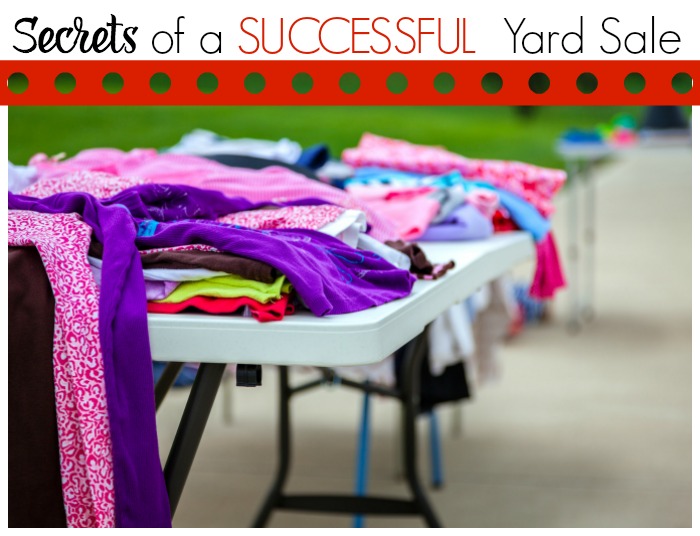 6. Clearly mark your prices
If your yard sale shoppers can't find how much you want for an item, a good majority of them will walk away. To keep that from happening, use brightly colored yard sale price stickers to price each item.
Yes, you need to have a price on every single item unless you are grouping them. In that case, store them together in a box or tote and print a price sheet on your computer.
I like to use painter's tape and a sharpie for prices, however you can purchase yard sale stickers with prices already printed on them. 
7. Keep your prices reasonable
I understand that you may have paid $50 for an item when it was new, however, yard sale shoppers won't. If your prices are too high, you won't sell anything.
Make sure to keep your prices relative to what the item is and its condition. If you find that you have an item that you want to charge higher for, make sure that you're really ready to get rid of it, and if so, try Craigslist or Ebay.
8. Become a haggling queen (or king)
Speaking of prices, you should be willing to negotiate. The majority of people will not offer you a low price, however, some will. If you get one of those shoppers, simply say no thank you and stick to your guns. If, however, you get a reasonable offer, don't be afraid to take it.
Keep negotiation in mind when you're pricing items but don't bump up the price on something expecting it. Some people don't negotiate, and if your item is priced too high, they won't even bother.
I prefer to negotiate when people want to buy multiple items. Anything that doesn't sell I have to load up and take to the thrift store the next day, so I'd rather get money for it. When people walk up with a handful of items and offer one price I'm very likely to take it. 
Personally, I consider a successful garage sale, one where almost everything is gone at the end of the day! 
9. Make proper change
Before your sale starts, go the bank and get enough change to break larger bills that your yard sale shoppers might have on them. A good place to start is $20 each in ones, tens, and fives.
You'll also want to pick up several dollars in quarters and dimes, plus a dollar or two in nickels. If you don't have the ability to make change, you could easily lose out on a sale from someone who only has bigger bills.
Additionally if you have many higher value items it may be worth setting up a Square or Venmo account so people can pay with their credit or debit card. 
10. Advertise properly
Finally, the last key to a successful garage sale is making sure that your sale is advertised properly. Gone are the days of simply putting an ad in the newspaper and small signs stapled to telephone poles.
These days, you'll want to list your sale on any Facebook groups that it is allowed on and on Craigslist as well. You should also consider picking up a yard sale kit that contains signs before your sale. Place the signs on the wooden stakes that come with it then print out arrows to attach to both the front and back of each sign pointing toward your sale. Place a sign at each corner of your street and along any other streets that are nearby.
Just make sure that you direct potential yard sale goers to your sale with each sign. A sign on a corner three blocks over won't help much if they don't see a second or third sign to guide them. One final sign idea is to put up a sign at your driveway directing them to your yard. This one is especially important if your sale happens to be in the back yard or garage and can easily be missed from the street.
Having a yard sale can be a great way to make cash. Using the tips above, you could easily earn several hundreds of dollars from your sale. Do you have any other tips for having a profitable yard sale?
More Yard Sale Tips
Time needed: 1 day.
How to make the most money at your yard sale!
Plan ahead by cleaning out the clutter in your home.
Post free ads on Facebook Marketplace, Craigslist, and Neighborhood groups.
Make signs so people can find your yard sale.
Combine with other families if you don't have a lot of stuff. The words "multi-family sale" are music to the ears of yard sale shoppers.
Put FAIR prices on everything.
Be ready to start your sale on time.
Remember to have dollars, quarters, dimes and nickels so you can make change.
Organize your items so people can find what they want easily. There's a reason people prefer shopping at Target over Walmart.
Place the most desired items at the curb so people see it first when they are driving by.
Put a smile on. Interact with your yard sale customers, have plastic grocery bags for people to carry away their purchases, and be willing to negotiate.
Coordinate with a charity to have everything picked up and donated after the sale.
More Garage Sale Tips