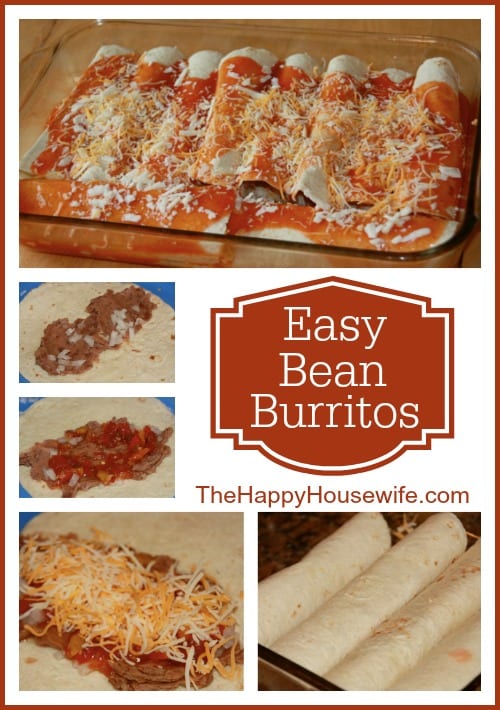 I made this dish as part of my use up all food in the house menu plan. I have to say it was a huge hit! After eating it, I told my husband I didn't even think we could go out for Mexican again! This meal was so delicious and so cheap!

Bean Burritos
Ingredients
Homemade or Canned Refried Beans
Shredded Cheese (I used a combination of colby jack and asiago, I really think the asiago made all the difference)
Diced onions
Salsa
Enchilada Sauce
Tortillas
Instructions
Spread beans on a tortilla and add diced onions.
Add salsa and enchilada sauce.
Sprinkle on cheese.
Roll up and place in a greased pan.
Pour remaining enchilada sauce on the top of the burritos and sprinkle with cheese. Or, if you are me, cover with cheese.
Bake at 350 degrees for 25 minutes.
You'll never go out for Mexican again!
Cost breakdown (serves 6)

Beans (Homemade) $0.50
Onion $0.30
Cheese $1.50
Salsa (Homemade with garden ingredients) Free
Enchilada Sauce $0.50 (with coupon)
Tortillas  $1.50
Total Cost $4.30
This post is linked to the $5 Dinner Challenge.