The garage is almost done. I decided to post pictures this week because we probably won't finish until next week, and I am really excited about the project.
This project took about 6 weeks (we didn't work nonstop) and I think we spent about $300 on all the shelves, hangers, hooks, screws, nails, and other supplies. We were starting from scratch, so if you have supplies laying around your house you can probably do it for less.
Check out some easy ideas to organize your garage:
Before picture. What you don't see is all of our bikes, riding toys, skate boards, and other toys on the front porch because they couldn't fit in the garage.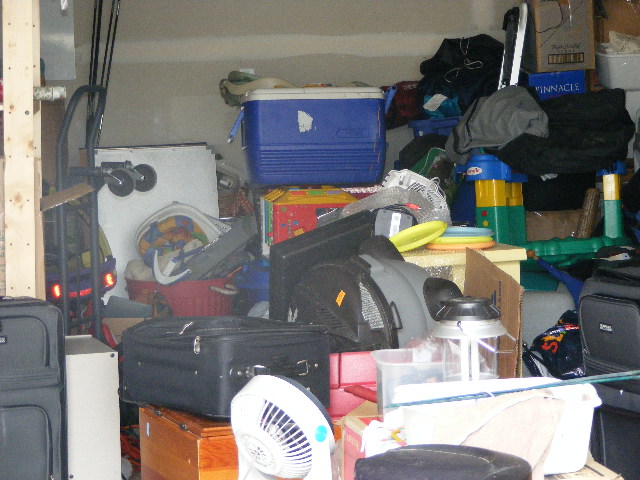 As you can see, it is a complete wreck, you cannot even walk around in the garage.
About halfway finished
90% Finished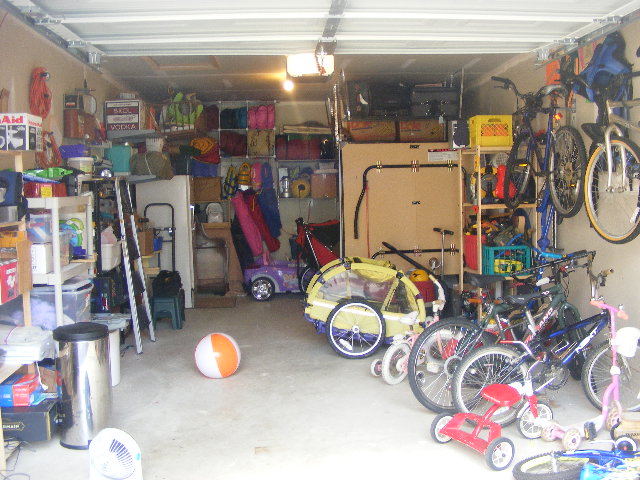 I cannot believe that I can actually walk from the garage door to the back of the garage. This has never happened before!
Here are some of the things we did to clean up and organize the garage.
Keep kids' items at their level. We hung helmets, skate boards, and pumps where the kids could easily reach them.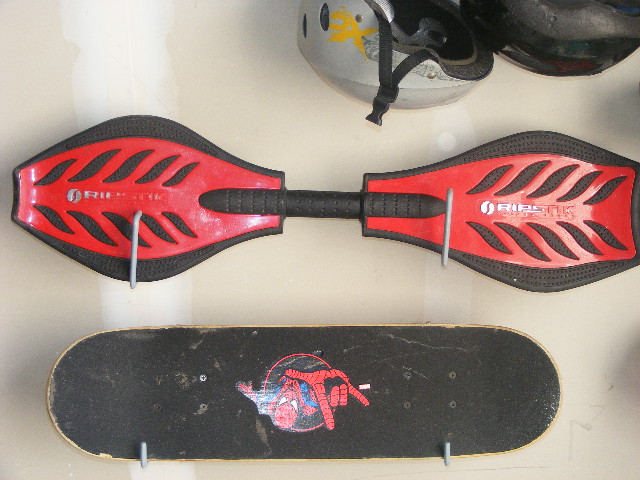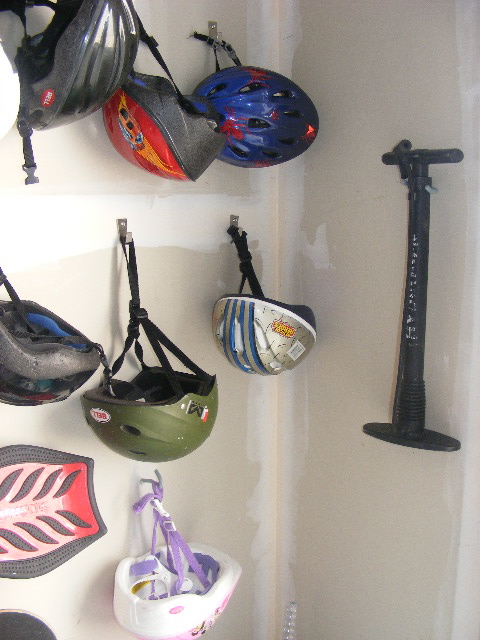 These hooks were inexpensive and purchased at Lowes and IKEA.
Keep items that you don't want the kids to play with out of reach.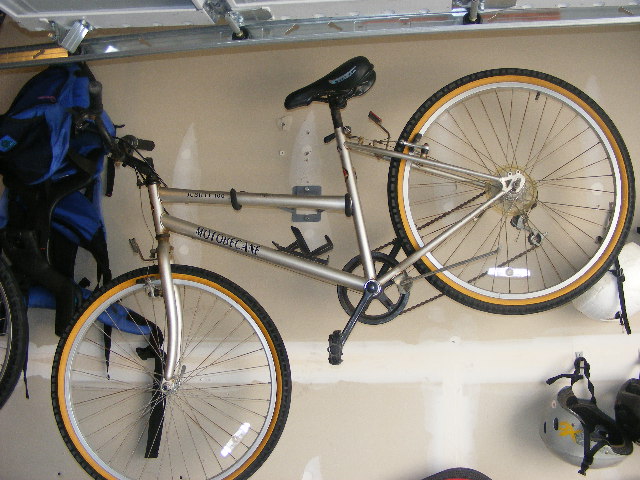 This bike rack is from Lowes, $5.
I bought these wire shelves years ago at Target. My husband used zip ties to secure the shelves together and then mounted them to the wall with "plumber's tape." It is a perfect spot for sleeping bags. We mounted shelves from IKEA next to the sleeping bags to store our camping equipment.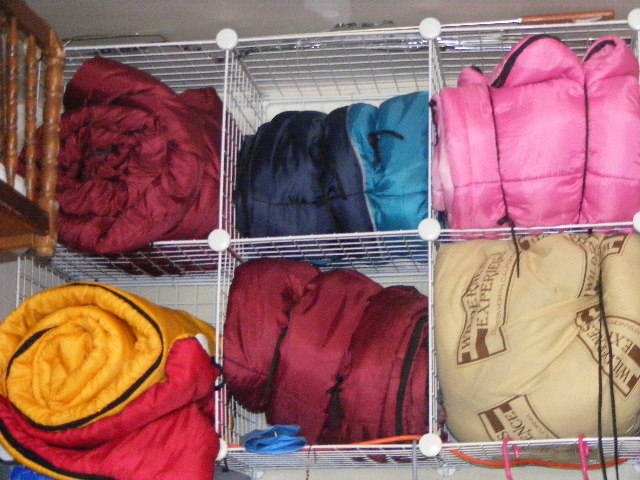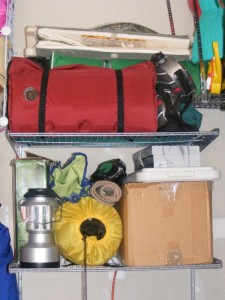 Zip ties have many uses in our house.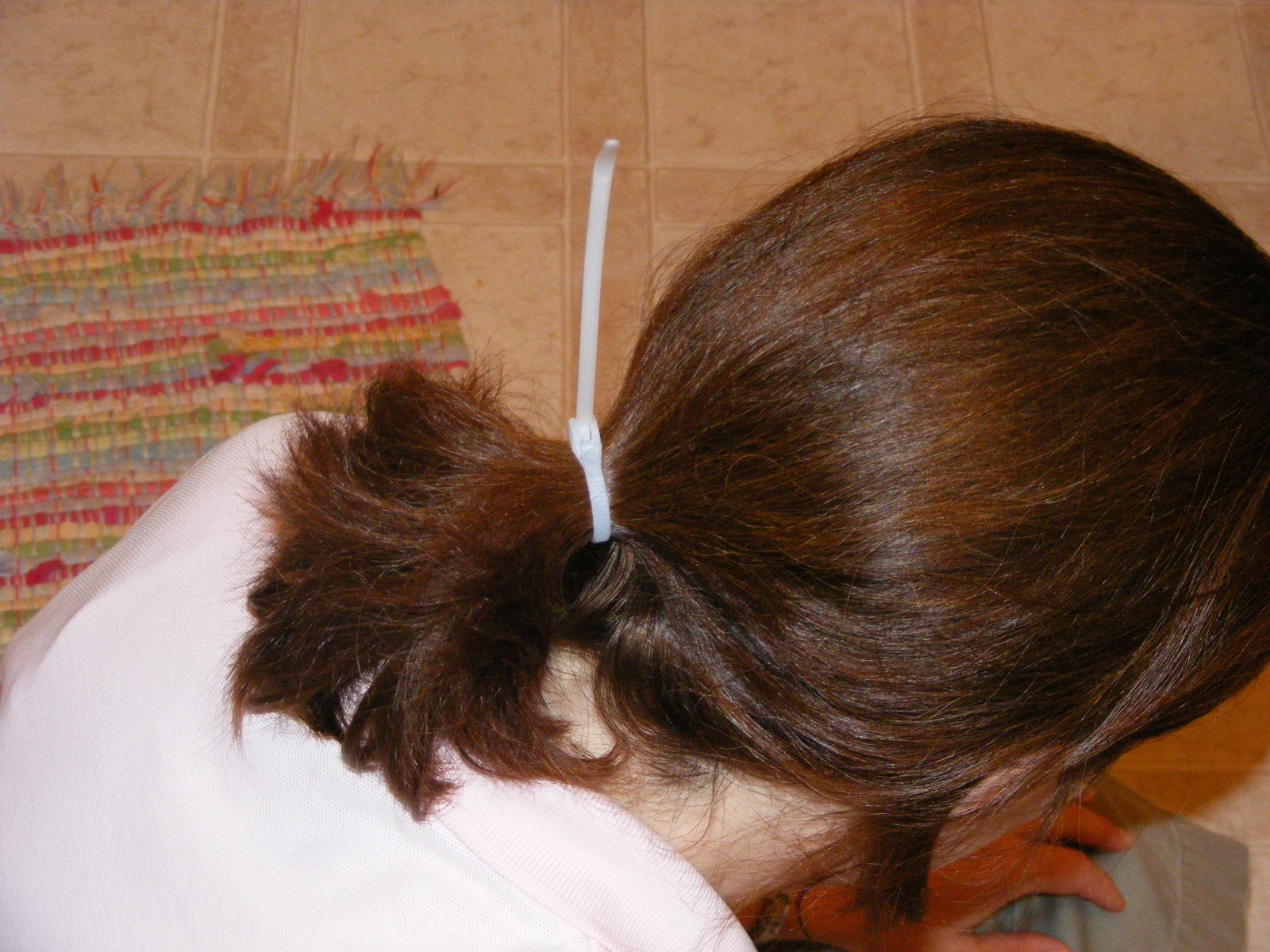 We hung hooks to hold extension cords and ropes.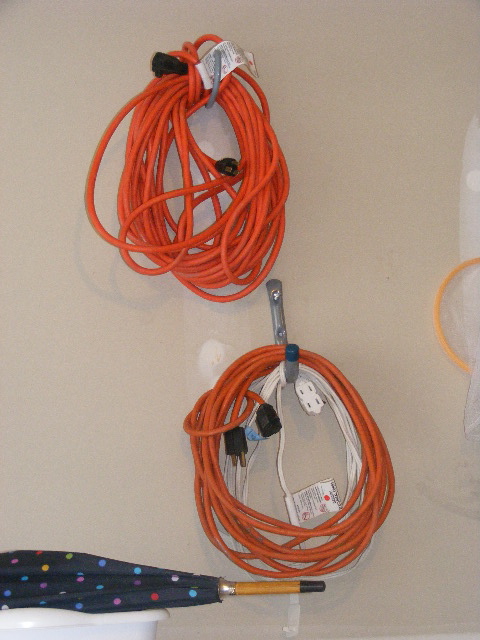 Our life vests are easy to get to and will dry quickly hanging off a shelf.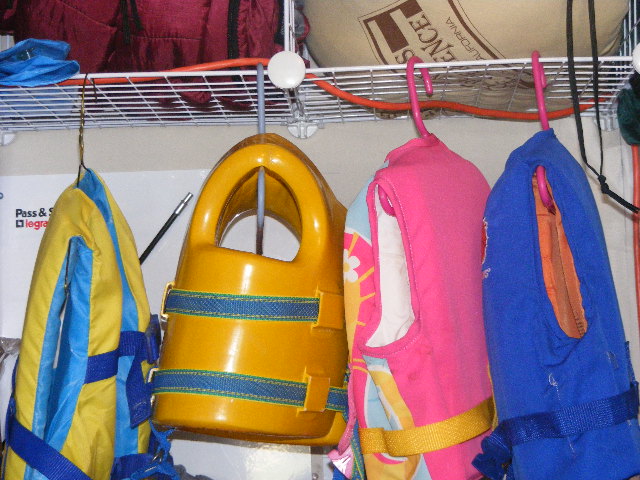 Use inexpensive hooks to hang items from the ceiling.
This is a baby cradle and other baby items we are not using.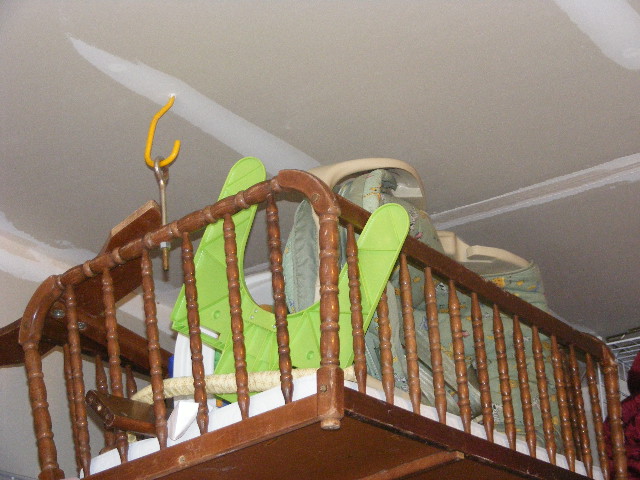 I have a clear path to my new freezer!
I think the part of the garage that I am most excited about is the hanging shelves. We needed to find a place to store items that we rarely use. My friend told me that she mounted shelves from the ceiling. A kit at Lowes costs around $100 for one shelf, but she had a better idea. She suggested using plumber's tape and a wire shelf to make our own. The cost, $16 per shelf.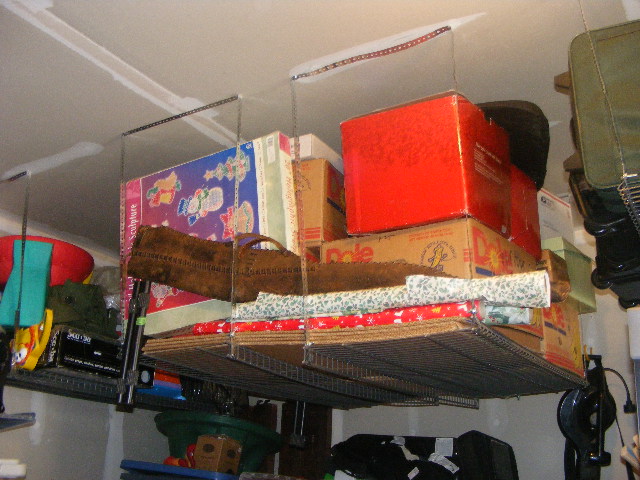 We mounted the metal strapping against the ceiling and then left about 34 inches on each side.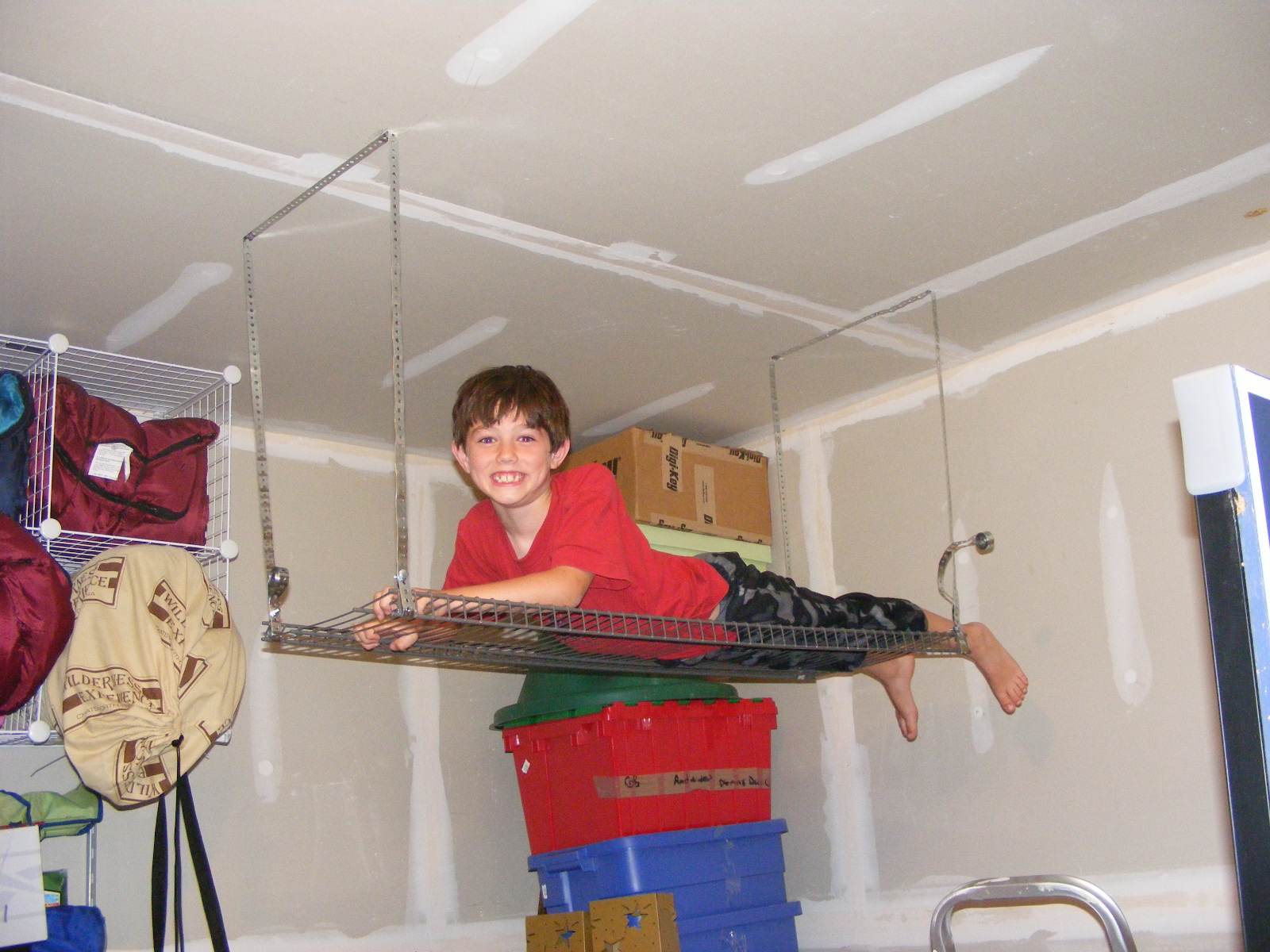 Wrap the strapping tape around the shelf and secure with a nut and bolt.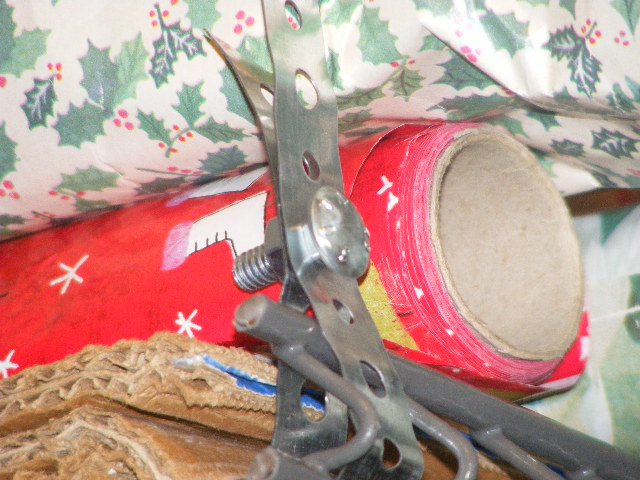 Use a level to make sure the shelf is level before securing all four sides.
Another view.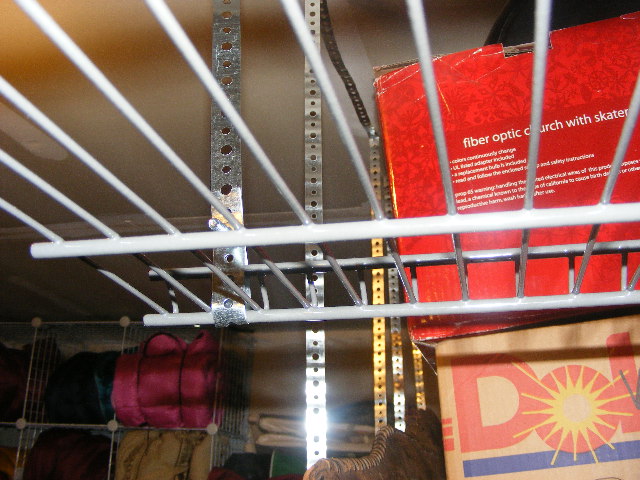 Ceiling mounted shelves are a great place to store Christmas decorations, baby items, winter coats, luggage and other items you don't need use on a regular basis.
I am excited to finally have an organized garage. We still have a few areas that need to be sorted but at least now we can get to them. My kids can get to their bikes, and all of our stuff isn't sitting on the front porch!