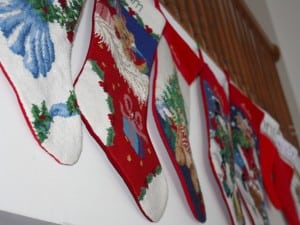 When I was a kid my brother, sister and myself would rise before the crack of dawn every single Christmas. Since my dad worked pretty hard the other 364 days of the year, he looked forward to sleeping in on Christmas morning, enjoying his cup of coffee and relaxing on the couch. As a kid, I didn't really understand the philosophy behind this idea. These two competing ideas didn't really mesh on Christmas morning.
My dad, being a very wise man, thought of a plan that allowed him to sleep in and us kids to get up early. I have adopted this idea for my own family and I have to say it works. I get to sleep in until at least 7am on Christmas morning, instead of getting up at 4 or 5am when my children wake up excitedly for the big day.
It starts with stockings. If you don't do stockings you can still implement this plan, though you might have to make some modifications. In my house the kids can open their stocking gifts when they wake up, they don't have to wait for the rest of the family. In each stocking is a clue written on a piece of paper. (If you have a big family use color coded paper so the kids don't find each other's clues) Each clue takes the child to another clue and finally after four or five clues there is a wrapped gift. The kids are allowed to open that one present as soon as they find it.
Make the clues as easy or as hard as depending on the child who is finding the present. My older children have really hard riddles in their stocking while my younger children have clues like:
I keep the dishes nice and clean. (dishwasher)

I sleep on a bed of hay. (baby Jesus in the nativity)

School books rest here.  (book cubbies)
Now, the real key here is to make sure the present is something that they will play with for a few hours before waking you up, like a rubik's cube or a puzzle. Over the past few years we have wrapped boxes of their favorite not so healthy cereal. This serves two purposes, it keeps them busy and they aren't starving when they do finally wake you up.
For those of you who might think I am kidding, think again! This technique saved us two years ago when my boys woke up at 2AM ready to start the day. My husband came down stairs because he heard a noise only to find the boys happily eating their cereal and looking at the goodies from their stocking.
There is only one catch to this system. Do not start writing your clues at midnight on Christmas Eve. If you stay up until 3 AM writing clues it doesn't make a difference if you get to sleep in.
This idea really works, you'll thank me for it come December 26th. 🙂