How many of us walk into our home and see all the small things wrong with it? Did you know there are a simple things you can do that don't cost a lot of money and can be done in less than a day?
You do not have to embark on a whole house renovation to create some big changes in your home. Check out these quick fixes to make your house look awesome. This tips also work if you are selling your home.
Even in a buyers market you can get more money for your home when you make these small improvements.
Brighten up your home
Lights do not cost very much money. A quick fix to make your home look awesome is to get better lighting. Perhaps your light bulbs are dull. A few bucks and you can brighten up your home in no time. Also, consider switching to LED bulbs to save money on your electricity bill.
Add a slip cover to the couch or replace your throw pillows
This is such an easy fix and slip covers cost around $50 for a decent one. Slip covers can cover up an old couch (and stains, rips, or tears) in a heartbeat. Add a few pretty pillows and your living room is going to look grand.
I shop the clearance section of Target, Marshall's, and TJ Max for throw pillows at discounted prices.
Clean your carpets
If your carpet is looking dingy, spend a few bucks to have it carpet cleaned. You can also add a throw rug to help take the attention off the main carpet. Go a step further and pull up the carpet, if you think you may have hardwood floor underneath.
Update the hardware in your home
One of my favorite ways to make a home look awesome is to update the hardware. Hardware isn't that expensive and can be added to dressers and cabinets. I have purchased hardware from Amazon.com and Overstock.com for significantly less at than Home Depot or Lowes.
Another way to update your hardware is to spray paint it. Rust-oleum has a collection of spray paints in metallic colors like hammered bronze and brushed nickel. A can of paint costs around $5 and covers knobs for several pieces of furniture.
Change the curtains in your home
Want a quick fix to make your home look awesome? Change the curtains! I have room darkening curtains in my home. It's amazing how it keeps the light out when I want and brings the sunshine in when I'm ready.
Do you have any blinds that look like this?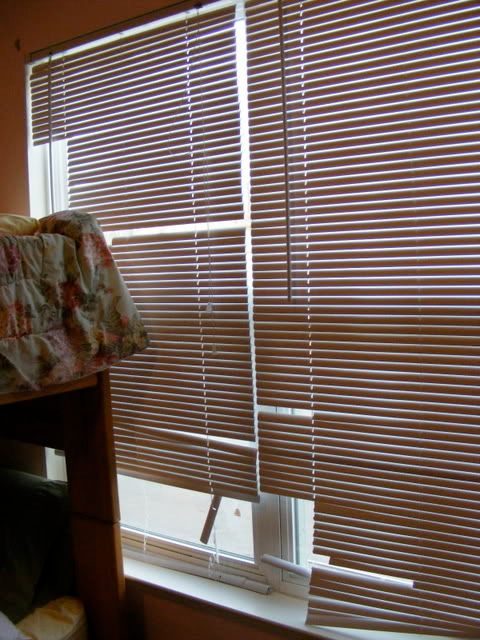 We didn't even have a pet when our mini blinds looked like this! If you have a window that requires custom blinds, making (or buying) curtains can be an inexpensive alternative to freshen up the room.
A few years ago I made these curtains for my girls out of leftover fabric. If you can sew a straight line you can make curtains for any window in your home. 
When I want really cheap curtains I look for flat sheets on clearance. You don't even have to know how to sew to turn sheets into curtains.
You can also update a inexpensive curtain rod with a coat of paint.
Paint your front door and add a kick plate
For some reason, painting your front door can really make your house look awesome. Add a kickplate and you will hardly be able to recognize how awesome your home looks.
If you are feeling brave, go with a bright color on your front door. We painted our front door a blue green color and everyone who comes over loves it!
Update the paint on your shutters and trim
There are a ton of things you can do on the inside and outside of your home to make it look awesome. A quick fix on the outside is painting the shutters. This is a job that's not all too hard and not too expensive. Once done, it's going to add a lot of pizzazz to your home.
If you really want to make your house shine, repaint or clean your interior trim. Bright white trim inside a home really makes a difference.
Spray paint rusted vent covers
This is so easy I can't believe I didn't do it in my other houses. You can spray paint rusty (or dated) vent covers so they match the ceiling or floor. All you need to do is remove the covers, clean them thoroughly, spray paint them (I did 2 coats), let dry, and screw back in place.
Painting costs significantly less than replacing vent covers and they look brand new!
Clean up the clutter
It's amazing what a little decluttering can do for a room (or a home). I love to organize using bins and baskets so that random things aren't lying around my house getting shuffled around every few days. I'm also not afraid to throw things away if they don't have a home. It's rare that I've thrown something away and needed it later.
Paint one piece of furniture
Although I'm partial to white and gray, I do love having one piece of furniture that pops with color. I use chalk paint (read my review on Valspar Chalk Paint here) and it makes the painting process much quicker.
I painted this table in a few hours and it really changed the look of the entire room. (I also spray painted the knob.)
Replace dated bathroom floors with vinyl stick down tile
While this tip isn't quite as easy and cheap as the other ideas, you can do it for under $100 and the results are dramatic. I recently discovered groutable vinyl tile and it looks amazing! No one can tell it is vinyl and it is very durable.
You can lay it right over the existing tile as long as your surface is level. This is a great quick fix for an old floor.
As you can see, many of my quick fixes involve paint, which is my favorite way to update just about anything. Paint is cheap, and the results are almost always fantastic. Before I jump into a big (and usually expensive) DIY project, I try to make little changes and live with them for a while. It saves me time and money.