I've been slowing redoing the furniture in my house, since much of it shows tons of wear and tear from being moved from house to house. Since I purchase almost all of my furniture used, I don't mind experimenting with paint and texture since I know I didn't pay much for it.
I've been using Annie Sloan chalk paint which I LOVE, but it is very expensive. A quart at the store closest to me is about $51. When I heard that Valspar had created a chalky finish paint I was excited to try it, since it was only $29.99 at Lowes.
As far as color options for Valspar chalk paint, they are really pretty, although I've only tried Sunday Bustle on my furniture.
The nice thing about the Valspar paint (other than its price) is that you can buy it at Lowes. The Annie Sloan is sold in smaller shops, which might not always be close to where you live.
I tried the paint on two pieces of furniture. One was this small side table that we got for free several years ago. We purchased a sofa set off Craig's List and when my husband went to pick it up, they guy asked if we wanted the table so we took it.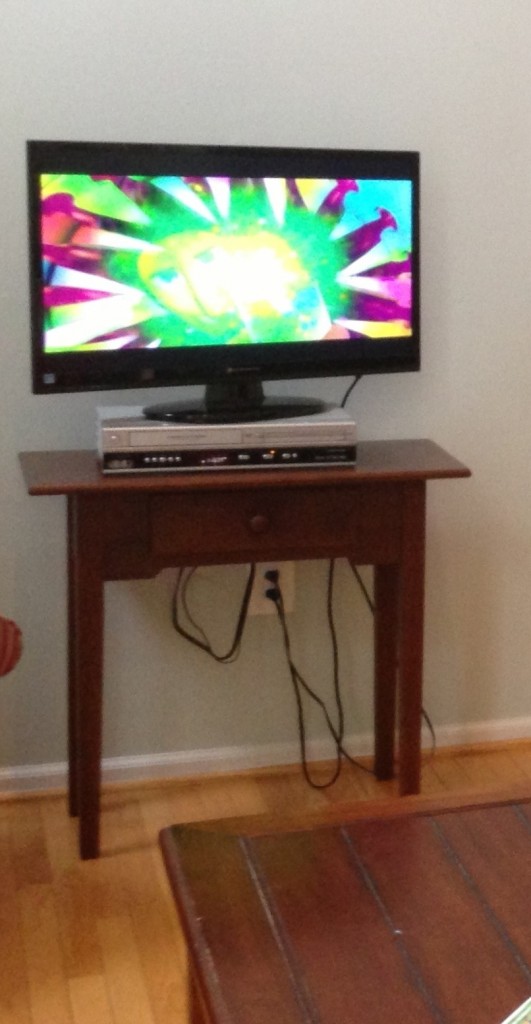 Since getting the table I've felt it was a little plain but I wasn't motivated enough to change it. After finishing my hutch in May, I finally got inspired to change this little table.
I chose Sunday Bustle because I loved the color on the back of my hutch and I *thought it was similar.
I got the color in my hutch by mixing Florence and Aubussen Blue. Let's just say I was WAY off, when I thought Sunday Bustle was similar. I should have gone with Sapphire Bracelet!
It turned out to be more of a caribbean blue, which is pretty, but not what I was going for with the table.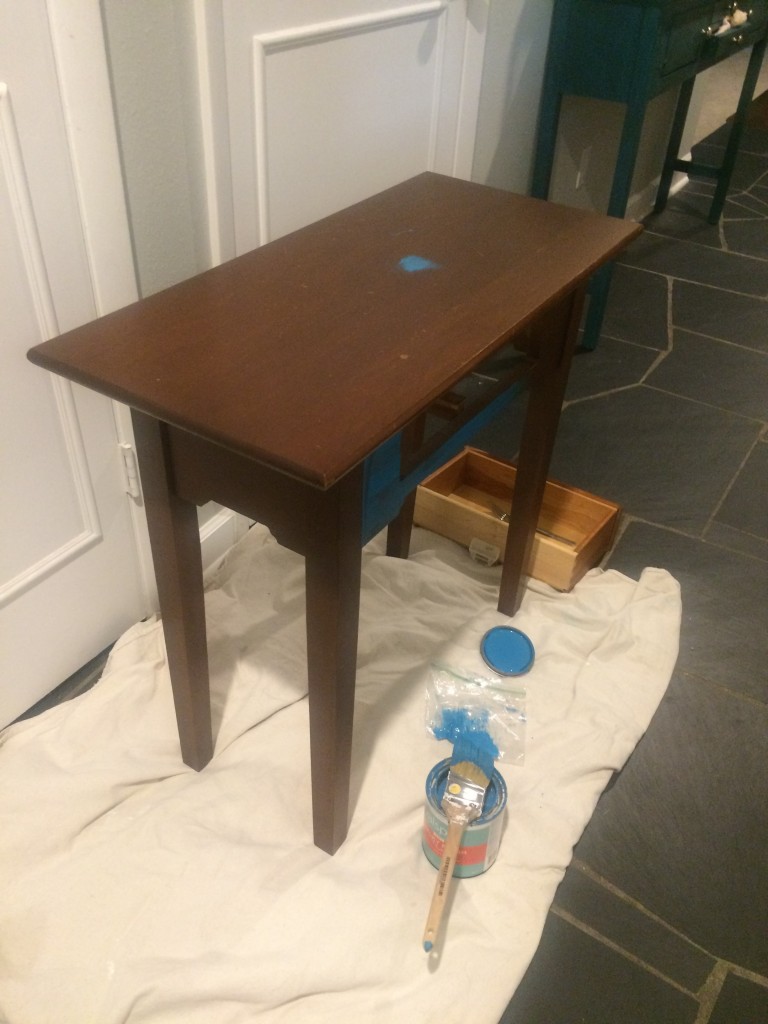 I had an idea for how to fix it once I was finished so I kept painting.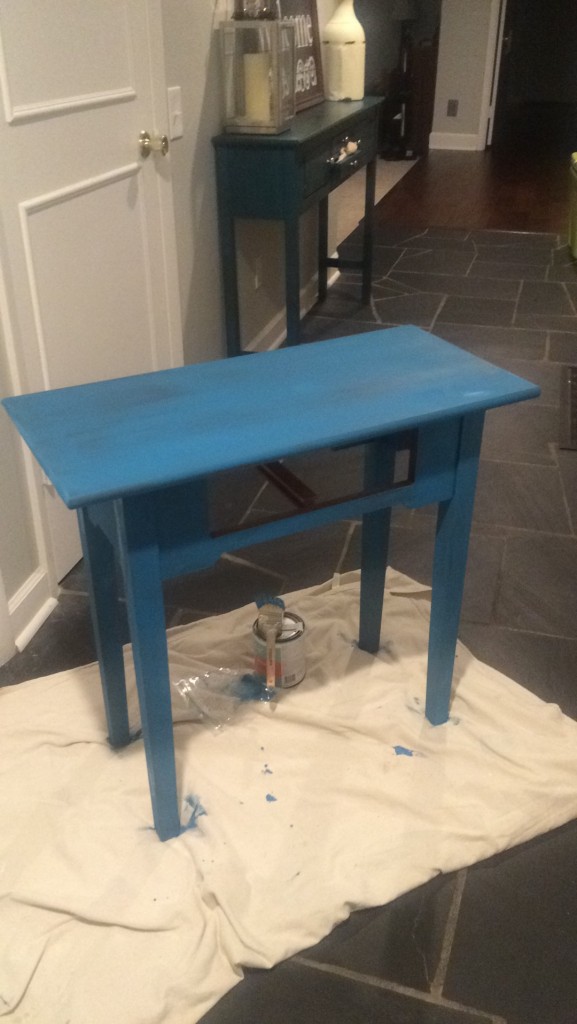 The Valspar paint went on pretty smoothly and had good coverage. I didn't sand the table, I just wiped it down and cleaned off the sticky kid residue.
Since I was painting a darker color on a darker piece of furniture it is hard to tell how one of the lighter colors would cover on a dark piece of furniture with no prep. I ended up doing two coats on the base of the table and three coats on the top. There were a few spots where the paint didn't stick as well, and I'm not sure why.
I didn't want the knob to the be the same color as the rest of the table so I removed the knob and sprayed it with Rust-Oleum Hammered Bronze.
I'm a huge fan of spray painting knobs and pulls. Replacing knobs is so expensive. One can of spray paint at the hardware store is usually under $6 and you can update the fixtures on several pieces of furniture and get an entirely new look!
One thing to consider when using the Valspar Chalky Finish paint is that they recommend 4-6 hours between coats. If you are an impatient painter like me, that is just too long! Another thing I love about Annie Sloan is that you can do a second coat almost immediately which means you can finish a small project like this table in a few hours.
The Valspar Chalky Finish dried much quicker than I expected and I actually gave it a second coat about an hour after I painted the first coat.
Since the color was too bright I was going to use a dark wax to tone it down a bit. When using the dark wax, you can either put it directly on the paint, or do a coat of clear wax first. If you put dark wax directly on the paint it absorbs very quickly and really changes the color. (I have another piece where I did this and will share later this month)
I did a coat of clear wax, then did a coat of dark wax. I ended up buying a buffer brush that attaches to your drill because I have so many painting projects on my list this summer.
I've only done this small project with it, but so far I love it.
The dark wax definitely toned down the bright blue and I'm so happy with how this little table turned out. I feel like it went from blah to pop and it only took me an afternoon to redo it.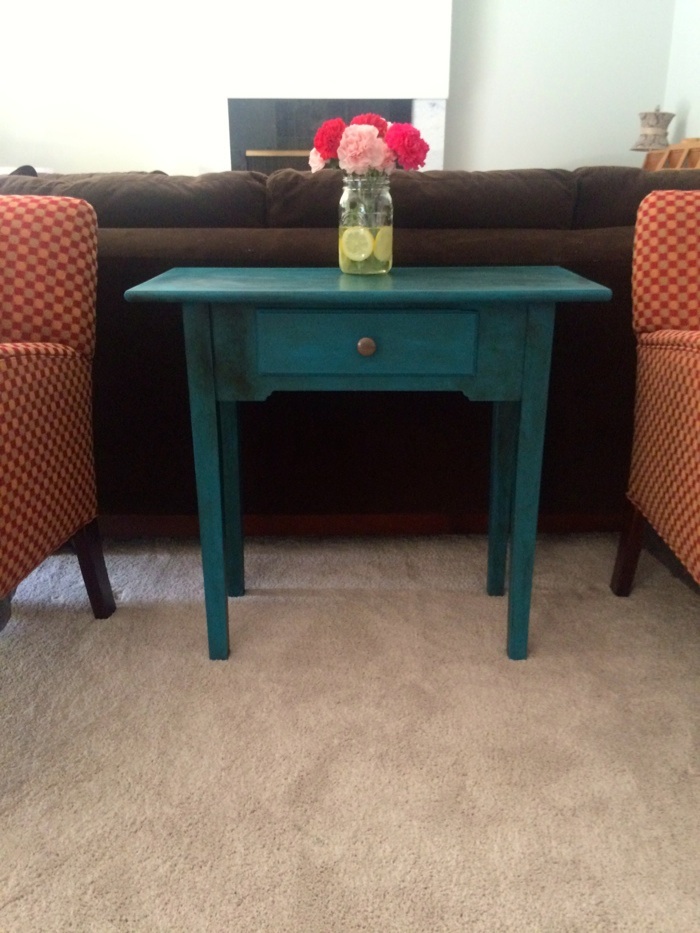 These chairs were a thrift store find and I snatched them up for $40 each earlier this year. I had planned on getting them recovered, but they look really good with the new table color so I might keep them just the way they are.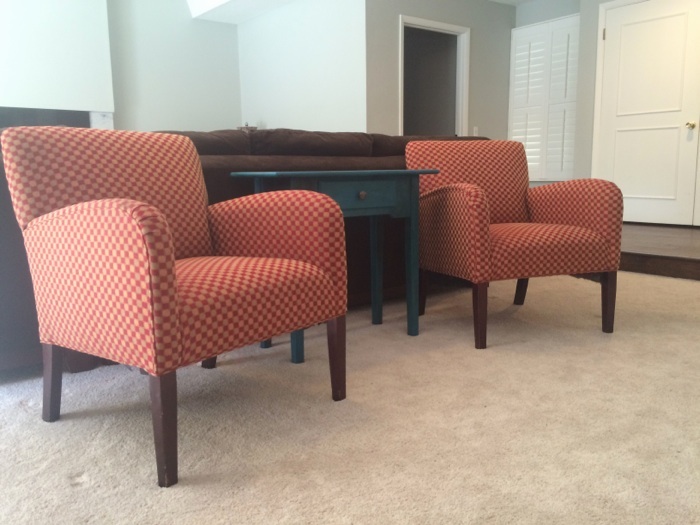 After using the Valspar Chalky Finish paint on two pieces of furniture I can definitely recommend it, although if you are familiar with Annie Sloan you will find a slight difference. I do think Annie Sloan goes on easier, however Valspar definitely does the job and is much less expensive so it is worth trying out.