This is a Sponsored Post written by me on behalf of Glidden. All opinions are 100% mine.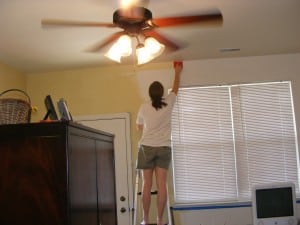 When we moved into our last house I decided it was time to give our boring base housing walls a makeover. I (with the help of some friends and my mother-in-law) painted every single room but the kitchen and bathrooms. I loved living in a house full of color. I spent about $200 on paint and the difference was amazing! My house went from blah to wow in a few hours and the only change I made was a coat of paint.
Paint is a great way to transform a bedroom, redo a piece of furniture, or even paint old picture frames (I have done this with great results in the past). My friend Jen even painted the island in her kitchen a beautiful turquoise color and gave her kitchen a whole new look!
Now that I am preparing to move into a different house I am getting ready to paint again. My son's (soon to be) room is currently pink, so I will be painting at least one room before our furniture arrives. I was excited to learn that Glidden now offers a few things that are going to make painting a whole lot easier this time around.
I love the room painter feature on the Glidden website. This online tool helps match colors and allows you to find the best choices for your style. You can even share your choices on Facebook and get the opinion of your best friend who lives a thousand miles away.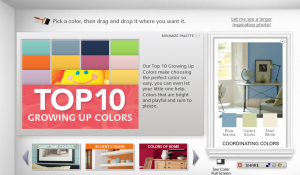 Glidden has also created top 10 color palettes, with choices like Feels like Home, Just Baked, and Growing Up you're sure to narrow down your choices, especially if you have no idea where to begin.
Glidden also has extra large paint chips so you can get a better idea of how a certain color will look in your room.
If an extra large paint chip isn't enough, you can now get these little Glidden testers. I LOVE these little bottles of paint because you don't have to spend $20 on a gallon of paint only to find that you don't love the color. I also love that the brush is built right into the cap- kind of like a jar of rubber cement! Finally if you decide to use that color paint you can use the tiny bottle for touch-ups. If you have a houseful of boys or a daughter who has a love of sharpies you are going to need to do some touch up painting.
I am convinced that a mother invented this little jar because she was tired of dirty walls and dragging out a gallon of paint and a paint brush every few weeks!
I honestly believe that painting a room or a piece of furniture is the best decorating tip. In my basement I have an old cabinet that I bought for $30 at a flea market years ago. I love this cabinet. It is old, but with a coat of paint this cabinet has become the topic of conversation for many people who visit my home.
Remember those old window frames my friend and I rescued from the trash? All it took was a coat of paint and now I have something to hang over my fireplace!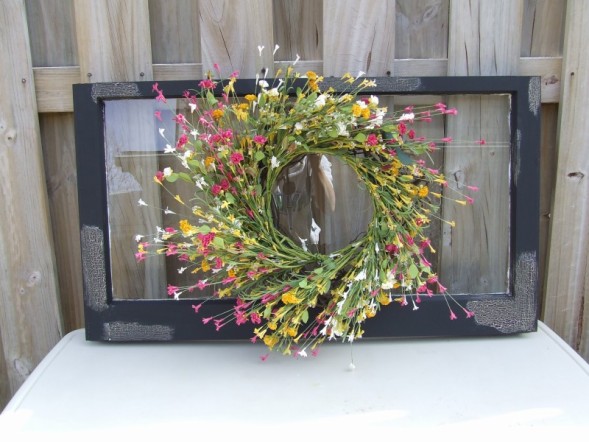 I have some furniture that is due for a makeover and I hope to get started on the redo's after we're settled in our new home. I use to be afraid to paint furniture, but after falling in love with great and inexpensive yard sale pieces that got a new look with a coat of paint I'm convinced!