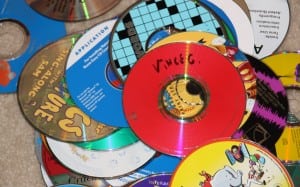 Have you cleaned out your media cabinet lately? My husband is a technophile so we always have drawers full of equipment, cords, wires, old electronics, new electronics, videos, DVDs, CDs, tapes, etc. The problem with technology is that it changes so quickly many products become obsolete in a few years.
When our oldest was a toddler we bought her educational computer games for our Packard Bell 386sx computer. Some of these games were still lurking in boxes and drawers in our home. There were games that we really didn't like or approve of once we purchased them, there were also discs that were so scratched they could not be repaired.
Then there were the discs that didn't run on our computers anymore, or the discs that locked up and crashed our computer every time the kids tried to play the game. With so many great internet games available for free, it didn't make any sense to hang on to games that only worked 10% of the time.
We organize the kids' computer games in these CD Binder
. I love these because the kids can see which games are available without touching the actual discs and getting them dirty. They also take up less space and are portable!
We ended up getting rid of over 80 discs, not to mention a few broken headphones, CD players, and random odds and ends. Tonight we are organizing our cd's and movies.
When cleaning out your movies and cds, remember to make sure that they all play, and are acceptable for your family's values. We go through our movies and CD's about once a year and get rid of the ones we didn't like or that we felt were not appropriate for our family. If your disc has light scratches it can be repaired with some polishing and toothpaste.
If you have broken electronics check the cost of repair before you keep to them. Sometimes we have found that it is cheaper to replace an item than to repair it, but you would need to check prices in your local area.
We have sold computer games, CDs, and movies on ebay or at yard sales, donated them to the thrift store, given them to friends, or thrown them in the garbage. Do whatever works best for you.