One thing I love about my little kids is that they still think chores are fun. Unfortunately, there are many chores that they would love to do, but they are just too little. It doesn't help that I have two really capable older kids that can do any chore in the house as well as an adult. I haven't had to think of ways to make chores doable for my little ones.
Well a few weeks ago, when my older two were on vacation with their grandparents, I realized I needed to figure out a way to get my younger kids doing more around the house. Here are some of the chore helpers we are trying with our little ones:
A lightweight cordless vacuum. (Eureka Cordless Quick-Up)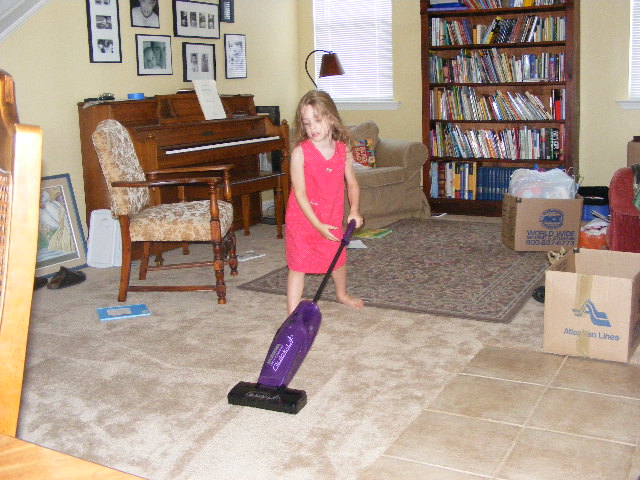 I bought this one at Target for about $40. I am sure I could have shopped around and found a better deal, but I don't have time for that right now. This one really does a great job on the carpet, and a decent job on the tile. The fact that it is cordless means my kids don't vacuum over the cord 100 times during the job. It is light enough for my four year old to use.
Disinfecting wipes-
Use your own judgment on whether or not your kids are mature enough to use these types of wipes. I love them because they keep my kids from spraying the cleaner everywhere and using the entire bottle of cleaner to wipe the counter.
Dusting cloths-
Once again, you don't have to purchase this particular brand, any cloth with some cling to it will work. These keep my kids from spraying the entire bottle of dusting spray on the bookcases.
Rolling bins-
My little kids don't always know where everything belongs, but they can go from room to room finding stray toys and put them in the bin. I like the bins with wheels, but any container will do.
There are some of the items we use to help our little one's learn how to do chores. What are some of your ideas to help your little ones help out around the house?

For more WFMW stop by Shannon's blog.