This giveaway is now closed. The winners are; Emily, Cindy, Mercedes, Brandi, and Deborah!
Knickknack – a small trivial article usually intended for ornament.
Photo courtesy of Orin Zebest.
I have noticed that once you get one type of knickknack, people think that you are a collector, then for every birthday, Christmas, Valentine's Day, Mother's Day, etc… you receive more knickknacks to add to your collection. Before you know it, your shelves are overflowing with small or large decorative pieces. One day you will look around your home and think, "Do I really love Pez Dispensers this much?"
The problem is, sometimes the first knickknack was a gift and you didn't necessarily love it. You end up with an entire house full of items you don't really love, or that aren't worth the hassle of dusting every week.
I have noticed one thing that makes a big difference in a home appearing clean is the absence of dust on shelves, furniture, pictures, and knickknacks. When I got married I had boxes full of knickknacks, a few of them I loved, but most of them I just kept because people had given them to me. It didn't take me long to realize that I didn't really want to dust these pieces on a regular basis. Over time I kept only the pieces that were truly special to me.
If you were to visit my house now, you would find very few items on my shelves and tables. I don't like to dust so I don't collect knickknacks. Because there are so few things to move and clean even my toddlers are able to help with the dusting. I like things simple, and for me simplifying means less visual clutter in my home.
When was the last time you went through and decluttered your shelves, tables, curio cabinets, dressers, side tables, and fireplace mantles? Go through your home and think about the things you collect. Do they bring you more joy than the stress of cleaning them? If the knickknacks are only a source of clutter and stress find them a new home.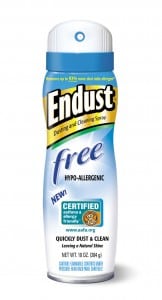 To help you clean those shelves, Endust is giving away five coupons for a FREE Endust product. They have a new product, Endust Free Dusting and Cleaning spray, which reduces allergens on surfaces and in the air. This cleaning spray recently received the asthma & allergy friendly Certification Mark from the Asthma and Allergy Foundation of America, making it the first fragrance-free, hypoallergenic dusting and cleaning product scientifically-proven to work.
To enter to win a coupon for a FREE Endust product leave me a comment and tell me what you collect. Giveaway ends Saturday, May 1, 2010.
Disclaimer: I do not dislike knickknacks, I dislike dusting them. I enjoy looking at other people's collections. My mother-in-law has a collection of Santas that is one of my favorite things in her home.