I use to dread the change of seasons when I lived up north because it meant swapping out clothes for several kids. The process always seemed to take an entire week and my kids were never thrilled to go through their wardrobes!
Inevitably clothing would be found later on in the dirty clothes or under beds, or we'd pull out bins and try to sort through the sizes to find clothing that fit during that season.
A few years ago I changed my system (well I didn't really have a system before, so I guess I created a system) that made things so much easier!
Remember the best way to keep this chore manageable is to have less clothes!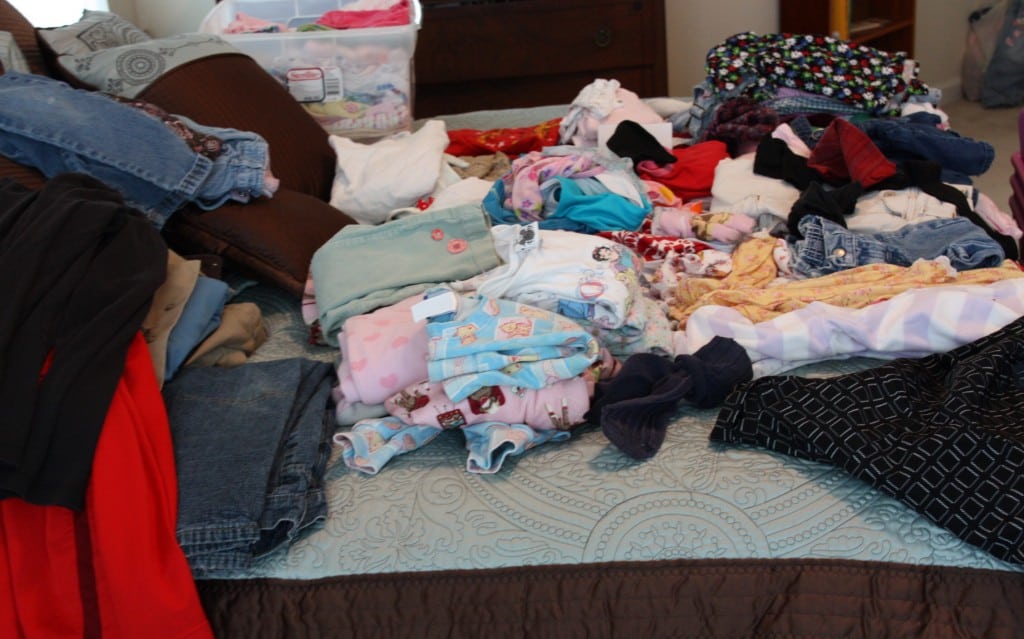 1. Use Plastic Totes
For years I used cardboard boxes, but I like that most of my totes are clear so I can see what is inside them. I also think the plastic totes hold up better over time and sometimes clothes would smell funny after sitting in cardboard boxes for years. Totes are also waterproof, so if you end up with a leaky basement or a flooded storage area, your clothes are protected.
2. Three Pile Sorting Method
My piles are giveaway, throw away, and save. Clothing that my kids will not wear, or doesn't fit (and I'm not saving it for another child) is given away. Torn, stained, or clothing with old elastic or broken zippers is thrown away. Clothes that can be worn next year are saved.
3. Kids Remain Close to Try On Clothes
Before the "new" clothes are put into the closets my children try them on to make sure they fit, and to make sure they like them. Sometimes items are too big, or are made from a fabric they don't like to wear. These items don't go into the closet.
4. Store by Season not Size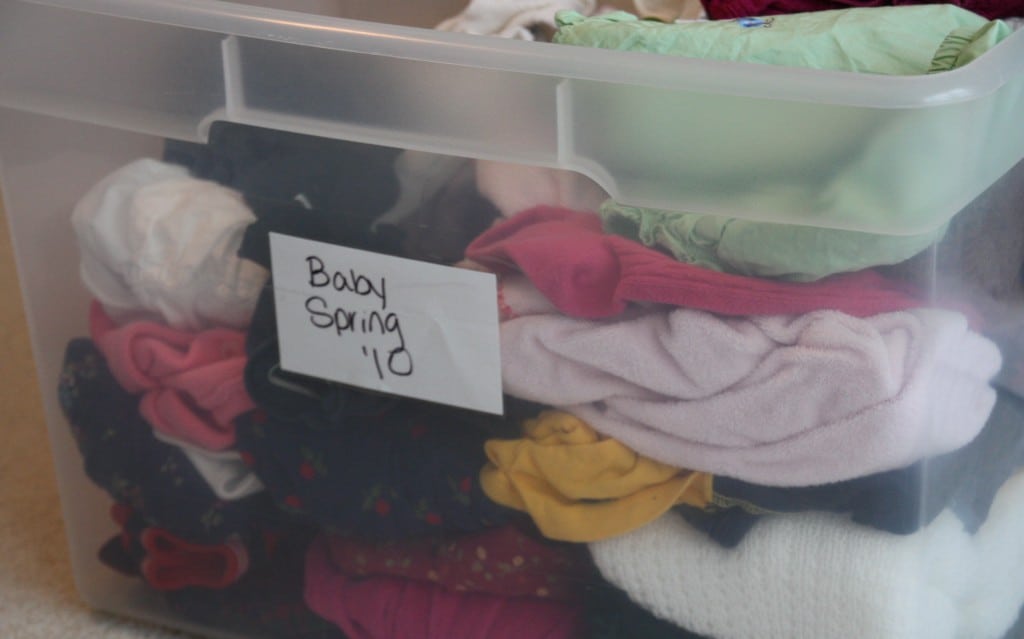 Clothing sizes vary from brand to brand. A Target size 6 is very different than a Gap Kids size 6. I found that organizing the clothes by season, for example Winter 2011, ensures that when I pull out clothes next year they are the correct sizes. If I know that a dress labeled 3T really fits a two-year old it would go into the Summer 2011 box for Cora.
5. It's Alright to be Picky
We receive lots of hand-me-downs. For many years I felt guilty if I didn't use them. That guilt disappeared recently when I realized I had 27 totes of clothes in my basement. 27. It was time to downsize. While I still love to receive hand-me-downs, I learned that it is okay to tell someone you don't need clothing right now. This simplifies your life and another family will be blessed by receiving the clothes. Also, remember to ask someone before showing up on their doorstep with 3 Hefty bags full of clothing. They might not need them.
6. You Don't Need to Save Everything
My youngest boy is 8 years old. There is no reason to save his clothes for another child in our family. Clothing breaks down over time and goes out of style. Pass items along that you won't use in the next few years.
7. When You Are Finished Leave the Totes Out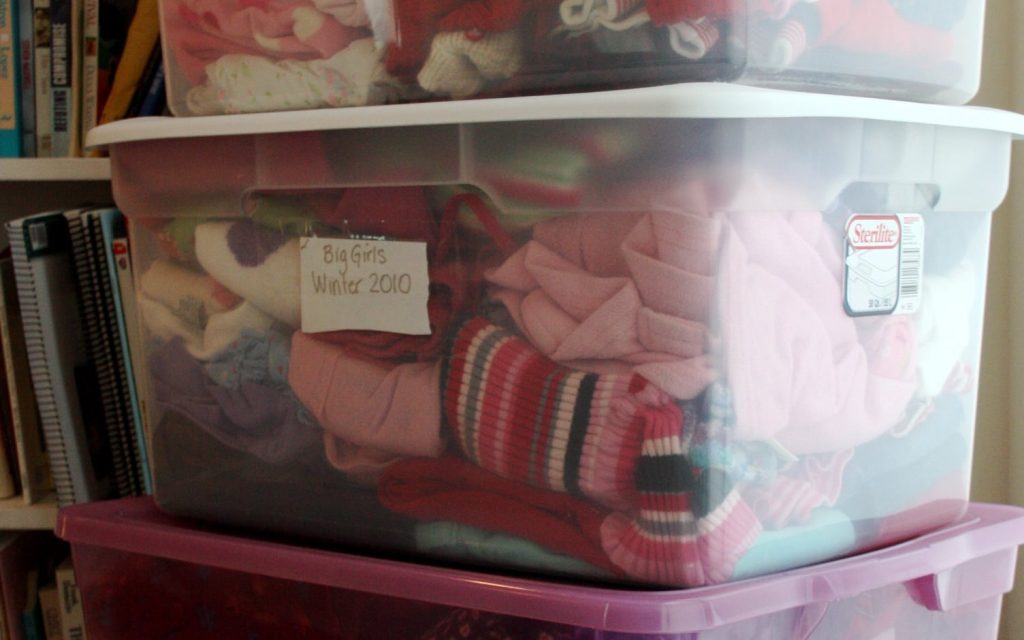 I keep the totes stacked in my room for about a week because we are always finding stray items under beds or in the laundry. In some of my houses the storage was very difficult to access, so once I put away the totes it took a while to get them back out. Leaving them out for a few days helps to make sure everything gets stored for the next year.
This year my clothes storage and organization went much smoother and I was able to get rid of 200 items of clothing.
Last month I got rid of 116 items in the  730/365 Challenge. At the end of April my total was 148 items for the year. I ended up over doubling my total in one month!

May total: 200

Total for the year 348! Only 266 items to go.