The giveaway is now closed. The winner of the book is:
Here are your random numbers:
21
Timestamp: 2009-03-27 03:52:12 UTC
Amanda from Better is Little. Congratulations Amanda, I'll be contacting you soon.
I am really enjoying Laura's "Green Project," it has helped me to evaluate areas in our life that can be made a little greener. This week my kids made a compost bin (click here for a tutorial). It was so easy, and I highly recommend this for anyone who doesn't have room for a compost pile in their yard or is bound by HOA rules. It was also super cheap ~ under $20.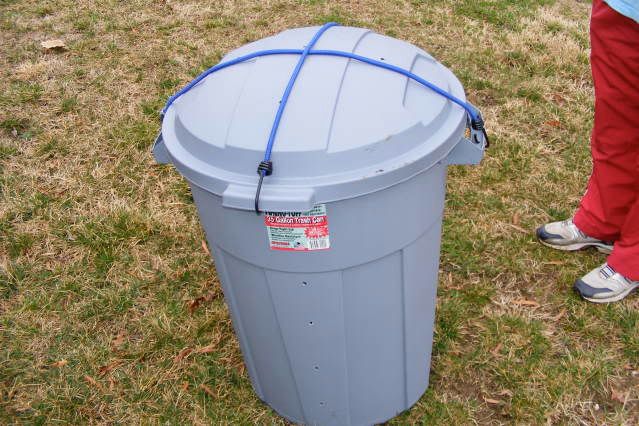 My family also helped reorganize the kitchen, in order to make it more recycling friendly. We took our indoor trash can and turned it into a recycling bin.
My daughter taped a card on the bin to let people know it is recycling, not trash.
We then took a small garbage can and put it under the sink for trash.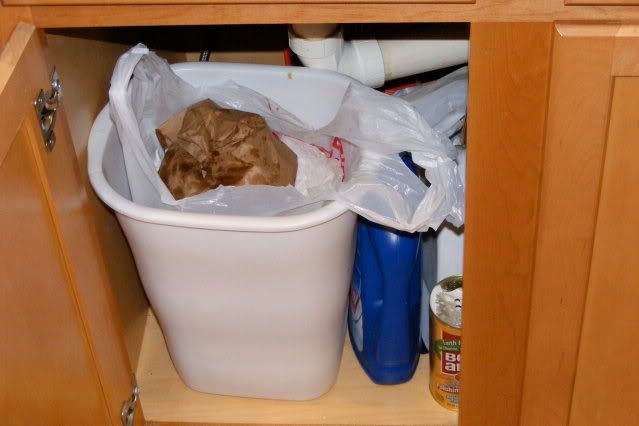 Because our county recycles almost everything we were able to really reduce our garbage. We have a huge blue county issued trash bin that previously we would fill up in a week. Now that we are making an effort to recycle or reuse everything we can, we only had a few small bags of garbage for the entire week. Not bad for a family of eight!
In an effort to cut back our paper towel use, I put a bowl of clean rags under the sink. It is my hope that having easy access to small rags will encourage the kids to reach for a rag instead of a paper towel.
I also put a dish pan on the dryer so the kids would have a place to put dirty rags.
Since we now have a compost bin, I used an old plastic ice cream bucket (that had a lid) to store our food scraps and other items for the compost bin. I assigned one child the job of emptying the bucket into the bin every other day.
One of the reasons we made a compost bin, is that we hope to have a small square foot garden. The compost won't be ready for spring planting, but perhaps in the fall, of course this was before bed rest. I still think I have time for a small garden, as I have kids and a husband that are willing to do most of the work until I am back on my feet.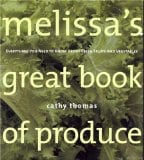 If you are like me, the idea of growing your own food sounds very appealing, but many times I don't know how to prepare certain fruits and vegetables. Even picking good, ripe produce from the store can be challenging at times. Sometimes I pass up produce that is on sale because I don't know what it is, how it tastes, and I don't want to purchase something that I will end up throwing away. On a whim I picked up Melissa's Great Book of Produce
from the library at the beginning of the year. It looked interesting and had great pictures so I thought it would be worth adding to my 2009 book list.
Since prime Farmer's Market shopping is just around the corner I finally read through this book, and I was so impressed! It is basically a  produce encyclopedia, written for people like me who tend to buy lots of familiar fruits and veggies and turn the other way when confronted with a kumquat or ugli fruit. Not only are there pictures of each fruit and vegetable there are recipes, tips for choosing ripe fruit, information on when the fruit is in season, plus a general description of taste and preparation.
This book is definitely a reference book, but I read it like a novel! I had it with me at one of my doctor's appointments this week and the nurses all thumbed through it as well. If you need any help in the area of fruits and veggies, I highly recommend reading this book. And, of course the great people who wrote this book have offered to give one away to one of my readers.
To enter the giveaway leave a comment on this post. For a second entry tweet about the contest and leave a second comment letting me know. The contest will end on March 26th at 10pm EST.