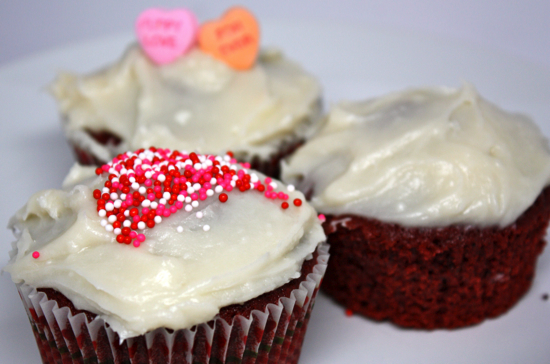 What says Valentine's Day better than a bright red cupcake? Nothing! If you are looking for a fun treat this Valentine's Day whip up a batch of red velvet cupcakes. I made my first batch this with the help of the folks from McCormick. When I started making them I realized that not only had I never made Red Velvet Cupcakes, I'd never even tasted them before! But how can you go wrong with cake?

Red Velvet Cupcakes
(recipe courtesy of McCormick)
Ingredients
Red Velvet Cupcakes
2½ cups flour
½ cup unsweetened cocoa powder
1 teaspoon baking soda
½ teaspoon salt
1 cup (2 sticks) butter, softened
2 cups sugar
4 eggs (room temperature)
1 cup sour cream
½ cup milk
2 Tablespoons McCormick®Red Food Color
2 teaspoons McCormick® Pure Vanilla Extract
Vanilla Cream Cheese Frosting
8 ounces cream cheese (softened)
½ stick butter (softened)
1 tablespoon sour cream
2 teaspoons McCormick Vanilla Extract
1 pound powdered sugar
Instructions
For Cupcakes
Mix together flour, cocoa powder, baking soda and salt.
In a separate bowl cream butter and sugar for about 5 minutes.
Add eggs one at a time, then mix in sour cream and milk.
Mix in food coloring and vanilla.
Combine wet and dry ingredients and mix until blended together. Do not over mix.
Fill muffin cups ⅔ full with batter.
Bake for approximately 20 minutes at 350 degrees.
For Frosting
Beat together cream cheese, butter, sour cream, and vanilla.
Add powdered sugar until it reaches the desired consistency.
When the cupcakes are cool, frost with Vanilla Cream Cheese Frosting.
Notes
For those of you who are hesitant to make a recipe with two gallons of red food coloring, one of my Facebook readers suggested using beet juice for the color instead of food coloring.