Many of you have asked how I make my basic cream sauce. After reading all the entries for the pasta maker giveaway it is clear you all love your cream sauce. The truth is I never use a recipe for my cream based sauces, I always make it "to taste."
Instead of giving you a clear cut cream sauce recipe, I am going to share with you some basic ingredients I use to create my cream sauces. Or as my friend Joy says, "I am not going to give you a fish, I am going to teach you to fish."
Ingredients for Basic Cream Sauce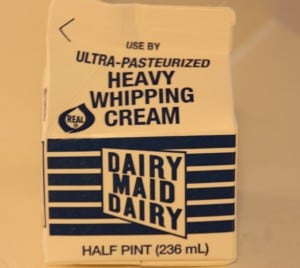 Heavy Cream
I use heavy cream in almost every cream sauce. The only reason I don't use it is because there isn't any in the fridge. You can use a little or a lot depending on how much sauce you like. I use about a half a pint for one pound of pasta. If you don't have heavy cream you can substitute with half and half or sour cream.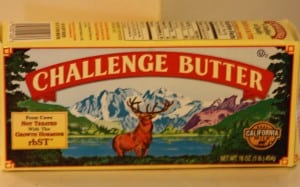 Butter
Mmmmm, don't you just LOVE butter? I do, and I use it in every cream sauce I make. Once again, depending on how much exercise you want to do after dinner you can add a little or a lot. (A little meaning 1 Tablespoon, a lot meaning throw in the whole stick)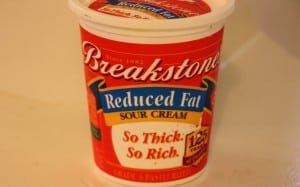 Sour Cream
If you want to lighten up your sauce (calories, not taste) use less heavy cream and substitute with light sour cream. You won't be able to tell the difference. Sour cream is also cheaper (sales and coupons) than heavy cream, so use it when you want to stretch your pennies.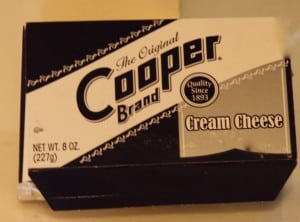 Cream Cheese
I use low fat cream cheese to give my sauces a slightly tangy taste.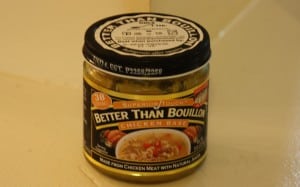 Chicken Base
This gives your sauce a little chicken flavor without actually buying meat. I use it when I include chicken in the pasta too, it is just a habit.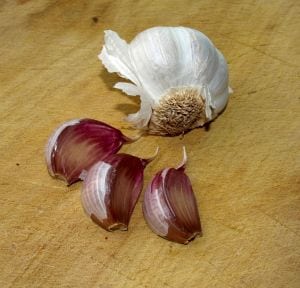 Garlic
You can't have sauce without garlic. You can use fresh, minced, crushed, or in a pinch, garlic powder. I prefer fresh, but I usually use minced garlic.
Salt
I don't use a lot of salt in my sauce, but a little goes a long way. One or two teaspoons does the trick.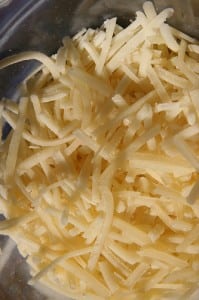 Cheese
Like salt, a little cheese really livens up your sauce. I prefer asiago, but will use parmesan or romano too. I buy it in the triangle wedges and finely shred the cheese. 1/4 a cup for a pound of pasta is sufficient, but if you are from Wisconsin add the entire wedge.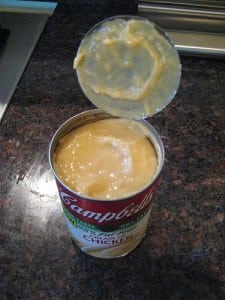 Cream of chicken soup
I don't use this often, but it tastes really good in my chicken tetrazinni recipe. It makes your sauce really creamy. For a pound of pasta I use about a half a can. Do not dilute, just spoon it right from the can into your sauce pan.
Extras: I add these ingredients if I have them in my fridge or pantry, they add a lot of flavor to the sauce but aren't necessary.
Sun Dried Tomatoes
Pepper
Tomato Sauce (for pink pasta)
Roasted Red Peppers
Green Onions
Red Onions
Emeril's Essence
Italian Seasonings
Broccoli
Fresh Spinach
How to make cream sauce
I don't have a photo tutorial for making the sauce because it goes too quickly to stop and take photos. I usually have my pasta either already cooked or almost done when I start the sauce because it only takes about 5 minutes.
To make your cream sauce heat a saucepan to a medium high heat. I use a wok to make my cream sauces because I like the high sides for tossing the pasta.
Add butter. As the butter is melting add garlic (I usually add 1 to 2 Tablespoons). Once your house is smelling like an Italian restaurant add salt and any extra ingredients from the above list, plus cooked meat (optional).
Turn the heat down and add your creams – heavy cream, sour cream, and/or cream cheese. You can skip the sour cream and cream cheese, but don't skip the heavy cream. I use about a half pint per pound of pasta if I am not using the other creams.
Once the sauce has come to a boil, turn down the heat and add the cooked pasta to the sauce. I use tongs to mix in the pasta.
Once the pasta is coated in sauce, mix in the shredded cheese.
Serve.
Try this delicious cream sauce with my homemade pasta recipe!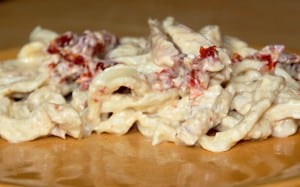 Our favorite pasta recipes