I love being organized and always write down everything I need to do, but often times it gets written down on a sticky note over here, on my computer over there, on the back of a receipt in the car, on a scrap piece of paper in the kitchen that is now buried under the mail someone brought in.  You get the picture!  I need it all in one place: appointments for me, the kids' sports and school schedules, household chores, grocery lists etc.  And, that's why I love Motivated Moms!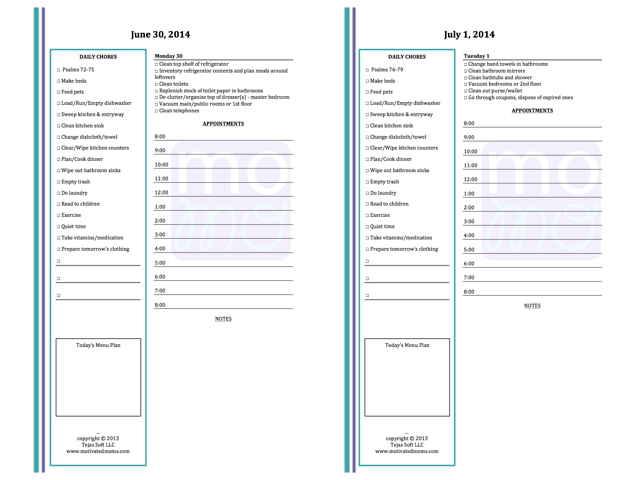 The Motivated Moms Chore Planner is a printable chore list eBook that can house everything you need to keep track of from meal plans to chores to Bible readings to appointments and more!  And, right now, they've just released a Color version for the 2014 eBooks as well as the standard black and white!  There are lots of options to choose from including a week at a time format vs each day on its own page, include the Bible readings or not, half pages vs whole pages and others.
Coupon Code and Special Offers
Currently, my readers can save $1 off any eBook (2013 or 2014) with coupon code: HAPPY through October 31, 2013.  And, with the purchase of any 2014 eBook (color or black & white), you will receive the October – December 2013 planner FREE!  Just add the 2014 ebook to your cart and the free product is automatically bundled.
If you've never checked out the Motivated Moms Chore Planner, then the Oct-Dec 2013 eBooks are also available to purchase for $2, so only $1 with the coupon code!  A great deal to see if you love it for the last quarter of the year.
Giveaway (Three Winners!)
Motivated Moms has generously offered to give away a brand new Color 2014 Chore Planner eBook to THREE of my readers!  Just leave a comment on this post telling your least favorite chore to be entered in the giveaway.  One entry per person.  Giveaway ends October 23, 2014 at 9 pm ET. 
Shop Motivated Moms here for the new 2014 eBooks or the Oct-Dec 2013 eBooks!