I love winning playing games with my family. I do not love opening my hall closet and being hit on the head with a stray game piece or board. Games are fun, but keeping them organized can be difficult.
Here are a my favorite ideas for organizing your games.
Take stock of your games every few months.
Make sure the games are not missing pieces. Throw away games that cannot be played because of missing pieces. Donate or sell games that you do not play anymore, or ones that you have never played and will never play.
I know it's tough to get rid of nice games (especially newer ones) but if you aren't using them, don't let them clutter up the games you are using regularly.
I often see board games at yard sales and thrift stores that are still in the shrink wrap. Buy used (but still new) games to save money!
Buy small plastic containers when they are on sale.
I love containers! Thanks to TikTok I'm addicted to organizing with clear bins. Bins are a great way to organize games that either don't come with a board or the box is falling apart.
Fix or throw away broken games.
Mailing tape works great for repairing worn boxes and boards. I have a scrabble game that miraculously has all it's pieces and is almost 40 years old! The box is almost 60% tape at this point, but we still love to play it!
Keep a small stash of batteries in your game closet.
I'm not a huge fan of games that require batteries, but many newer games require them. Storing batteries with the games makes it easy to replace them when needed. I keep a few double and triple A batteries in a resealable bag in the closet.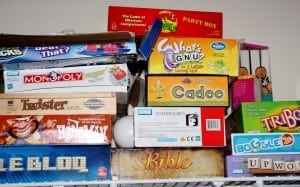 Store games sideways.
This worked great in one of my houses with a small closet. If the boxes can hold up, this makes getting games out of the closet so much easier than stacking them on top of each other.
Plus the kids don't pull a game on the bottom out and all the other games (and pieces) come tumbling down.
If you don't have a closet for storage get creative.
Bookshelves, wooden or metal cubbies, kitchen cabinet, microwave cart, hutch, coffee table, or trunk are all great places to store games.
For a few years I had a large coffee table with two big baskets. It was big enough to store all our games and everyone could reach them.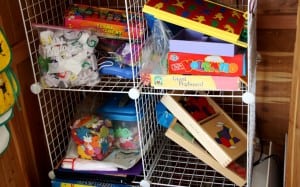 Decorate with games.
When I sold my last house, I had it professionally staged. The decorator used board games to decorate my shelves in the living room. Not only did it look great, the games were easy to access.
Keep the games where you are most likely to play them.
If the games are stored close to where you would play them, you are more likely to play them.
When was the last time you organized your game closet?