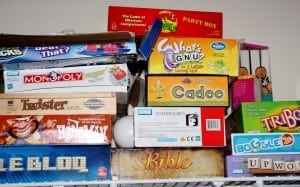 I love winning playing games with my family. I do not love opening my hall closet and being hit on the head with a stray game piece or board. Games are fun, but keeping them organized can be difficult.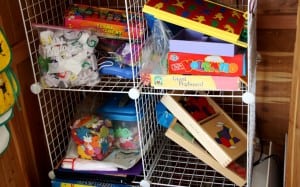 Here are a few ideas for organizing your games.
Take stock of your games every few months. Make sure the games are not missing pieces. Throw away games that cannot be played because of missing pieces. Donate or sell games that you do not play anymore, or ones that you have never played and will never play.
Buy small plastic containers when they are on sale. Use these containers to hold games that did not come with their own box, or the box has been ruined.
Fix or throw away broken games. Mailing tape works great for repairing worn boxes and boards.
Keep a small stash of batteries in your game closet. Many newer games require batteries. Storing batteries with the games makes it easy to replace them when needed.
Store games sideways. If the boxes can hold up, this makes getting games out of the closet so much easier than stacking them on top of each other.
If you don't have a closet for storage get creative. Bookshelves, wooden or metal cubbies, kitchen cabinet, microwave cart, hutch, coffee table, or trunk are all great places to store games.
Keep the games where you are most likely to play them. If the games are stored close to where you would play them, you are more likely to play them.
When was the last time you organized your game closet? As you can see from the above photos, my closet needs a makeover this week!