And the winner of last week's prize, two Digiorno pizza's is:
Here are your random numbers:
12
Timestamp: 2009-06-29 00:31:57 UTC
The prize this week is the book Clutter's Last Stand: It's Time To De-junk Your Life!
by Don Aslett. I love his books, they will really motivate you to clean up and clear out! In order to enter the giveaway either link up with your Itch to Pitch post or leave a comment and let us know what you pitched last week.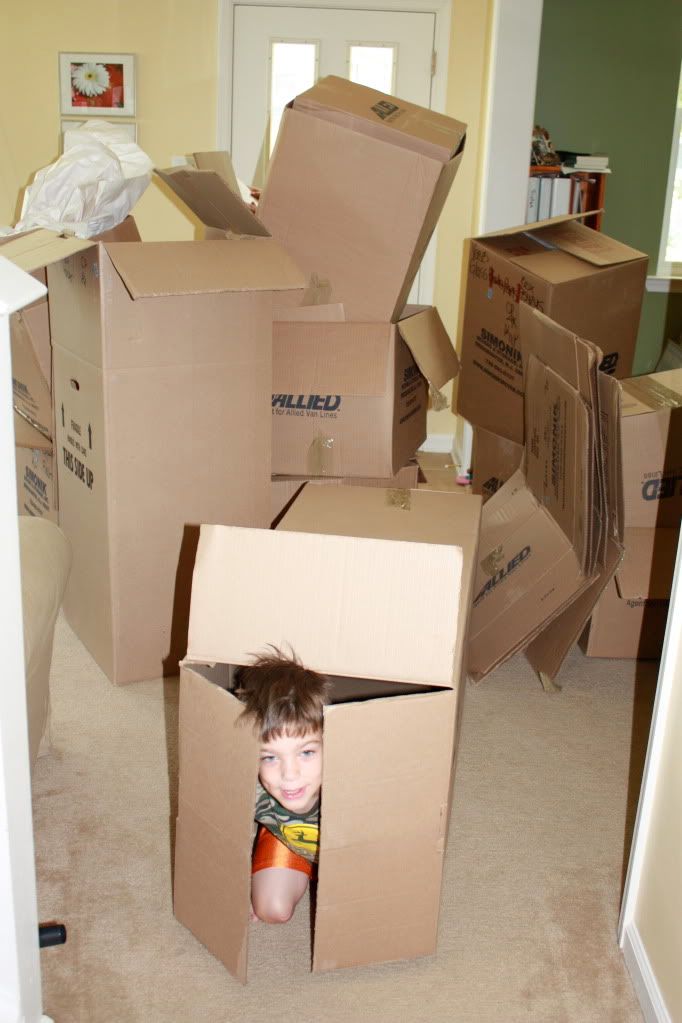 Well, this week was very eventful. We signed the lease on Thursday so the packing began in full force on Friday, with the help of my friend who of course doesn't have a blog because she is busy sewing things like Cora's quilt. Anyway, it is my goal to throw out as I pack so that when I move into the new house I am not opening boxes full of junk.
I did find some interesting things this week as I packed and organized. Probably the most interesting item I found was a ziploc bag full of photos and magnets that I had on my fridge… 6 years ago! It was fun looking at the ultrasound pictures of my five year old, but good grief, I have moved this ziploc bag full of photos 5 times! Well, now it will be six, since I couldn't bear to throw any pictures away.
I don't have after photos, since everything went into boxes!
Areas I organized and packed this week:
Linen closet – I managed to get rid of a few sheets and blankets that were in really bad shape.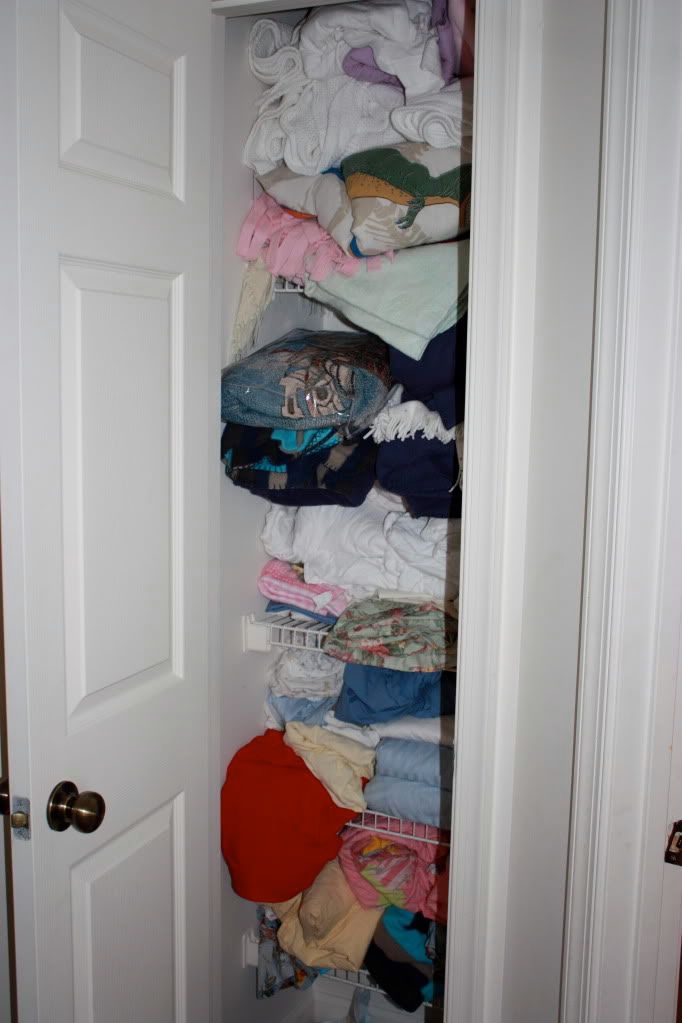 Bookshelves – Almost all our books are packed. We have tons of books, so it took most of the week. I decided to get rid of a few books. I have a really hard time pitching books, but if they are missing half their pages, or they are books no one likes I have decided I need to get rid of them to make room for the new ones!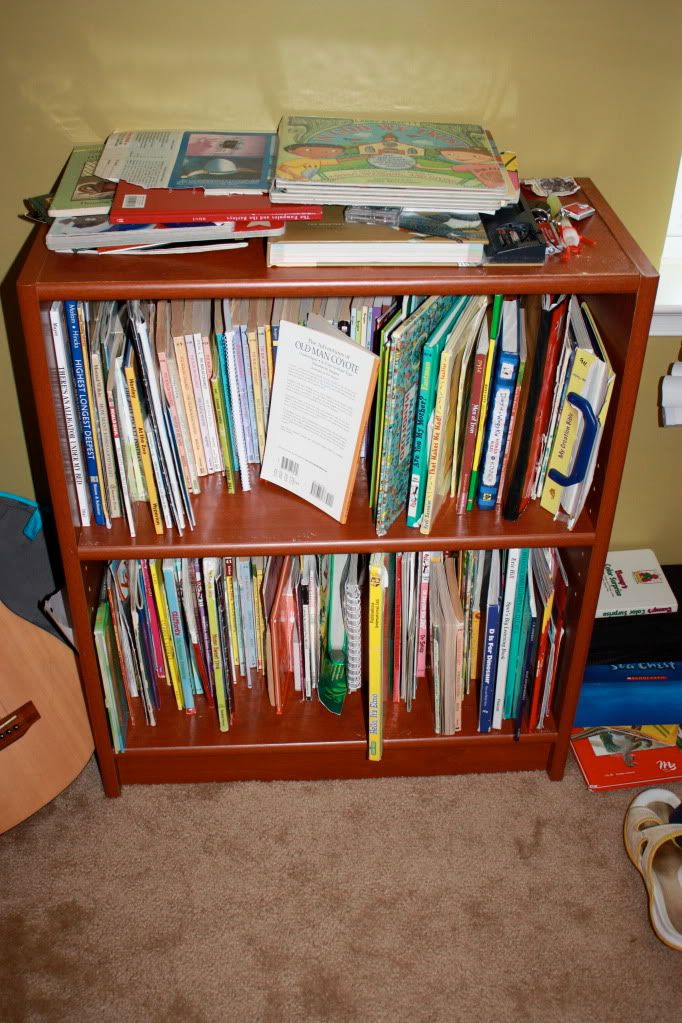 Tupperware – I had the kids pull everything out and match up bottoms with lids. I ended up with about 15 pieces that didn't have matches, and they are now out of my house! I also pitched (recycled) all the old yogurt containers I save and usually use for storage. Since we still buy yogurt all the time, there was no need to save (and pack) the old ones.
To the thrift store – This week we took 4 large trash bags, 3 boxes, and a few odds and ends to the thrift store. I was really happy to see the items outta here! Tomorrow a huge box full of toys leaves the house!
Just a few of the items that went to the thrift store this week.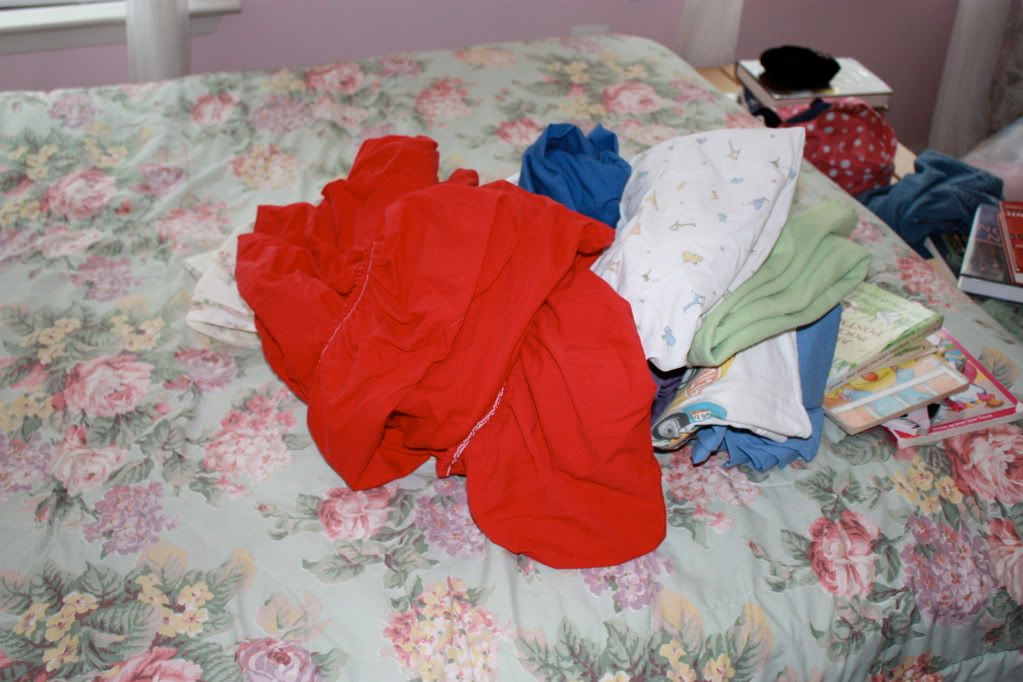 I decided that just because we are moving to a bigger house, it doesn't mean we need to fill it up! I love open spaces and dislike clutter, so the less I have the happier I am.
I have to say a big thanks to my mother-in-law and my friend for helping me accomplish so much this week. I hope next week is even more productive!
Jolyn asked the following question last week: Do you buy your older kids new shoes or find them in thrift shops, etc? What do you find you pay for tennis shoes in general?
I do by shoes from the thrift store. But, all of my kids needed to wear Stride Rite shoes their first several years of life because they have extremely wide feet. As they get older and their feet narrow it is easier for me to find shoes for them at yard sales and thrift stores. My kids each get one pair of new good quality tennis shoes. They are all very active and I want them to have shoes that fit correctly when they are running, jumping, climbing, etc. These can run anywhere from $20 (outlet sale prices) to $40. When they out grow them they get a new pair. I tend to use thrift stores and yard sales to supplement their wardrobe with sandals or dress shoes. Since they don't wear them as much I am not concerned with the quality of the shoes.

Time to link up. Remember link to your Itch to Pitch post and not your blog's homepage. Also please link back to The Happy Housewife,  so others who read your blog will be able to participate, the more the merrier, right? Finally, please visit the other Clutter Queens who link up and give them some encouragement. We all love comments!