I am chuckling to myself as I write this post because I have already spent way to much on my garden this year. But I have to realize that most of my expenses were buying things I needed and will reuse year after year. Rakes, wheelbarrows, hose, etc…
I guess that gives me even more incentive to cut costs where I can. Instead of purchasing expensive little pots to start my seeds I decided to use what I already had lying around the house. I researched to see if these items were safe to use and from what I have read, all of them are fine. Of course, you cannot plant the containers in the ground (except for the cereal boxes).
I used yogurt containers, cereal boxes and egg cartons to start my seeds. I have a few other containers to use but I ran out of energy and will finish the rest tomorrow.
Here is a picture of my garden, so far…
I know you are all thinking… how about planting some grass seed. Unfortunately, since I live in military housing, they take care of the lawn, so they decide whether or not I get grass each summer.
Here is a close up of the cereal box planting. I read somewhere that you can just plant the box right into the ground when it is ready to go. I am not sure about that because of the printing on the box… I'll have to research that a bit more.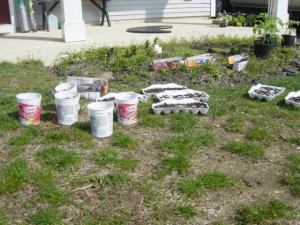 I used a sharpie to label the containers, hopefully it won't wear off for the next few weeks. Before you head to the store look around your house for items that might be used a second time around, you'll save time, money, and create less waste.