My county has a great recycling program. They recycle almost everything and you don't have to sort it either! One of my goals this year is to reduce our household waste and recycle more. There are a few ways I hope to accomplish this goal.
Last week my husband headed to the county dump and picked up our free recycling bins. We now have four bins and one trash can. I had planned on getting another trash can this week to make a compost bin, but my two trips to the hospital delayed those plans.
My four recycling bins.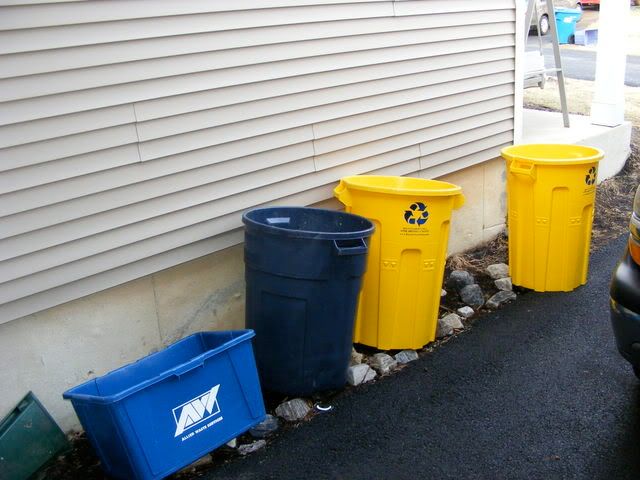 We have a garbage can inside the kitchen that we usually fill every day. My goal is to turn this bin into our indoor recycling bin, and reduce our waste to a small bucket under the sink. I would like to decrease our use of paper plates, napkins and paper towels as well. I have some fabric that I plan to use to make simple napkins, I already have tons of towels for rags, and the paper plate thing might have to be put on hold as I am now on modified bed rest until further notice. If my kids and husband are taking over most of the from scratch cooking the least I can do is go easy on them with dishes!
As for now, I need to set up my kitchen so this plan will work. The area under my kitchen sink is nasty (I'll spare you a picture!) but it needs to be cleaned out so I can make room for clean rags, dirty rags, and a small garbage bin. If I could reduce my garbage to one bag every two days that would be an improvement! I want to make these changes slowly so that they will stick! I also want to spend as little money as possible implementing these changes.
Goals this week:
Make cloth napkins
Purchase garbage can and make compost bin
Cut up larger rags
Clean out under the sink to create system
Find a small garbage pail for under the sink
Next week I hope to share my new system with you and let you know if it is working for our family! For more "green" ideas visit Laura's blog and join her "litte Green Project."
If you have any tips on how to make this transition smoother for my family leave me a comment If something worked for you or if it didn't, I would love to know!