Have you ever started a recipe and then realized you needed to soften butter and all your butter is stored in the fridge? When I lived up north, I could store my butter on the counter in a butter crock. But now that I live in the south it is too warm to store butter on the counter.
I found out the hard way that melted butter is not the same as "softened butter" in recipes.
A few years ago my sister showed me this simple tip to quickly soften butter when you are baking.
How to Quickly Soften Butter
Take a stick of butter (or however much butter you need for the recipe) and place it in a Ziploc bag.
Fill a bowl or container with warm water. Place the butter in the Ziploc bag in the warm water.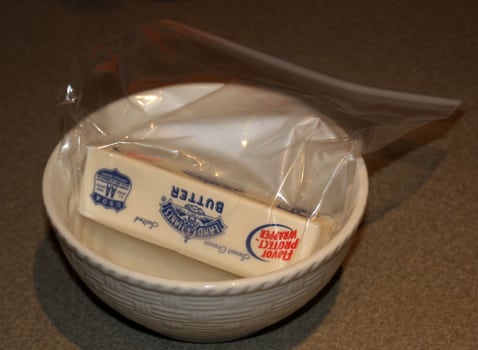 Over the years I've found that my pyrex measuring cup is just the right size for a stick of butter.
In a few minutes you will have soft butter that is easy to spread or use in a recipe. The key to getting the butter soft, but not melted is to use warm water, not hot.
I don't recommend heating the water in the microwave because it will be too hot and melt the butter. Warm tap water will be hot enough to soften the butter quickly.
Delicious Recipes 
Oatmeal Pancakes with Walnut Butter (Gluten-Free)
Apples & Sweet Potatoes with Cinnamon Butter 
Apple Butter Stuffed French Toast
Peanut Butter Chocolate Chip Cookies (Gluten-Free option)