There are two types of people in this world, those who love pickles and those who don't.  I fall into the first group. My dad loves pickles and as a kid I remember eating pickles with everything. (Including our famous peanut butter and pickle sandwich, try it some time!)
I absolutely love homemade (or house made at a restaurant) pickles. There is nothing better than a crispy dill pickle on a sandwich or burger. So delicious!
A few years ago I made these cold crock pickles and they were so easy I couldn't believe it. Not only where they easy, they were delicious!
Remember you need pickling cucumbers to make these pickles. Pickling cucumbers are shorter with thinner skins and usually have bumps on them. Salad cucumbers are longer and have tougher skins.
Print Recipe
Homemade Cold Crock Pickles
These homemade cold crock pickles are easy to make and delicious!
Ingredients
2

Tablespoons

minced garlic

1/2

cup

fresh dill

4

cups

white vinegar

1/2

cup

non-iodized salt

3

quarts

water
Instructions
Heat the water, salt, and vinegar and vinegar until it comes to a boil.

Boil for 5 minutes

Remove from the heat and allow to cool for 7 minutes.

Layer garlic, dill, and cucumbers in a large crock (I use a giant mason jar).

Pour liquid over the cucumbers.

Let cool another 10 minutes.

Loosely cover the top of the crock.

Store in refrigerator for one week.
This is how simple it is, layer your cucumbers, garlic, and dill. This is a fun cooking project for the kids too!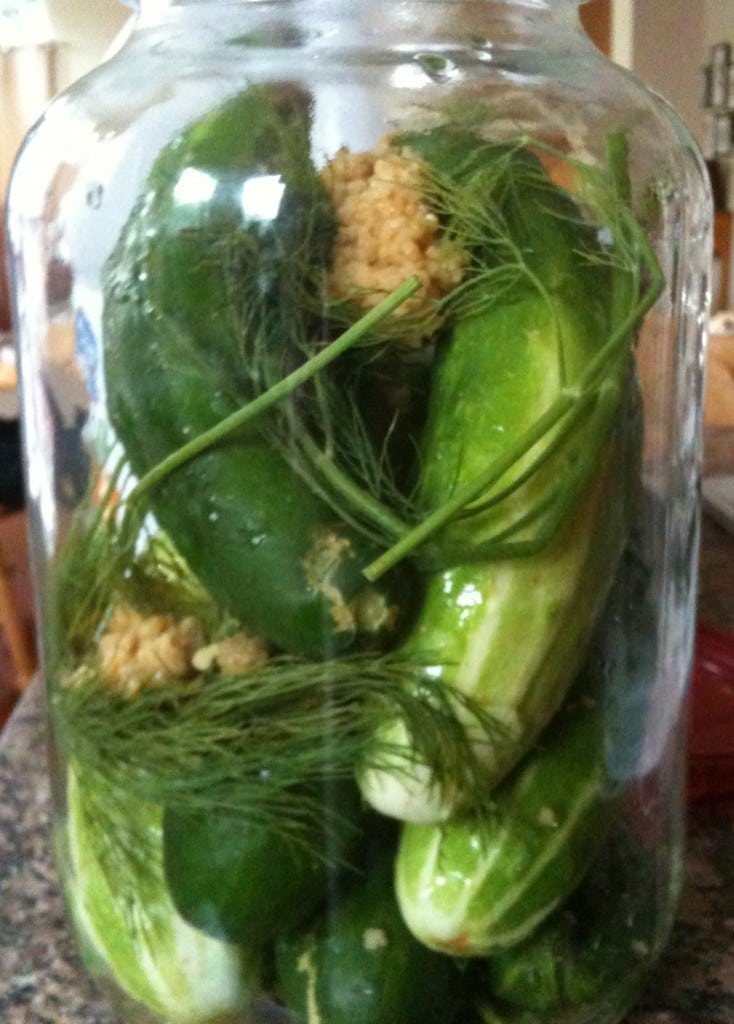 I've tried a few other pickle recipes and they called for too many ingredients or made it much harder than it needed to be. This cold crock recipe is really the simplest one I've tried and the best.
You'll never go back to store bought dills after you try this!
Other snack recipes you might like…