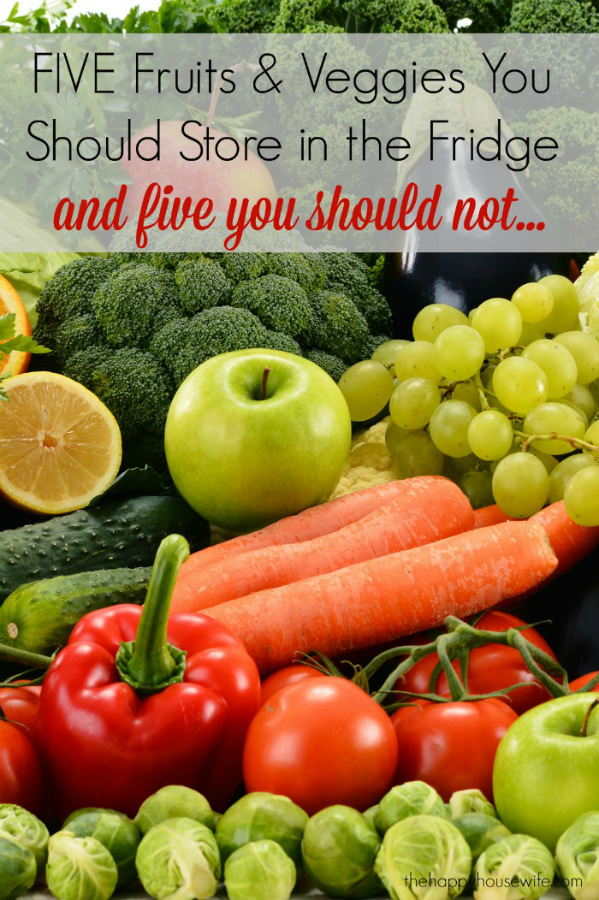 Nothing is more frustrating than buying fresh fruits and vegetables only to have them go bad after a few days. It is a waste of food and feels like a terrible waste of money. In most cases, improperly storing the produce is the issue, but the good news is this is a preventable problem.
Storing your produce properly is the best way to make it last and prevent premature rotting, so you get your money's worth out of the product and nothing gets wasted. If you are unsure of which produce items you should refrigerate and which you shouldn't, wonder no more.
Take a look below at some helpful information on which produce items should find a home in your refrigerator and which ones are nice and cozy on your counter tops. Knowing this information could save you tons of produce and money.
1. Tomatoes
The verdict: Do not refrigerate
Refrigeration can make tomatoes soft and affect their flavor. Instead, store tomatoes on an open counter where they are allowed to breathe. Do not keep them in a bag, which can cause them to ripen quickly and turn to mush.
2. Onions
The verdict: Do not refrigerate
Onions don't do well when refrigerated as they can soften quickly. They love fresh air, so keep them in the mesh bag they came in and store them in a dry place such as the pantry.
3. Potatoes
The verdict: Do not refrigerate
Potatoes don't like to be refrigerated because the cool temps can make them soft and affect the taste. It is also not wise to store them with other produce items on the counter or in a pantry as they give off gases that can make produce around them go bad quickly. Instead, store them in paper bags in a cabinet by themselves.
4. Grapes
The verdict: Do refrigerate
Grapes thrive on cool temperatures and must be kept in the refrigerator at all times. Leaving them out of the refrigerator will make them become soft and in a few hours they will start to wrinkle. Instead, place the bag in the refrigerator away from other produce items that could speed up their ripening.
5. Cucumbers
The verdict: Do not refrigerate
Cucumbers are quite sensitive. Cool temps can make cucumbers get soft and slimy quickly. Instead, keep them at room temp and away from other produce items because they are sensitive to the gases other fruits and vegetables give off.
6. Avocado
The verdict: Do refrigerate
This one may surprise people since most people keep avocado out on their counter tops until they need them. While this can speed up ripening, you want to refrigerate the avocado as soon as it has reached the perfect ripeness. This will help slow down the ripening so it stays fresh and ready for use for a good 3 – 4 days.
7. Leafy Greens
The verdict: Do refrigerate
You want to keep leafy greens cold, as this keeps them fresh and crispy! Storing them in a paper bag can help absorb moisture and keep the greens nice and fresh.
8. Green Peppers
The verdict: Do refrigerate
Peppers are quite durable and do well when kept refrigerated. In fact, a green pepper that is kept free from moisture can last a good 10 days in the refrigerator. This is true for most other varieties of peppers as well.
9. Bananas
The verdict: Do not refrigerate
Don't even think about putting those bananas in the fridge. Instead, keep them on a counter top away from other produce items that can speed up the ripening process and make them go bad…fast!
10. Carrots and Celery
The verdict: Do refrigerate
Both of these items do well when stored in the refrigerator and the cool temps can help extend their life by days. Cut and wash both celery and carrots, and store them in a container or covered bowl until needed.
The next time you are putting your produce away, consider these tips for which fruits and vegetables to refrigerate and which not to refrigerate. It can help you make the most of your produce!
You might also like…