If you've been reading my site for a while you know how much I love OxiClean. I've written about it numerous times on the site and use it to clean everything from cloth diapers to camping gear to rugs I pulled from the dumpster.
I love it so much that in 2009 I mentioned that I'd love to work with the folks at OxiClean because I'm probably their biggest fan!
Well guess what? OxiClean found my website, decided I might be one of their biggest fans, and contacted me earlier this year. I was like a kid on Christmas morning when I saw the email from the folks at OxiClean in my inbox. When they asked if I was interested in working with them as a spokesperson for the year I was thrilled!
Who better to talk about OxiClean than a mom of seven very active kids? Anyway, I'm super excited to be working with them this year and can't wait to share even more stain fighting tips with you all.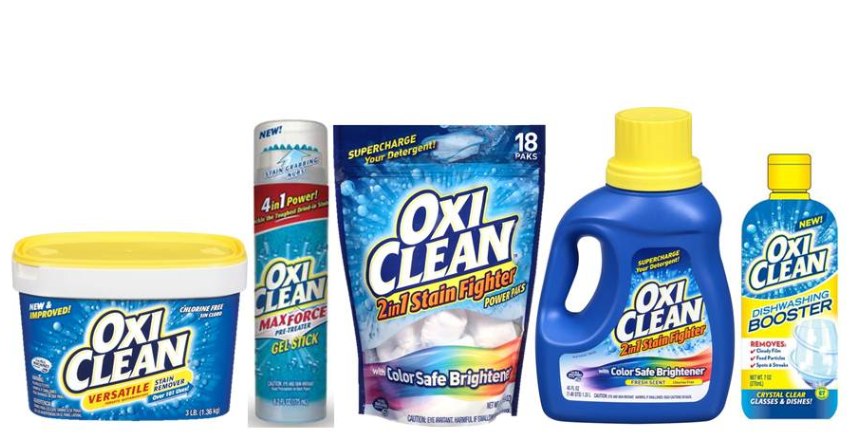 This week I'm giving away 3 Ultimate Stain Removal Kits from OxiClean. We all love free and what better than to win something you are probably already buying anyway?!?!
Included in the giveaway are:
OxiClean™ Versatile Stain Remover
OxiClean™ Max Force Gel Stick (this stuff is awesome!)
OxiClean™ 2in1 Stain Fighter Power Paks
OxiClean™ 2in1 Stain Fighter Liquid
OxiClean™ Dishwashing Booster
To enter to win this giveaway leave a comment sharing your biggest stain fighting challenge. Giveaway ends Monday, May 20, 2013.
I have partnered with OxiClean this year as a spokesperson. All opinions are 100% mine.