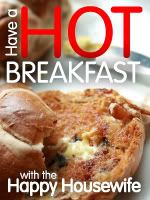 It's time for the Hot Breakfast Challenge weekly report. Have you ditched the cereal yet! Our week got off to a crazy start, but is starting to shape up.
On Sunday we had a few sick kids and a mom and dad that stayed up way too late. I usually am awake before the kids and have breakfast started but on Sunday those of us who were going to church were rushing around trying to get ready. Breakfast consisted of oatmeal, waffles, and anything you could get for yourself.
Oatmeal is actually a great breakfast that is cheap, fast and easy to make. I purchase my organic oats in bulk and pay $75 for 50 pounds. This works out to $0.33 per cup of oats. Non-organic oats cost half that much when purchased in bulk.
I use 3 cups of oats when making breakfast for our family so that works out to $1 plus the cost of toppings. My kids prefer brown sugar, but I am trying to switch them over to Blue Agave
. Even with the topping our cost is still under $1.50 for breakfast.
Monday we had muffins and smoothies and today was pancakes. As I was making the muffins yesterday I wondered why I didn't make muffins for breakfast more often. I can mix the batter, put in the oven, and then grab a quick shower while they are baking. Much more efficient than standing over a griddle flipping flapjacks for forty-five minutes! (sorry, couldn't resist!)
I like this muffin recipe because it is versatile, you can start with the base and add whatever ingredients you have on hand.
Print Recipe
Basic Muffin Recipe
Ingredients
1 3/4

cups

all-purpose flour or whole wheat

I use wheat

1/3

cup

sugar

2

teaspoon

baking powder

1/4

teaspoon

salt

1

beaten egg

3/4

cup

milk

1/4

cup

applesauce

or cooking oil
Instructions
Preheat oven to 375 degrees.

In medium bowl, mix all ingredients together.

Add additional ingredients. (see notes below)

Bake for 10-12 minutes.

Muffins can be frozen then reheated in the microwave or oven.
Notes
If you want lemon poppy seed muffins just add lemon juice (about 1/4 cup) and poppy seeds. If you want blueberry muffins add a cup of blueberries. The choice is yours! I like cinnamon and brown sugar muffins. I scoop the batter in the cups and then sprinkle cinnamon and brown sugar on the top before I bake the muffins, yum!