Let's start with a little background. I dislike raw tomatoes, so much so that they kind of make me gag. It all started when I was seven and I went on a camping trip with another family. One night for dinner the mom made macaroni and cheese, and then to my horror opened up a can of diced tomatoes and added them to the Kraft macaroni.
I ate my dinner (because back then kids weren't picky, they just sucked it up and ate their food) and in a few hours I was in the campground bathroom throwing up Kraft macaroni and tomatoes. While I didn't care for raw tomatoes before this fateful night, I really didn't like them afterward. To this day raw tomatoes make my stomach churn and I avoid them if I can.
When my friend gave us a huge box of vegetables it was full of tomatoes. I immediately started planning and was eager to try making my own spaghetti sauce. I mean I make my own bread, tortillas, pasta, and even English muffins, surely it was time for me to join the ranks of spaghetti sauce maker.
One night when I really didn't have time to start a big project (like homemade spaghetti sauce) I grabbed my computer, a pot and got to work. I Googled "homemade spaghetti sauce"  "cooking tomatoes" "homemade tomato sauce recipes" and other variations trying to figure out how to make homemade sauce. I found a few ideas and got to work.
Step 1: Boil the Tomatoes
At this point I was feeling quite good about myself. I was already writing the blog post in my head- "Easy Homemade Spaghetti Sauce" and thinking about how many people I could help save money on their dinner.
Problem 1: The instructions said boil for one minute and the skins would crack. My tomatoes had super tomato skin and boiled forever before I saw signs of cracking!
Step 2: Put Them in the Ice Water
Things were starting to look up again as I saw the peels start to come off, I wasn't even working hard.
Problem 2: Pride comes before the fall.
Step 3: Remove the Skin.
Easy cheesy! At this point I was snapping photos and finishing up the mental blog post about how easy it was to make homemade spaghetti sauce from fresh tomatoes.
Problem 3: See problem two above.
Step 4: Squeeze out the Seeds
Let's just say I got a little ahead of myself on this one. After removing the skins it was time to "squeeze" out the seeds according to my directions.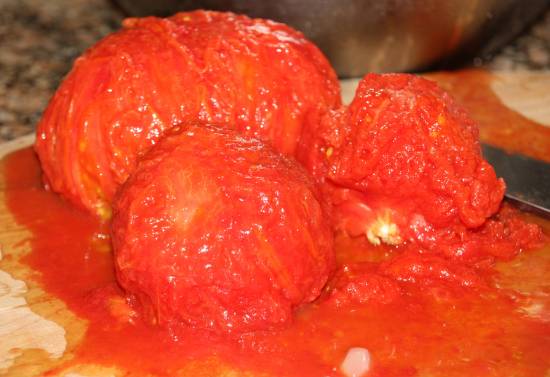 I had already created quite a mess removing the skin, but I was determined to continue. I started squeezing the tomatoes and juice and seeds were everywhere. The smell and the juice was making me sick to my stomach, but I was not going to waste all those free tomatoes!
Problem 4: If tomatoes make me gag, why did I think I could successfully process a box full of them?
Step 5: Make a HUGE Mess in the Kitchen With Tomato Guts
At this point my kids were already eating dinner and they sat spellbound as their mother continued to make more and more of a mess!
Problem 5: I'm not a big fan of messes.
I finally gave up trying to get all the seeds out and threw all the tomatoes into the Vita-Mix hoping that some ultra high powered blending would mutilate all the seeds.
Problem 6: The Vita-Mix's awesome blending power whipped my tomatoes into a pink frothy juice.
Step 7: Put Frothy Pink Juice Into Large Pot, Add Other Ingredients
At this point I was on the fence about throwing in the towel. I thought that if I could get over the frothy pink sauce and tomato gut mess I could power through to the simmering sauce stage.
Problem 7: What simmering sauce stage?
Step 8: Panic then Get on Twitter to Ask for Help
This was probably the first smart thing I did all night! Tens of tomato sauce experts reached out to help me fixed my sauce-tas-tropy.
Problem 8: I was missing a key ingredient- tomato paste. Apparently it is required for homemade sauce.
Step 9: Do Everything That Everyone Tells You To Do on Twitter Regarding the Sauce
As ridiculous as it sounds, this actually worked. Eventually, after simmering for over an hour and using almost every spice in my cabinet, I had sauce. A whole cupful of it.
WHAT??!?!?!?!?!
After almost two hours in the kitchen I was left with about 16 ounces of sauce. At this point I was starting to do the math. I can buy a 16 ounce jar of sauce for $0.75 or less with a coupon. I worked for 2 hours, spent a few pennies and got the same amount of sauce.
Making my own spaghetti sauce cost me two hours of time and saved me $0.70.
I learned a few lessons that day.
Store bought sauce tastes as good as my homemade sauce.

Store bought sauce takes me 5 seconds to prepare, 10 if I have trouble opening the lid
But the most important lesson I learned is this. Many times we measure our success as a wife or homemaker based on how many homemade items we prepare, vegetables we grow in our back yard, outfits we sew from old sheets, or how neat and organized our homes are. The time I spent making spaghetti sauce could have been spent playing a game, reading a book, or jumping on the trampoline with my kids. Instead I was trying to prove how "healthy" our family lives by making everything from scratch, including our spaghetti sauce.
When we are older our kids will not remember how many times they had Ragu on their pasta. They will remember that mom learned how to do a "bottom bounce" on the trampoline, let them finger paint, or read them the same book 100 times in a week. When I look back on my own childhood I don't remember many of our meals (except stuffed peppers – which by the way mom, I do not like), but I do remember my dad playing with us in the pool, my mom beating us in Monopoly, and our family sing-along's in the car.
The next time you are tempted to overachieve in the homemaking category, first ask yourself if you are overachieving in the mom category. Making spaghetti sauce is easy, raising kids is hard. The rewards of making your own spaghetti sauce, kinda small. The rewards of an amazing relationship with your kids, a lifetime of treasures.