By contributing writer Beth
This lip scrub uses the mild exfoliating power of coffee grounds. I used ground coffee after it was brewed. This softens it a bit and makes it gentler on your skin. But I'm sure you could use fresh ground coffee if you prefer.
I like to use this each winter night when I'm washing my face and getting ready for bed. The oils in this recipe absorb into my skin and never leave me feeling greasy. The sweet almond oil contains nourishing vitamin E and deep healing A & B vitamins which feed your skin without clogging pores. Jojoba oil is a light oil that is easily absorbed into the skin leaving no oily residue behind.
The chocolate scent of this is divine and the peppermint is not overwhelming like you might think.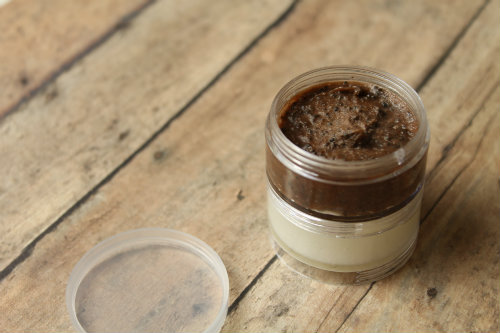 Homemade Lip Scrub
Ingredients & Instructions
2 1/2 teaspoons coconut oil
1/2 teaspoon coffee grounds
1/4 teaspoon cocoa powder
1/2 teaspoon granulated sugar or brown sugar
2 – 3 drops peppermint essential oil (I think 3 drops really helps balance out the strong chocolate scent.)
Mix all ingredients in a small bowl and store in a cool place.
Storage Tips
I used stackable bead containers for storing the scrub and balm. They are very inexpensive to buy at the craft store.
Do not store this in the refrigerator because it becomes too solid and hard to spread.
Directions for Use
To use, get a little of the scrub on your index finger. A little will go a long way.
Rub in small circles all over your top and bottom lip.
Wipe off scrub with warm, wet cloth. Finish with the lip balm recipe below for moisturizing and healing comfort.
Homemade Lip Balm
Ingredients & Instructions
3 drops peppermint essential oil
1/4 teaspoon sweet almond oil
1/4 teaspoon jojoba oil
3 teaspoons coconut oil 
Mix all ingredients and store in a tightly closed container.
Storage Tip
This mixture should keep for several weeks. There is no beeswax in this lip balm so you'll want to store it in a cool place. The coconut oil will keep the mixture solid so long as it's stored at a temperature of 76 degrees or cooler. It will get very solid if you store it in the refrigerator, but still usable.
Usage Tip
This balm is best used after lips have been exfoliated with the lip scrub.
You might also like…