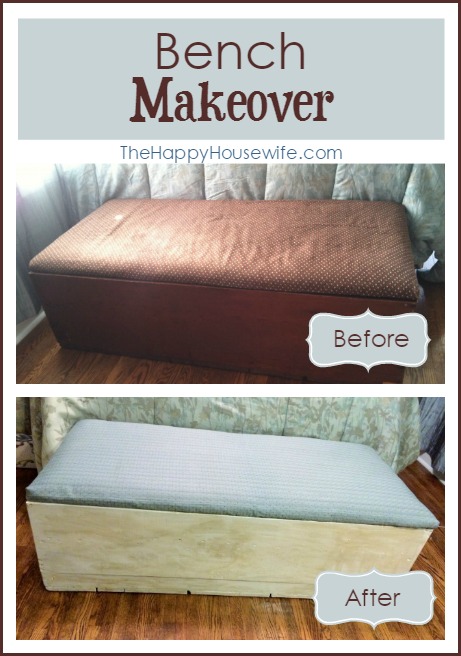 By contributing writer Jordon
A friend of mine had this old bench she was just going to throw away.  It had definitely seen better days! However, I saw a diamond in the rough and decided to save it.  Not to mention that it would give me some extra storage (who couldn't use that).  My closet is on the smaller side, so it is a jammed packed mess (I have a shopping problem). So trying to fit every season of clothing in there is difficult.  I thought this bench would be perfect to store some of my out of season clothes, and it would go perfectly at the end of my bed.  This bench definitely belonged with me, so I loaded it up and took it home to give it a makeover.
For this bench makeover, I decided to paint the bench an antique white to match my bedroom furniture.  I already had all the supplies from when I gave those pieces makeovers.  What I used was actually a Rust-Oleum Cabinet Kit.  It has almost everything you need, and I used the same kit to do four different pieces! Definitely a good bang for your buck! You can get the kit at any home store or on Amazon.  Here is a picture of it: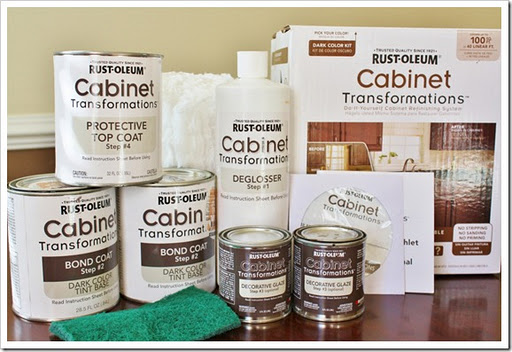 But, you can definitely do the makeover with out the kit!
Supplies Needed
Paint of choice
Fabric to reupholster (premeasured for bench)
150 grit sandpaper
Terry cloth
Old hand towel
Cheese cloth (for the antique glaze)
Polyurethane
2 Paint brushes (one for paint & one for poly)
Spray paint for the hinges
Latex gloves for the gloss if you choose to do that
Staple gun
Screw driver
Instructions
1. Put down drip protection.  I put an old sheet down and my sawhorses on top to lay the boards across.  You can use an old table, cardboard on the ground, or anything else you can think of.  Just know the stain might drip, so you want to be cautious of that.
2. If there are any big holes or scratches you want to fill in, now is the time to do it (unless you want to keep them for more of an antique look).  Just get some wood filler that can be stained or painted over and fill in the holes.  Using a putty knife, smooth it over, but not completely flush to the surface.  Let it dry, then remove the top of the bench by unscrewing the hinges and lightly sand every inch of both pieces of wood, including the filled in holes, corners and edges.  
Remember to sand with the grain of the wood.  Take a piece of your sandpaper and fold it in half and then fold it in half again.  This makes it easier to sand, and you can use all sides (you may have to refold to get to the fresh part). 
3. Use the terry cloth to wipe off excess sand dust on the pieces.
4. Begin adding your paint color.   I did 3 coats of the white paint.  Let the paint dry between each coat.
5. Glaze, if you want an antique look. You will need gloves, cheese cloth and glaze. Dab your cheese cloth in the glaze and begin gently rubbing it onto your bench.  You need to go in small sections so the glaze does not over color your paint.  Make sure to get the glaze in the cracks and crevasses of the bench.  That will show more of the antique look.
Next, take your hand towel and gently rub off the glaze.  Rub it off until you get the look you are wanting. Continue in small sections until you get the whole bench finished. If you feel you let the glaze sit on there too long or it is not looking like how you want it, simply repaint over the glaze and start over.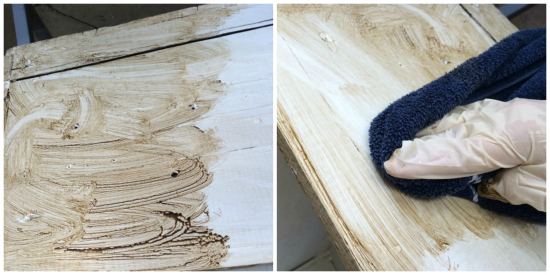 6. As the glaze is drying, you can spray paint your hinges (or other hardware).  Spray paint can make old rusty hardware look brand new.  It is awesome!  You can also buy new hinges and hardware, but you may have to drill new holes for them.
7. After the glaze has dried, you can put on the polyurethane.  I put two coats on mine.
8. Once poly is dry, you can take the top of the bench and begin reupholstering it.  Lay your fabric out and set your top in the middle (I like to have about 4 or 5 inches on each side).
Put the fabric over the holes for the hinges.  Take your screw and screw through the fabric into the holes so you know where they are. You can use a screw driver for this, but my husband wanted an excuse to use his drill.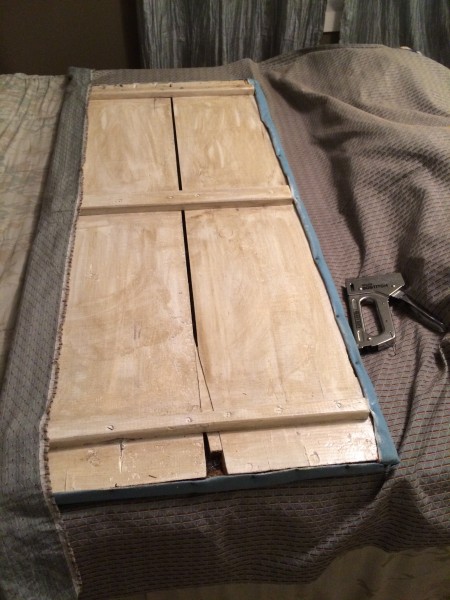 Next, start stapling your fabric to the bench top.  When you get to the edges, think of folding them up like a Christmas present, so the edges look nice.  Then staple them like that.
8. Attach the hinges and then attach the top to the bench.
And that is it! You just gave your bench a makeover!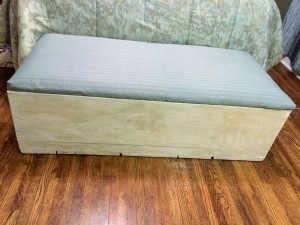 Mine has given me much needed storage for clothes!  I can put all of my summer clothes in here and organize my closet for the colder months, and my summer clothes are still easily accessible in case we decide to go some place warm this winter!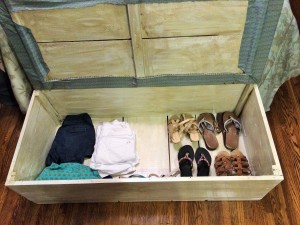 Here is one of the dressers that matches the bench.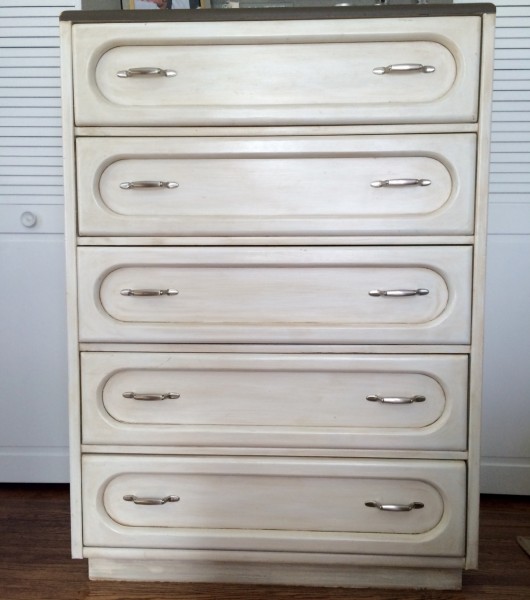 You might also like…